What Happened to Yeonjun? Why TXT Singer Pulled Out Of Award Show Performance
Fans of K-Pop boy band group Together X Tomorrow, commonly known as TXT, were disappointed on Thursday when Big Hit Entertainment revealed one member of the group, Yeonjun, will be missing TXT's performance later that night at the M2 x Genie Award Ceremony. They came out in waves to wish the injured singer well, making #GetWellSoonYeonjun a top-trending Twitter topic.
Yeonjun is suffering from sudden back pain and is currently recovering after medical treatment. "While making preparations for today's '2019 M2 x Genie Music Awards', Yeonjun of Tomorrow x Together began to experience sudden back pain and received a thorough medical examination and treatment at a nearby hospital," his label wrote on Twitter Thursday.
TXT is a five-member South Korean boy band formed by Big Hit Entertainment. The group consists of members Yeonjun, Soobin, Beomgyu, Taehyun, and Huening Kai. They debuted on March 4, 2019, with the EP The Dream Chapter: Star. The group has been gaining traction as they are on the same label as another very well-known K-Pop band, BTS.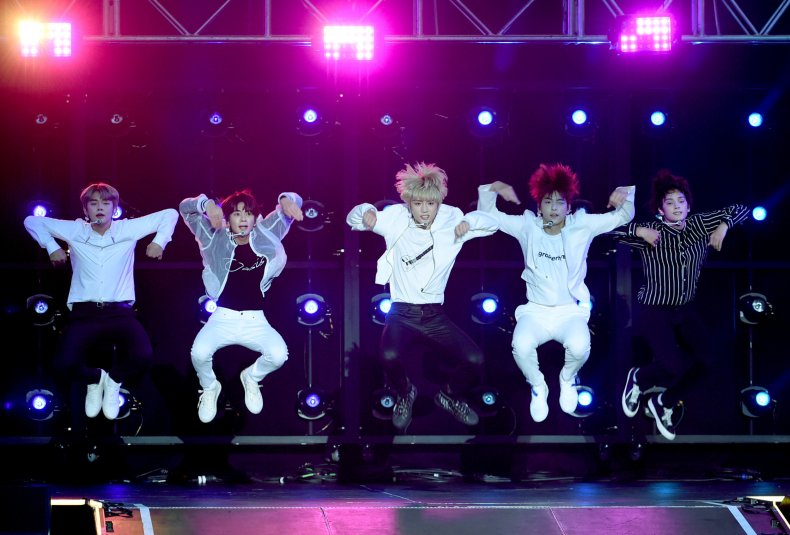 "He is now resting and recovering. However, medical staff has advised him to temporarily refrain from taking part in vigorous choreography, and Yeonjun will therefore be unable to participate in today's Genie Music Awards," the statement continued. "We would like to ask for your generous understanding, and we will provide Yeonjun with all the assistance necessary for a speedy and full recovery."
While fans were disappointed by the news, Yeonjun was inundated with well-wishes on Twitter. "I hope Yeonjun won't feel that he disappointed us fans for not being able to perform," one person wrote. "Health and safety is the top priority and Yeonjun putting himself first will make us more happy than him pushing his limits."
@TXTranslations tweeted, " I'm devastated because Yeonjun will give himself a hard time because of this :( we all hope that he recovers soon and the members have the strength to carry on but I'm scared they're going to feel so down we're still proud #GetWellSoonYeonjun @TXT_members Hwaiting babies"
"I feel so bad for Yeonjun, I wanted them to perform together on their first award show, I would've preferred to scrap the entire performance and attendance. TXT is not TXT without a member :(" Tweeted fan "Dat's Jaki."
The Genie Music Awards is a major music awards show that is held annually in South Korea — this year it will be in Seoul. It is organized by Genie Music, together with their partner network Mnet's digital studio, M2.
In addition to performing at the ceremony, TXT is also nominated for the Male New Artist award against AB6IX, ATEEZ, Haeun, Ha Sung Woon, Kim Jae Hwan, ONEUS, Park Ji Hoon, VERIVERY, and Yoon Ji Sung. The other four members of TXT will indeed be in attendance as Yeonjun recovers.