What's Happening With the Jussie Smollett Case? Nigerian Suspects, Hoax Allegations and Everything We Know So Far
Rumors swirled claiming Empire actor Jussie Smollett was allegedly involved in his January 29 attack. The allegations were reported by publications like CNN, TMZ and local Chicago CBS news site WBBM-TV, though they only cited anonymous sources and police insiders.
What's New:
The latest accusation is that two brothers from Nigeria were allegedly paid on Smollett's behest to attack him. Neither Smollett nor his attorney has responded to the allegations.
The brothers reportedly worked on the Empire set, TMZ wrote Saturday. They were arrested Wednesday, released two days later and are cooperating with investigators.
According to WBBM-TV, one of the brothers purchased a rope at a Chicago hardware store on January 25. It resembled the one found around Smollett's neck last week.
Though it's only anonymous sources, the publication claimed law enforcement insiders said Smollett paid the brothers to perform the staged assault. They reportedly received $3,500 before they left Nigeria and then $500 once they arrived in the U.S. Some reports seem contradictory, with TMZ claiming the brothers worked on the Empire set already.
Police have not responded to allegations the attack was orchestrated by Smollett, though they did note the "trajectory" of the case has changed since speaking with the brothers.
"We can confirm that the information received from the individuals questioned by police earlier in the Empire case has, in fact, shifted the trajectory of the investigation," Chicago police spokesperson Anthony Guglielmi told WBBM-TV.
"We've reached out to the Empire cast member's attorney to request a follow-up interview."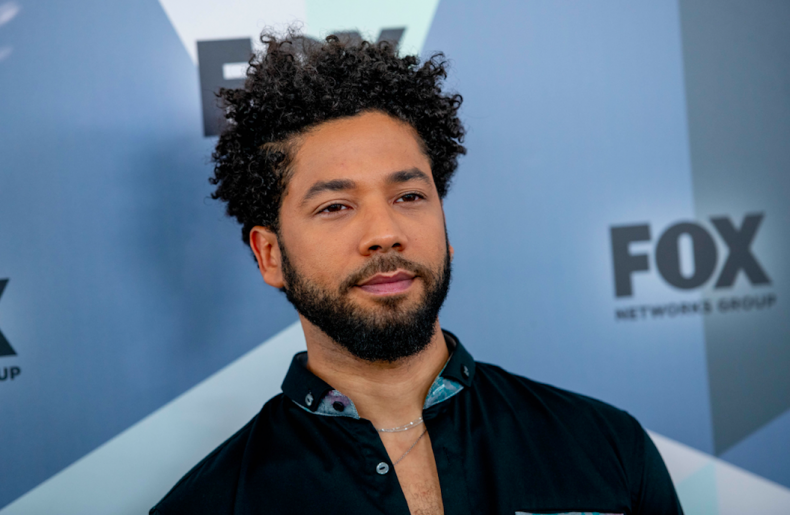 What Happened on January 29?
Smollett claimed his attackers called him an "Empire fa***t" and "Empire n***er," wrapped a rope around his neck, poured an unknown substance on him and assaulted him. Early reports said Smollett described his assailants as wearing Donald Trump "Make America Great Again Hats," though he denied the allegations.
What Smollett Has Said:
In Smollett's initial statement, he said he was remaining strong in the face of adversary. "My body is strong but my soul is stronger. More importantly, I want to say thank you. The outpouring of love and support from my village has meant more than I will ever be able to truly put into words," he said on February 1.
He denied every saying his attackers wore "MAGA" hats. "I never said that. I didn't need to add anything like that," he told host Robin Roberts of the rumored hats on Thursday. "They called me a f*****. They called me a "n*****." There's no which way you cut it. I don't need some MAGA hat as the cherry on top of some racist sundae."
When he was asked about the motivation of the attack, he said: "I can only go off of their words. Who says 'F*****, Empire n*****. This MAGA country n*****," ties a noose around your neck and pours bleach on you? And this is just a friendly fight?"
How Smollett Described the Attack:
Smollett claimed he didn't call police right away because of his "pride." "We live in a society where, as a gay man, you are considered somehow, to be weak," he said. "And I'm not weak. I am not weak. And we, as a people, are not weak."
The actor said he could smell bleach on him: "So, during that time before they came—it took them about a half hour to come—I was looking at myself, just checking myself out. I saw the bruise on my neck, the little rope burn, but I smelled bleach. I know the smell of bleach. And I saw on my sweatshirt, it had marks on it like spots on it like when you have a bad bleach job. So, then I was like 'there's bleach on me too.'"
What's He Saying Now?
Since the latest information, Smollett has remained silent. He has not posted to his Twitter account since the attack.