What is Happening in Nicaragua? At Least 170 Killed in Crackdown on Protests Against Ortega's Government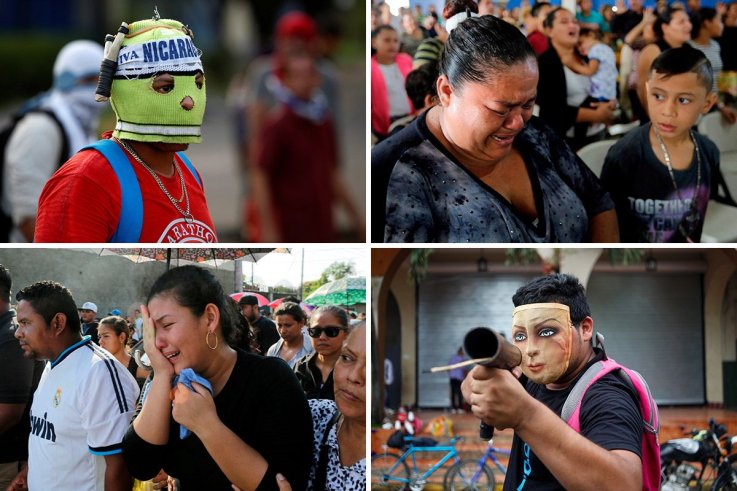 The ongoing crisis in Nicaragua—the country's bloodiest confrontations since civil war ended in 1990—has spanned two months and claimed at least 170 lives.
The student-led protests were triggered by changes to the Central American nation's social security system. The government quickly dropped the planned welfare cuts, but the crackdown on protesters has sparked the biggest crisis since President Daniel Ortega's second stint as president began in 2007.
The streets of the capital have been rocked by clashes between pro-Ortega forces and students armed with rocks, slings and homemade mortars. Protesters hunker behind barricades of brick pulled up from the streets or walls of chairs and desks on university campuses. They're braced for clashes with pro-Ortega gangs whom witnesses and rights groups blame for many of the casualties.
Daily highway blockades have snarled transportation across the country, as students and farmers erect makeshift barricades to damage the economy and wear down the government. The government estimates the turmoil has cost the economy hundreds of millions of dollars.
Talks between the government and local civil groups hit a stumbling block on June 15 when the former dismissed calls for an international probe into violence during the protests. But Ortega and protesters struck an agreement to end hostilities, clear roadblocks and allow a foreign inquiry.
But the truce was shattered just hours later when eight people died in a shootout and fire. Civic leaders condemned the violence while vowing to continue talks with the government.
The national police in a statement attributed the morning's gunfire to protesters, but local media reported that police and pro-Ortega masked gunmen had fired at protesters guarding the roadblocks. Police said that firefighters battling the blaze came under attack from masked "delinquents," and that they would investigate the cause of the fire.
Local television showed images of firemen carrying two soot-streaked toddlers in diapers from the burning building. "This is a massacre. A barbarity. These police surrounded the house and burned it after my nephew refused to let them put snipers on the roof," Jose Maria Hernandez, 63, uncle of the building's owner who died in the blaze, told Reuters outside the smoking wreckage.
Our slideshow tells the story of the violent protests, starting at their beginning eight weeks ago to the fatal chaos that continues today.
—Reuters contributed to this report.