What Is Happening in Romania? Thousands Call For Resignation Of Government Amid Corruption, Low Wages
Thousands of anti-government protesters took to the streets of Romania's capital city, Bucharest, over the weekend to call for the resignation of the ruling Social Democratic Party, due to low wages, government corruption and attempts to cripple the judicial system.
This is just the latest of numerous protests that have taken place since the Social Democratic Party took power in 2016. A year later, the government tried to pass a law that would have weakened punishments for those accused of corruption, especially if they had received less than $48,000. It would allow for officials who were imprisoned for corruption to be freed while halting other investigations into corruption.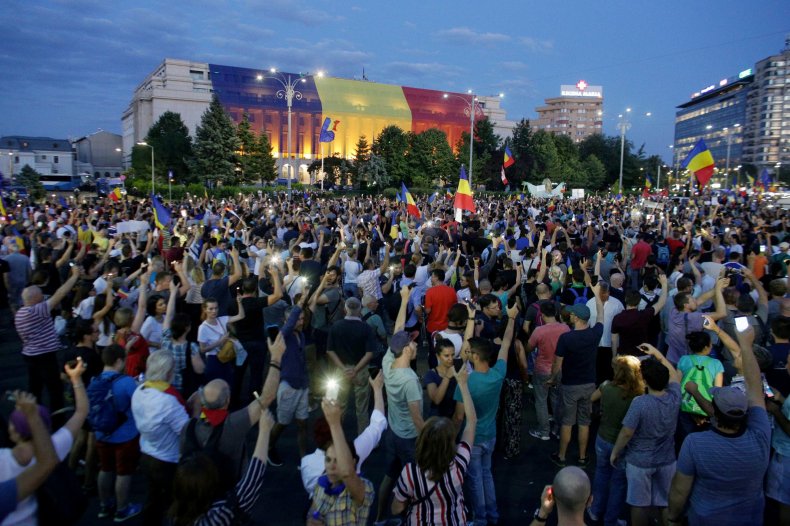 The president of the Social Democratic Party, Liviu Dragnea, would have benefited from the new law following charges that he took more than $27,000 from the state. Because of these charges, Dragnea is unable to become the country's prime minister.
Following the demonstrations, which were the largest since the fall of communism in 1989, the government withdrew the order.
Dragnea received a three and a half jail sentence in June after it was found that he kept two women on the payroll of a state agency from 2006 to 2013 despite the fact that they were employed by his party. Protesters called for his resignation following the decision.
The protesters who gathered in Bucharest this weekend began their rally on Friday. Although manifestations the protesters were peaceful, over 400 people required medical attention when police used tear gas and water cannons against them.
"I strongly condemn the brutal intervention of the gendarmerie, strongly disproportionate to the manifestations of most people in Piata Victoriei," Klaus Iohannis, Romania's president and staunch opponent of the Social Democratic Party, wrote on Facebook on Friday. "Trying to defeat people's will through a violent reaction to law enforcement is a reprehensible solution. The Interior Minister must urgently give an explanation for how he managed the events of this evening!"
Despite Friday's events, thousands continued to protest throughout the weekend.
"I want to assure all Romanians that parliament will not allow anybody to dissolve democracy, suspend individual rights and freedoms, change the outcome of the elections and overthrow order in the Romanian state through violence," Dragnea wrote in an open letter.
Between 2007 and 2015, 3.4 million Romanians moved out of the country, and many traveled back to their home country to join in the protests. In Western European countries, Romanians have been protesting against their government and Social Democratic Party officials have previously called them "thieves, beggars, and prostitutes," Deutsche Welle reported.