What is Happening with Tekashi 6ix9ine Now? Rapper Releases New Song For PornHub Valentine's Album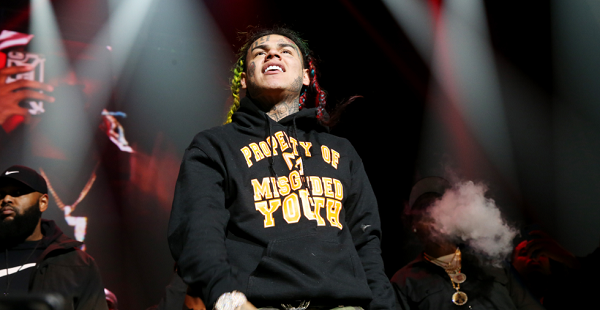 Tekashi 6ix9ine released a new song as a part of PornHub's Valentine's Day mixtape on Wednesday. The song, titled "Lanes," is a duet with Lil AK and comes as a piece of music Tekashi is releasing while behind bars after being charged with felony counts of racketeering and other drug and robbery-related crimes.
The song is a tropically-inspired song with echoed-vocals of both Lil AK and Tekashi. The lyrics follow suit for the Valentine's theme, and the Pornhub platform, with a chorus reading: "Baby, I don't really wanna fight right now/ I just really want you on top right now/ Why you really wanna run your mouth right now?/ I just really want top right now, yeah/ So move it closer (Move it closer)."
The complete mixtape features other artists and celebrities like Blac Chyna, who speaks in the opening track "PornHub Valentine", and Lil Xan with track "Shake It." All tracks are explicit.
It seems Tekashi recorded the track for PornHub before being arrested and sent to prison without bail. The rapper is now serving time and waiting for his trial. While not much has been said about his few months in prison, some details are known.
Tekashi is still in prison, as his girlfriend, Jade, shared a photo of the rapper when she visited him in mid-January. It was the first, and so far only, photo of the rapper to surface as he's awaiting trial. In the photo Tekashi is grabbing Jade's butt as she kisses him on the cheek. The photo, posted on Jade's Instagram, is captioned "He's good luv, enjoy."
The rapper was allegedly endangered quickly after being imprisoned just before Thanksgiving last November. He was reportedly moved from a Brooklyn federal prison to a federal facility by the end of November, according to NME. The change in location was originally reported by TMZ, who claimed the rapper was considered to be in danger from gang-affiliated inmates. This report was never confirmed, but an inmate search did show Tekashi had been legally released from the Brooklyn prison according to NME.
Tekashi will await trial and could face life in prison. As of now, his minimum sentence is said to be 32 years, Rolling Stone reported in November. The rapper pleaded not guilty to both racketeering and firearms charges in November. On Februrary 2, the rapper pleaded guilty to nine charges, which inspired rumors he may be cooperating with the federal government for a reduced sentence. This has not been confirmed.