What Happens to Banksy's Balloons?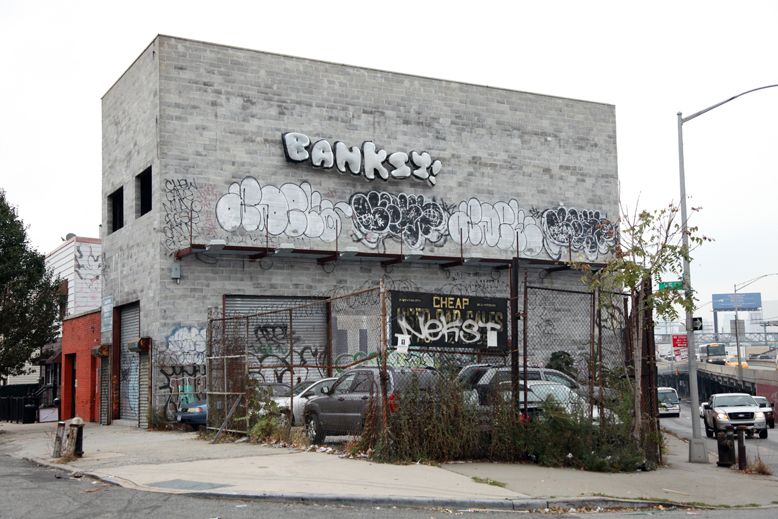 Banksy's New York City residency ended on Thursday with an arrest. The New York Police Department confirmed to Newsweek this afternoon that three men had been arrested, and one man had been issued a summons, in connection with the attempted theft of the inflatable sign, which reads BANKSY in classic bubble lettering that imitates graffiti. Cops also confiscated the installation for evidence, stuffing the piece – which, based on the $615,000 winning bid for Banksy's "Nazi" painting, could be worth hundreds of thousands of dollars – into the back of an NYPD van.
What will happen to that valuable, buoyant bubble lettering?
A spokeswoman for the NYPD tells Newsweek that the balloon banner is in the 108th Precinct building, in Queens' Long Island City neighborhood. It's going to be used as evidence at arrest proceedings, she says.
An officer at that precinct, speaking on background, had a few more details about the inflatable's fate: Items confiscated by cops are turned over to the NYPD's Property Clerk Division. He wasn't too sure about the timeline – when that would take place, or how long Banksy or an authorized representative of his would have to come forward and claim the piece – but the division's website provides more details about the process.
To get his bubbles back, Banksy would have to visit the property clerk in Queens with "an invoice number…proper identification…" and documentation indicating whether or not the District Attorney is allowing the property's release, according to the website.
Here's where it gets complicated: At press time, Banksy's balloons are still being held as evidence in the 108th, so their release depends on when the D.A. says it doesn't need to hold onto them anymore.
That said, Banksy would have "270 days from the demand to obtain a District Attorney's Release or a supervising District Attorney's statement refusing to grant a release."
If Banksy does not get an official greenlight or no within 270 days, "the property may be disposed of according to law."
If Banksy does get an official refusal from the D.A., then he would have to keep his eyes on the status of the property and "must, when the District Attorney no longer needs the property, obtain and submit to the Police Department a District Attorney's release."
Should Banksy not take these steps, his October 31 installation might be put up on the bidding block, as "unclaimed general property and vehicles are disposed through public auctions held by the Property Clerk Division on a regular basis."
And it's very possible this might be artwork's fate, as the clerk's office requires property owners to prove their identity, which could a sticky issue for Banksy, who is famous for being unknown.
Even a Banksy representative would need "a notarized letter from the owner of the property, identifying the individual to whom the owner is authorizing to act as his or her representative to claim the specific property."
The clerk's website notes that "in some cases additional items must also be presented" but it's unclear what they are.
And so the fitting end of Banksy's residence becomes even more fitting: The uncertain future of his last NYC installation is a perfect example of his ironic, anarchic aesthetics.