What Happens if a GOP Senator Signs On to Objections to Biden's Victory?
Republican allies of President Donald Trump, led by Representative Mo Brooks of Alabama, have said they plan to object to the electoral votes cast in President-elect Joe Biden's favor when they meet on January 6, in a final longshot effort to overturn the election results.
Although political experts as well as Republican and Democratic lawmakers have predicted that the effort by some GOP lawmakers will fail, it is constitutionally possible for Congress to step in and overturn a state's election results. Top GOP Senate leaders have reportedly urged their colleagues not to sign on to any House efforts to object to the results, but several have suggested they are open to the idea.
Even if a Republican senator and a Republican House member both objected to the results of the Electoral College votes, which were cast on Monday, they would need to convince majorities in the House and Senate to agree with their objection. Here is a closer look at how that process would play out.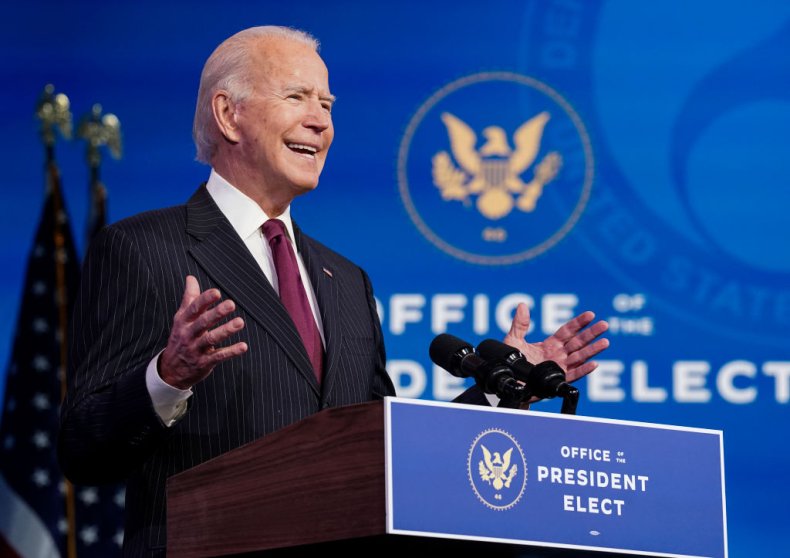 What happens on January 6?
After being sworn in days earlier on January 3, the Senate and House members of the 117th Congress will meet on January 6 at 1 p.m. to open up and count the votes cast by the Electoral College.
"The president of the Senate shall, in the presence of the Senate and House of Representatives, open all the certificates, and the votes shall then be counted. The Person having the greatest Number of Votes shall be the President," the Constitution explains in Article II, Section I. In the case of the 2020 election, Biden came out ahead with 306 electoral votes, compared with 232 for Trump.
But Trump and his allies continue to claim—without proof—that Biden won only because of widespread voter fraud. There is no evidence to back these allegations. The president and his supporters have already filed dozens of failed lawsuits in state and federal courts in a bid to overturn Biden's win. Judges have repeatedly ruled against Trump, pointing out that lawyers for the president and his supporters have failed to provide evidence to back their claims.
What happens if a lawmaker objects?
Any member of the House can submit an objection to a state's results in writing. However, these objections will hold weight only if a member of the Senate signs on. While GOP allies of Trump in the House have been more vocal about their intention to object, some Republican senators appear to be open to the idea of joining this effort. In particular, one incoming senator, Tommy Tuberville of Alabama, has suggested he'd be willing to object.
"You've been reading about it in the House. We're going to have to do it in the Senate," Tuberville said in a video taken by liberal activist Lauren Windsor that was published online Thursday.
If Tuberville, or another GOP senator, signs on to a House member's objection, then both chambers of Congress will be required to separately debate the objections for a maximum of two hours. In order for an objection to any state's votes to succeed, both chambers of Congress must "concurrently" agree with the objection.
It is not expected that the House, which will be narrowly controlled by Democrats, or the Senate, which will be narrowly controlled by Republicans, would both agree to any objection. Senate Majority Leader Mitch McConnell, along with other GOP Senate leaders, reportedly urged his Republican colleagues this week to refuse to sign on to any House efforts to block Biden's win. McConnell reportedly told colleagues in a meeting this week that objecting "isn't in the best interest of everybody."
Newsweek reached out to McConnell, as well as Senate Republican Whip John Thune and Senate Rules Committee Chairman Roy Blunt, for comment, but they did not respond in time for publication. Thune and Blunt reportedly urged their GOP colleagues not to participate in any House Republican efforts.
How does it end?
After all the electoral votes are read out—and any potential objections discussed—Vice President Mike Pence, as the president of the Senate, will be tasked with declaring Biden and Vice President-elect Kamala Harris the winners. Although that may be an awkward moment for Pence, it is not at all unprecedented. Following the 2000 election of former President George W. Bush, former Vice President Al Gore was required to declare his former opponent as the next president on January 6, 2001. In that election, Gore had won the popular vote but lost to Bush in the Electoral College.