'What Happens If It's Your Daughter?': Women Panelists Divided on Midterms Amid Kavanaugh Accusations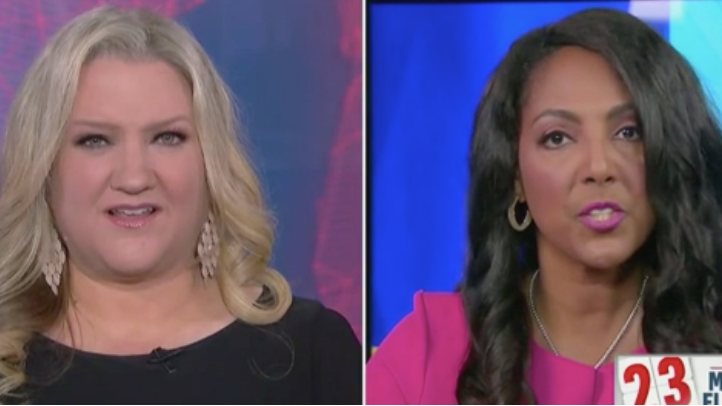 Political analysts Michelle Bernard and Jen Kerns clashes on MSNBC on Sunday while the two discussed whether white women will vote Republican or Democrat during the 2018 mid-term elections.
"I am very pessimistic about what we will see happen with the white women's vote, in terms of are they going to vote Republican or Democrat," Bernard explained.
She cited the Alabama Senate race, which featured a Republican candidate, Roy Moore, who was accused of pedophilia allegations as an example -- saying that she credited black women and women of color for the fact he had not won regardless, not white women.
"White women gain power through the proximity that they have to white males, to their husbands, and the vote the same way that their husbands do because it always, somehow favors them," she added.
Jen Kerns, a former Republican spokeswoman, interjected, "that's offensive," while Bernard continued to suggest that the Kavanaugh hearings will not automatically result in Republican women changing their votes.
"I do not see any reason for Democrats to believe that after the Brett Kavanaugh hearings we are going to see a flood of white women — particularly Republican, red state feminists — come out and vote for Democrats," Bernard warned. "Whatever is going to happen in the midterm elections, it's going to be because of the vote of black women and other women of color."
Kern then defended Moore, suggesting that the evidence was ambiguous. Bernard responded: "I always want to ask people like you, what happens if it's your daughter? ... If it's your daughter that comes into play one day, are you going to change your tune?"
"I don't have to speak to my daughter, myself. And many women in this industry have been subject and victims of the 'MeToo' movement. So, I don't have to speak to my daughter. I can speak to my own personal opinion," Kerns said.
She continued to say that she would never make a 35-year-old accusation with "no evidence."
"I could tell you the exact day, the exact time and who took me there and who got me home," Kerns said. "That's more than we got from [Dr. Christine Blasey Ford]."
The aftermath of the discussion started circulating around Twitter, with Kerns tweeting: "I always hate bickering w/ @AliVelshi because I like him so much. But had to clap back to some of the other @MSNBC panelists on some things!"
Bernard received pushback from women online regarding her comments. One Twitter user saying, "I'm offended, I'm a white Democrat woman, and I voted for Hillary, so let's not say all white women."
"I know that! Didn't mean to imply that! The problem is your sisters on the right. Thanks for doing the right thing for women and for the nation," she responded.