Mike Bloomberg Is Staking Everything on Super Tuesday—What Happens If He Loses?
Super Tuesday is a make-or-break for Michael Bloomberg, who invested more than $400 million of his own fortune into a strategy he thought would help him secure the nomination.
The former New York City mayor chose to skip the first four early voting contests—Iowa, New Hampshire, Nevada and South Carolina— to focus solely on the 15 states and territories voting on March 3. But the plan could backfire, leaving the 78-year-old billionaire with few options as the Democratic primary intensifies.
"It's impossible for him to continue as a viable candidate with a chance of collecting delegates if he doesn't do so on Super Tuesday," Douglas Herman, a California-based Democratic strategist, told Newsweek. "It would be a failure of epic proportions based on how much money he has spent."
Yet polling so far shows Super Tuesday looks bleak for the 78-year-old billionaire. He trails either Bernie Sanders or Joe Biden in the five biggest states to vote—California, Texas, North Carolina, Virginia and Massachusetts—according to FiveThirtyEight polling averages.
If he loses—unlike his competitors who would be forced out of the race—Bloomberg has the resources to stay in the fight until the Democratic National Convention this summer.
And if Bloomberg doesn't amass enough delegates on Super Tuesday to become a front runner, he can continue to siphon votes from other candidates in the hopes of forcing a contested convention.
"I think the path forward for him is to make it a contested election," Democratic strategist Michael Starr Hopkins told Newsweek. Hopkins worked on Hillary Clinton's 2016 presidential run and for President Barack Obama's 2008 campaign.
A contested or brokered convention is when no candidate earns enough delegates to secure the Democratic Party's nomination. They then have to make intense efforts to win over uncommitted delegates and sway the convention rules in their favor. It hasn't happened in more than five decades, but forecasters such as FiveThirtyEight have projected that it's the most likely outcome of this year's primary.
As of now, none of the candidates has a clear advantage when it comes to delegates. Sanders is currently in the lead with 58 but closely followed by Biden, who has 50. Bloomberg has zero delegates because he's yet to appear on the ballot in a primary contest.That could change after March 3, when more than a third of all pledged delegates will be up for grabs.
It's been reported that Bloomberg is quietly plotting the path to a contested convention. According to Politico, the former mayor has been privately lobbying party officials and donors to flip their allegiance to him if such an event were to take place.
"There's no other explanation for it other than that," Herman said about Bloomberg remaining in the race after a Super Tuesday loss. "The only reason for him to stick around is to hopefully be picked as the choice or the fallback at the convention."
Bloomberg's campaign has not yet responded to Newsweek's request for comment.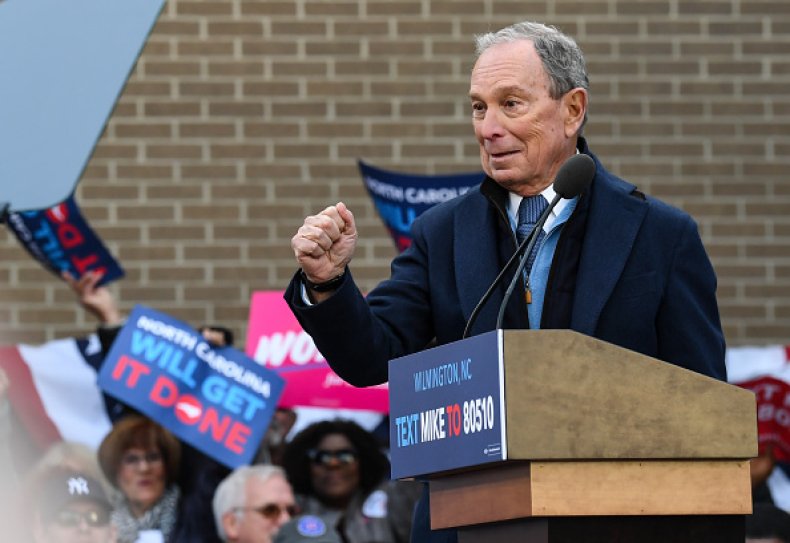 However, another option for Bloomberg in the event of a Super Tuesday loss is to drop out and use his war chest to support another Democratic candidate. NBC News reported in January that the billionaire would continue to pour millions into the race to fund whoever wins the nomination, even if it's not him.
"Mike Bloomberg is either going to be the nominee or the most important person supporting the Democratic nominee for president," Kevin Sheekey, Bloomberg's campaign manager, told the network. "He is dedicated to getting Trump out of the White House."
It wouldn't be the first time that Bloomberg has helped get a Democrat into office. During the 2018 midterm elections, he spent more than $100 million helping the party regain control of the House of Representatives. Overall, Democrats won 21 of the 24 races he sought to influence.
"We've never had a candidate before who had the ability to just use unlimited resources to run against the Republicans," Hopkins said. "I think it's something unique to him and something voters are curious about."
The unpromising picture for Bloomberg ahead of Super Tuesday is a reversal from the momentum he was experiencing just a few weeks ago. He was surging in the national polls—a Marist survey conducted in mid-February found him in second place—and he was on the rise in key battleground states.
In fact, he was polling well enough to capture a spot on the debate stage in Nevada. But his disastrous performance set his campaign back. Then big wins for Sanders in Nevada and Biden in South Carolina back-burnered Bloomberg even more.
But he's is still going all-in on Super Tuesday. The Bloomberg campaign began a massive voter outreach push over the weekend that includes 2,400 events across 30 states ahead of March 3—although dispatching unlimited resources doesn't necessarily translate to success. Tom Steyer, the only other self-funded candidate in the race, dropped out on Saturday after an unexpectedly poor performance in South Carolina. Steyer, who invested more than $200 million into the race, had been polling in the top three in the state just days before the contest.
"Just because you can continue to fund your campaign, does not mean that you should or that it's good for the Democratic Party to do so," Herman said. "[Bloomberg] is just going to prolong our ability to identify a nominee and get out there and beat Trump."
Mike Bloomberg Is Staking Everything on Super Tuesday—What Happens If He Loses? | U.S.