What Happens if President Donald Trump Catches Coronavirus?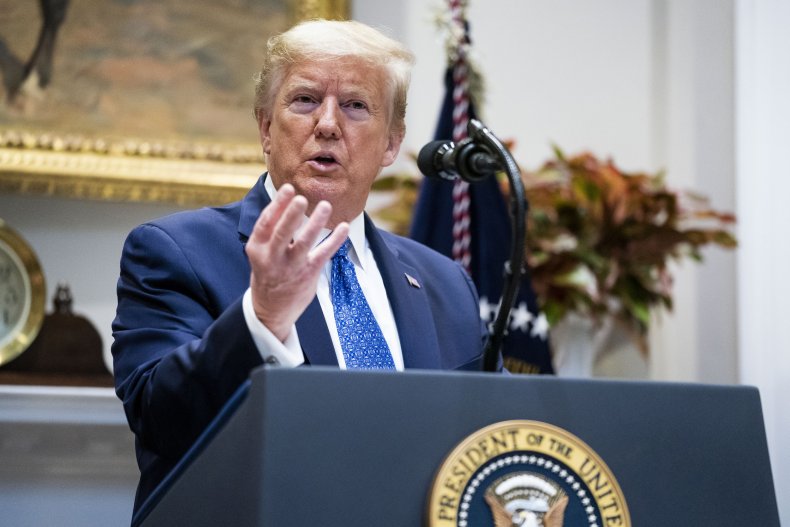 Recent positive COVID-19 tests at the White House—including the president's personal valet and top aide to the vice president—have illustrated the close proximity that President Donald Trump has come to the novel coronavirus.
Yet Trump has eschewed expert medical advice to wear a face mask while in public and increased his travels in recent weeks. This week he admitted he started taking a controversial medicine, even though hydroxychloroquine's prophylactic benefits are unproven.
The president is regularly tested for COVID-19, as are those who come into contact with him, and so far, he does not appear to have contracted the disease.
"I've shown always negative," he told reporters this week while explaining his decision to take an anti-malarial drug as a preventive measure. "Totally negative. No symptoms. No nothing. I take (hydroxychlorquine) because I hear very good things."
Trump, data show, falls in the category of people who are at risk for complications due to the coronavirus. According to the Centers for Disease Control and Prevention, people 65 and older and people who are overweight are at risk. Trump turns 74 next month, and results from a physical last year showed 6-foot 3-inch Trump weighed 243 pounds, putting him over the clinical threshold for obesity.
Two White House staffers close to Trump have had to go on leave after testing positive—his valet and Vice President Press Secretary Katie Miller, who is also married to senior Trump adviser Stephen Miller. And at least five Trump acquaintances have died after battling the disease.
"Two people were very good friends of mine," Trump said during a public appearance in Pennsylvania last week. "Now, they were older. I wouldn't say they were in the greatest of health. I wouldn't say their weight was perfect. But they're gone. It's just a terrible, terrible thing."
The White House, however, has repeatedly tamped down questions about what would happen if Trump falls ill.
"We're keeping the president healthy. We're keeping the vice president healthy," White House press secretary Kayleigh McEnany told reporters last week. "And you know they're healthy at this moment, and they'll continue to be."
Yet as healthy as the president may be, the coronavirus is highly contagious, which raises the question: What happens if Trump catches COVID-19?
The 25th Amendment, which was ratified in 1967—just years after the assassination of then-President John F. Kennedy—allows the vice president to temporarily take an acting role, either with the president's approval or, if incapacitated, with the support of a majority of the Cabinet or a chamber of Congress, and then relinquish it back.
President Ronald Reagan used the 25th to transfer power to then-Vice President George H.W. Bush while Reagan had a colon procedure. President George W. Bush used it twice to transfer power to his vice president, Dick Cheney, during colonoscopies.
"That's what should happen constitutionally," said Shannon Bow O'Brien, a political science professor at the University of Texas at Austin.
But O'Brien and others who have studied Trump question whether his unconventional style—the brash New York businessman rather than a more diplomatic background—could threaten norms that might otherwise be expected.
"My hunch would be the president would probably 'go take an extended vacation at Mar-a-Lago' or decide to 'self-isolate'—they would probably say someone close to him got it," O'Brien, who studies the presidency and political communication, told Newsweek. "I don't see him willingly surrendering power to anybody."
Heather Ba, a political science professor at the University of Missouri, agreed that as long as Trump isn't incapacitated the public may not see much change.
"If he were just to fall ill, he can still do his job even if it's not to the standard he usually does," she said.
O'Brien has written a book on presidential speech and another specifically on Trump's rhetorical tools. Based on her research on his presidency, she said, she doesn't think that he would enthusiastically relinquish the reins for anyone, except perhaps his daughter Ivanka Trump or son-in-law Jared Kushner, both senior advisers in the White House who have been hand-picked to lead the president's top agenda items.
"I don't think he trusts anybody outside his family," O'Brien said.
O'Brien said some presidential health conditions become fully known only years later.
After a serious stroke in 1919, President Woodrow Wilson is believed to have ceded authority to first lady Edith Wilson, O'Brien noted, and President Dwight Eisenhower retreated from the public eye for several weeks in 1955 after suffering a heart attack, though he was still considered in charge. His campaign for reelection leaned heavily on television and other then-novel methods of getting his message nation-wide, rather than a rigorous travel schedule, O'Brien said.
"If (Trump) got sick, I could see them doing some version of that," she said.
There also could be symbolic repercussions—the "leader of the free world" contracting a deadly disease in a pandemic, Ba said. But it's less likely to have real-world impacts as Trump hasn't taken the lead on directing the global coronavirus response or coordinating with other countries.
"It's hard for me to imagine that there would be much of an impact besides people looking at the United States as a very powerful country and the leader falling ill with the coronavirus," she said.