What Happens If the U.S. Runs Out of Diesel Fuel?
Diesel fuel inventories in the U.S. are at their lowest level since 2008, right when the country is approaching high-demand season.
Reporting that the Energy Information Administration (EIA) said that the U.S. had 25.4 days left of diesel supply as of October 14, Fox News host Tucker Carlson and many on social media rang the alarm over the country running out of diesel fuel before Thanksgiving. But is that even possible?
"I just don't see it happening," Denton Cinquegrana, chief oil analyst at the agency Oil Price Information Service (OPIS), told Newsweek.
"But hypothetically, how would we run out of diesel? All the refineries would stop running. Pipelines would stop flowing. It's a pretty far-fetched scenario, right? Supplies are tight for sure, but going throughout the downstream supply chain, if you have a contract, you are getting your gallons/allocation based on the contract."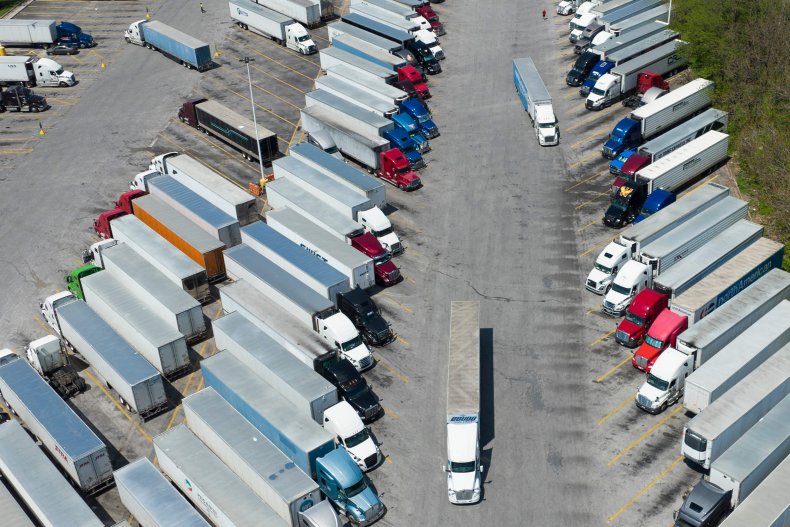 The EIA specified to Newsweek that the figure available to them, the 25.4 days of supply distillate fuel left in storage, "is only a measurement of the amount of distillate fuel in storage," which does not consider the amount of distillate fuel being produced at U.S refineries, or the amount of distillate fuel imported into the country.
Tom Kloza, founder of OPIS, told Newsweek that it's unlikely that the country will run out of diesel, but "it's always a possibility."
If the country ran out of diesel, it would be disastrous. "It would freeze global commerce," said Kloza.
"Whatever you have, whether it's a car or it's a widget, everything that moves around the world moves by virtue of diesel molecules. The ships that sail from Europe to here, from China to the West Coast of the U.S., they use something close to diesel fuel to power those ships.
"And once it gets here, it moves either by rail or by truck. And most of those vehicles are powered by diesel. So it would be it would be a hell of a problem. I don't think we have wind-masted scooters or electric trucks at the ready yet. So it would be kind of a vacancy in the energy transition, where we might not be transitioning to anything because commerce would just grind to a halt."
Kloza doesn't like to call the current supply crunch a shortage but says that low diesel inventories signal a crisis. "I think that every fuel has been essentially in crisis this year, at one time or another."
The ban on Russian imports, which has blocked some of the oil and gas reserves the U.S. counted on, is forcing the country to an adjustment, said Kloza, which is still undergoing.
But while this crisis has been so far manageable in the summer, "now, the biggest risk comes in the crunch time for cold Northern Hemisphere temperatures, I would say from Christmas through Valentine's Day," Kloza said.
"You can have problems not just with diesel, but lots of other products. And you might have problems because some of the diesel gets used for heating oil or it even gets used because natural gas is interrupted to commercial customers."
Kloza thinks that, despite the crisis, there's going to be enough fuel this winter.
"We're going to have logistical issues and it's going to be very high priced. I wouldn't be surprised if we don't see diesel prices remain somewhere between 5 and 6.50 [dollars] a gallon in the U.S. for a period of time, but at least you'll be able to find it," he said.
Kloza said that U.S. refineries currently have a very high incentive to produce diesel, as their "profit margins are 5 to 10 times what they'd become accustomed to in the last 20 or 30 years"—so they wouldn't just drop out of production.
While the current diesel shortage is likely to fuel inflation this winter and could potentially bring the U.S. economy to a slowdown, both Kozla and Cinquegrana think there's no need to panic over the diesel shortage.
"Diesel can be very seasonal. It's become a bigger concern now because we are heading into the colder months," said Cinquegrana. "Additionally, all the supply deficits are concentrated on the East Coast. All other parts of the country are at manageable deficits—Gulf Coast distillate supplies are actually above the five-year average right now. The diesel situation is heavily concentrated in just one part of the country."
"I would be afraid to say that we're not going to have diesel or we're not going to have gasoline, it's a little bit like crying fire in a crowded theater," said Kloza.