A person who uses a COVID-19 vaccination card when they are not vaccinated can face some real consequences, including a five-year prison sentence.
Millions of Americans have yet to be vaccinated against COVID-19 and unvaccinated individuals are driving surges in hospitalizations. In an effort to boost vaccinations, state, and local officials are implementing restrictions on unvaccinated people's lives, such as dining indoors and attending college classes in person. However, the unsophisticated nature of the vaccination cards' design have made them easy to replicate, giving people a way to bypass the restrictions.
While vaccine cards have a very basic design, their use of the Centers for Disease Control and Prevention (CDC) seal makes using them for fraudulent purposes potentially a criminal offense. The FBI has warned that the unauthorized use of the CDC seal on a vaccine card could be punishable under TItle 18 of the United States Code, which has a penalty of a fine, imprisonment of up to five years or both.
So far, the Department of Justice has focused on holding those who are creating and selling fraudulent cards accountable. However, the U.S. Customs and Border Patrol warned people using counterfeit COVID-19 vaccination cards is a crime and can be punishable under federal and other applicable laws.
"If you do not wish to receive a vaccine, that is your decision. But don't order a counterfeit, waste my officers' time, break the law, and misrepresent yourself," Michael Neiport, CBP Area Port Director of Memphis, said in a statement after seizing a shipment of counterfeit cards.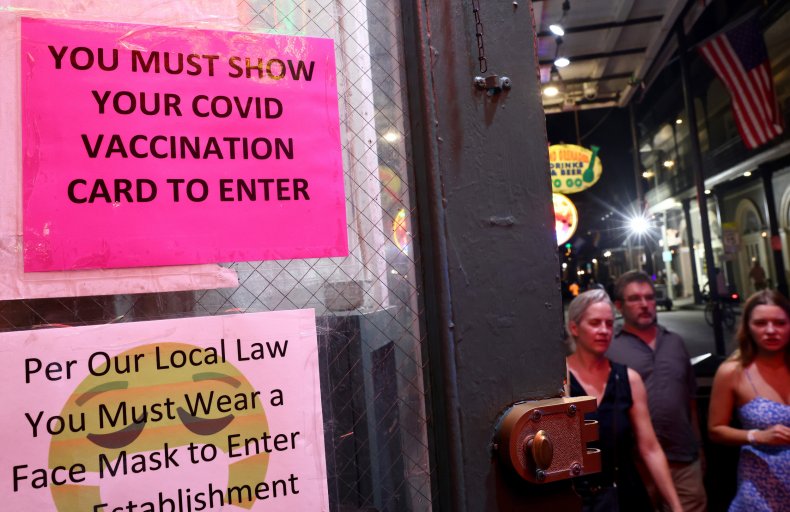 Although most arrests have involved people allegedly distributing counterfeit COVID-19 vaccination cards, several people in Hawaii have been arrested for allegedly using fake vaccine cards. The defendants were charged with violating the emergency proclamation and face up to one year in prison.
One woman, Chloe Mrozak, drew attention to herself when she passed through a Hawaii airport with a vaccination card that said she received the "Maderna" vaccine. She reportedly used the fake card to skirt Hawaii's quarantine requirements and initially made it through the screening process, but was arrested before her return flight.
Along with the possibility of being prosecuted, the FBI said unvaccinated people using vaccination cards to enter schools, workplaces, gyms and other public spaces puts themselves and others at risk of contracting COVID-19.
In many cases, proving vaccination doesn't require a person to have their physical card, as a photo of the vaccine will suffice. While this makes it more convenient for people who are vaccinated and reduces the risk of the paper card getting destroyed, it also makes the cards susceptible to fraud.
While it may be tempting to post a picture of a person's vaccination card online, the FBI warned that "bad actors" could use the image to steal a person's identity and vaccination status.