What Happens to Kamala Harris' Senate Seat Now That She's Slated to Become Vice President?
Come January, Democratic California Senator Kamala Harris will become the vice president, leaving her Senate seat vacant in the U.S. Congress. One man is responsible for filling it.
Under California's election code, Democratic Governor Gavin Newsom will have to fill Harris' seat with someone who "possesses the qualifications for the office." That person will then serve out the rest of Harris' term, which ends in 2022.
In August, Newsom told reporters at a press conference that he was focused on the new coronavirus pandemic and not on who he would appoint to fill Harris' seat given that it was five months away. However, people are vying for her job.
During that same press conference, Newsom said it was only a "slight exaggeration" to say a reporter might be the only person who hasn't pitched himself as a replacement.
"I can't be more pointed privately than I am being publicly. That's not what I'm focused on right now. I'm focused on what I need to be focused on and that's you and your health," Newsom said.
Newsweek reached out to Newsom for comment, but did not receive a response in time for publication.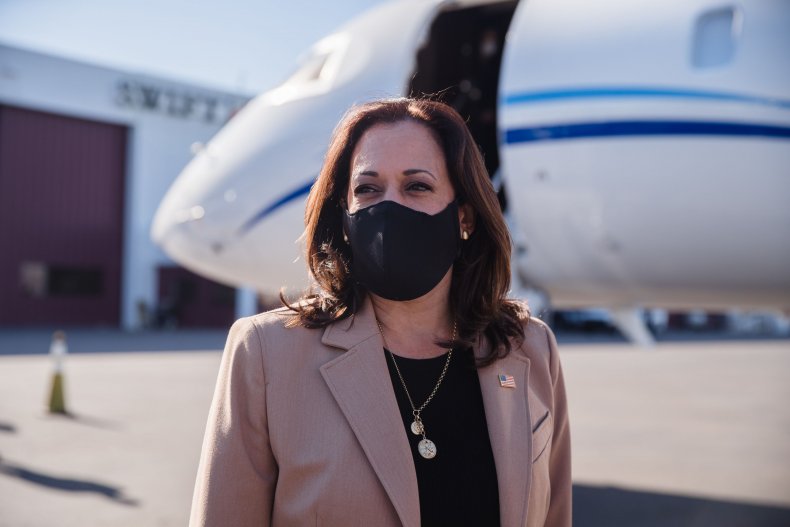 Newsom is also up for re-election in 2022 and it's possible that will be in the back of his mind when making his choice to fill Harris' seat. During the August press conference, he applauded Harris—a woman he called an "old friend of over a quarter of a century"—for her empathy, compassion, learnedness and commitment to solving problems.
It's likely Newsom will replace Harris with another Democrat, as voters elected her as a Democrat and California is a heavily blue state. Based on his praise of Harris, it's possible he'll also seek someone who emulates her.
Technically speaking, Newsom can't appoint anyone he wants. To meet the requirement of possessing the "qualifications for the office," the person must be at least 30 years old; a U.S. citizen for at least nine years; and a resident of California, according to the U.S. Constitution.
At least a dozen people are "seriously in the mix," according to Politico, including California Secretary of State Alex Padilla and Attorney General Xavier Becerra. Representative Karen Bass, who was on Biden's shortlist for vice president, was also on Newsom's list, Politico reported.
Whoever Newsom appoints will have two years to build their name recognition before the 2022 election. Given how heavily California swings Democratic, the person who fills Harris' seat will have a good chance at keeping it come time for re-election.