What Happens to Larry Elder If He Loses the California Recall?
Republican Larry Elder is expected to become the new leader of California if a majority of voters decide to remove sitting Governor Gavin Newsom from office in today's gubernatorial recall election.
Elder, a conservative radio host who launched his gubernatorial campaign in July, has led the field of 46 recall candidates in most polls conducted over the last few months, with many voter surveys estimating his lead to be in the double digits over fellow Republicans such as businessman John Cox, former San Diego Mayor Kevin Faulconer, state assemblyman Kevin Kiley and reality television personality Caitlyn Jenner.
If Newsom is ousted, Elder could become the first Republican in a decade to lead California, where registered Democrats outnumber registered Republicans nearly two to one.
The most recent Republican to do so was Arnold Schwarzenegger, who was named governor following California's last gubernatorial recall election in 2003. When former Democratic Governor Gray Davis was removed that year, the divide between the state's number of registered Democrats and Republicans was significantly smaller.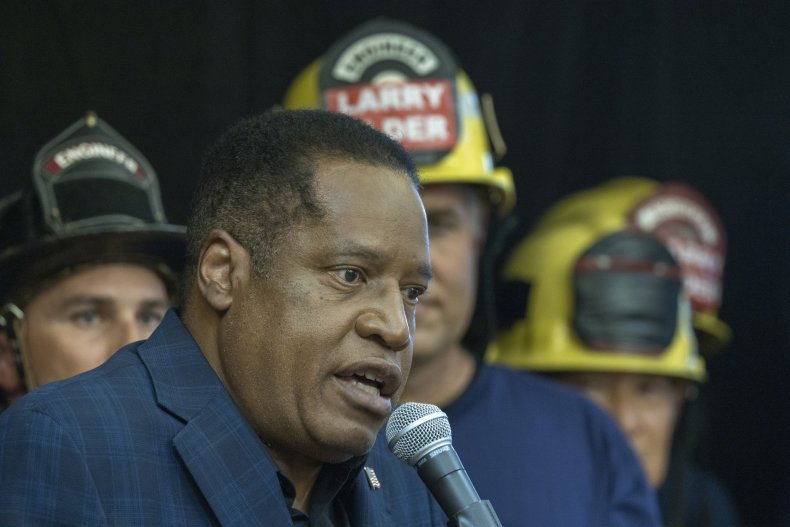 Polls conducted in the weeks following Elder's campaign launch suggested Californians were relatively split on the decision of removing Newsom from office. But those numbers shifted in Newsom's favor over the last month, with support for the recall appearing to decline as Democrats grew motivated to keep Newsom in office for the remainder of his term.
If a majority of the ballots cast in today's recall election are in favor of retaining Newsom, Elder's lead in the polls will not matter. The recall ballot consists of two questions, the first pertaining to Newsom's removal and the second asking which recall candidate voters would choose to replace Newsom if he is recalled. That second question only comes into play upon Newsom's removal.
If Newsom defeats the recall, he will remain in office through the official end of his term on January 2, 2023—and he will be eligible to run for re-election during the 2022 midterms.
Asked on Monday about Elder's plans for the future if Newsom defeats the recall, Ying Ma, the communications director for Elder's campaign, told Newsweek their attention is on the current recall effort.
"We expect Larry to win tomorrow, and we are focused on the recall election of 2021," Ma said.
It is uncertain when the outcome of today's recall election will be known, as many Californians have voted by mail and in-person polling locations will not close until 8 p.m. local time. But even after the election is called, it is unclear if Elder will accept the results.
During an interview with MSNBC Monday, Elder refused to commit to accepting the election results. Instead, he repeated claims he had made in recent days about voter fraud allegations. Elder previously told reporters that he believes "there might very well be shenanigans" in the recall process and suggested his campaign would be ready to file lawsuits if they determined there was a need to do so, according to CNN.
Beyond the decision to accept the recall election results, Elder previously suggested he would run for governor in 2022 if he did not win in the bid to remove Newsom.
During an August interview with the Sacramento-based news station KXTV, Elder said he was "very likely" to run for governor next year, though he described his hypothetical loss in the recall election as "unlikely."
"A lot of my contributors have asked me to stay in the game in the unlikely event that I don't become governor after September the 14th," Elder told the station. "So in all probability, I will do just that."
Elder did not answer specific questions about his plans for 2022 while speaking with reporters last week, but he said many people "have invested their hopes and dreams" in him and believe that he "can make California better," according to The Associated Press.
Elder's support among voters who participate in the recall election will likely also factor into his options for pursuing politics down the road, with Republicans on the lookout for a candidate who could challenge Newsom again next fall if the Democrat succeeds for now in retaining his seat.