What Happens Next in Breonna Taylor's Case? FBI, Louisville PD Investigations Ongoing
One Louisville Metro Police officer involved in the shooting death of Breonna Taylor was indicted Wednesday by a grand jury, leaving many wondering if that marks the end of the investigation into the death of the 26-year-old Black EMT.
In a press conference announcing the charges, Kentucky Attorney General Daniel Cameron noted that an FBI investigation is ongoing in the case with regard to potential violations of federal law.
The announcement of charges against Officer Brett Hankison, who was indicted with three felony counts of first degree wanton endangerment, quickly drew backlash on social media, as well as from protestors walking through Louisville and calling for justice for Taylor. The charges levied against Hankison, who was fired by the Lousiville PD in May, stem from the 10 shots he fired into Taylor's apartment after a no-knock warrant was served in connection with an ongoing case. According to Cameron, Hankison was located outside the apartment and fired inside when Taylor's boyfriend Kenneth Walker began firing at two other Metro PD members, Sgt. Jonathan Mattingly and Detective Myles Cosgrove. Walker said he believed that the couple's apartment was being robbed, and prompted his use of a firearm.
Some of the bullets fired by Hankinson went through the walls of Taylor's apartment and into another residence where three individuals—a man, a pregnant woman and a child— were living. The charges were in relation to endangerment of those individuals, Cameron said. Hankinson was not charged in relation to Taylor's death.
"Will we continue to prosecute the charges brought in this case as it now proceeds to the justice system, and move to trial? That is our responsibility," Cameron said of the charges issued by the grand jury. "And this will be done while the FBI continues its investigation into violations, potential violations, of federal law."
The FBI investigation was first announced in May. In a statement, the FBI's Louisville field office said it "will collect all available facts and evidence and will ensure that the investigation is conducted in a fair, thorough and impartial manner."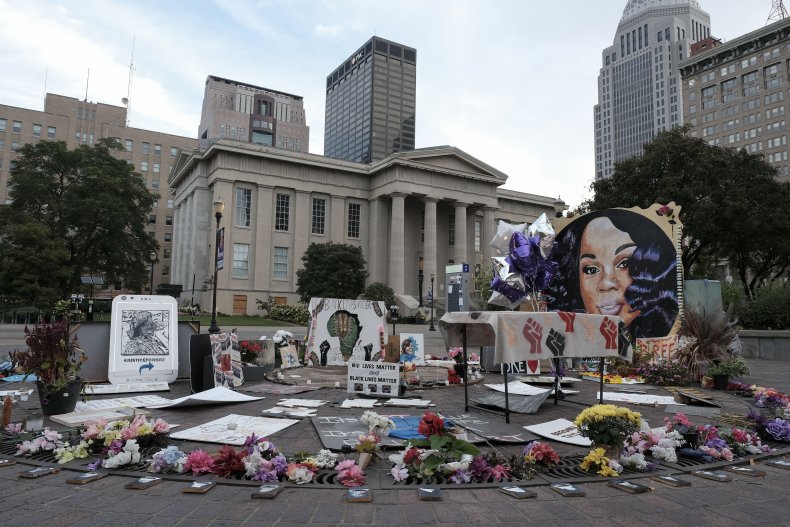 In addition to the ongoing FBI Investigation, the Louisville Metro Police Department confirmed a Professional Standards Unit investigation is underway to decide if there were any violations of department policies during the incident.
According to the Courier Journal, the internal investigation included four additional Louisville Metro Police Department officers. The additional officers included three detectives, Tony James, Michael Campbell and Michael Nobles, who were present at Taylor's apartment, as well as detective Joshua Jaynes, who swore the affidavit to obtain the warrant for Taylor's apartment.
Prior to the decision by the grand jury, Major Jamey Schwab, head of the Louisville Metro Police Department's special investigation unit, spoke during a media briefing and stated that the investigation has been limited to "background work."
"At that point in time, depending on that (decision), one of the biggest things we're going to need to do as part of our administrative investigation is re-interview the officers involved in the incident," Schwab said.
During Wednesday's press conference, Cameron said he would ask a statewide task force to investigate the process of obtaining search warrants in Kentucky.
"This task force is being established not to demonize any one side or any one department or agency," he said. "I think it's a healthy thing for the attorney general from time to time to be a part of a conversation with all 120 counties."
Newsweek reached out to the Louisville Metro Police Department for comment but did not receive a response in time for publication.