Here's What Could Happen Next After White House Blocked Ambassador Sondland's Testimony on Trump-Ukraine Matter
The Trump administration, at the last minute on Tuesday, blocked a key witness in the Democratic impeachment probe from testifying about the president's dealings with Ukraine—a move that may cause the White House more harm than good.
U.S. Ambassador to the European Union Gordon Sondland was scheduled to appear before lawmakers in a closed-door meeting as part of the House Democrats' ongoing impeachment inquiry against President Donald Trump. Sondland, a key witness, was mentioned in the original whistleblower complaint detailing Trump's controversial communication with Ukraine's president about investigating political rival Joe Biden and his son Hunter.
But the State Department told Sondland not to appear on Capitol Hill just hours before the interview. The ambassador's attorney said his client was "profoundly disappointed" but had no choice but to comply with the administration's request.
Congress can take additional steps to secure Sondland's testimony, but lawmakers will most likely consider the White House's action as obstruction of justice, which is an impeachable offense.
"The next step will be for the issuance of a congressional subpoena, with which Ambassador Sondland will no doubt refuse to comply on the same basis," Bradley Moss, a national security law expert, told Newsweek.
In fact, hours after the White House blocked Sondland's interview, House Democrats announced they would be issuing a subpoena for the ambassador's testimony and related documents.
But if the subpoena does not sway the administration to allow Sondland to talk, House Democrats will then have three options, Moss explained. They can hold the ambassador in contempt and refer the matter to the Department of Justice; they can try to arrest Sondland (a move Moss said would be considered as "an overreaction" by Democrats); or they can add the stonewalling of his testimony to an article of impeachment for obstructing a lawful inquiry.
"The third option is almost certainly where this saga is headed," Moss said.
House Intelligence Committee Chairman Adam Schiff told reporters in a press conference that the Trump administration's "failure to produce this witness" could be considered "strong evidence of obstruction."
Sondland interacted with Trump before and after his July 25 phone call with Ukrainian President Volodymyr Zelensky. Text messages provided to Congress last week show that Sondland and another senior official worked on a statement they wanted Zelensky to issue that would have committed Ukraine to investigating the Bidens.
"The American people have the right to know if the president is acting in their interests, in the nation's interest, and not in his narrow personal, political interests," Schiff said. "Indeed, the American people have a need to know."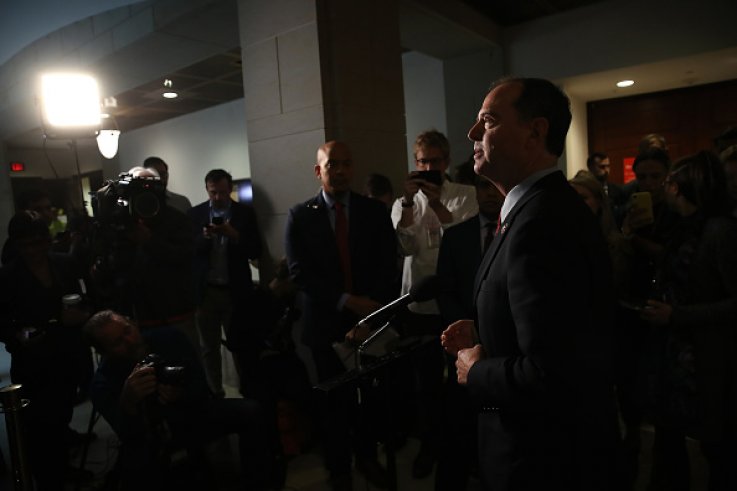 Contempt of Congress was one of the impeachment articles considered against President Richard Nixon before he resigned amid the Watergate scandal.
But Trump appeared to be unfazed by the potential consequences of stonewalling Sondland's appearance and spent Tuesday morning attacking the impeachment inquiry on Twitter.
"I would love to send Ambassador Sondland, a really good man and great American, to testify," he wrote on Twitter, "but unfortunately he would be testifying before a totally compromised kangaroo court, where Republican's rights have been taken away."
But polling shows that support for Trump's impeachment is growing since the House launched its inquiry in late September. A Washington Post/Schar School survey released on Tuesday showed 58 percent support for the inquiry and 49 percent support for impeachment and attempting to remove Trump from office.
Here's What Could Happen Next After White House Blocked Ambassador Sondland's Testimony on Trump-Ukraine Matter | U.S.