What Harper Lee Wrote About Barack Obama's Inauguration, Religion, Hitler and More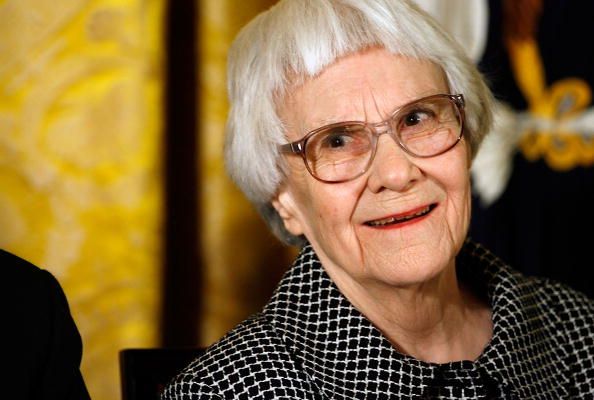 Harper Lee may have published just one novel, the 1960 classic To Kill a Mockingbird, but she never stopped writing. Instead of composing prose for millions of readers, however, she often wrote for audiences of one, in correspondence she kept up into her 80s. Now, a trove of 38 letters, notes and cards from the late author of is up for auction.
The Los Angeles-based Nate D. Sanders Auctions has posted the lot as part of its October auction, closing Thursday at 5 p.m. PT. The correspondence being offered for a minimum bid of $10,000 was sent from Lee to her friend Felice Itzkoff in New York, and came directly from the estate of Itzkoff, who died in 2011, a spokesman for Nate D. Sanders Auctions told Newsweek. The letters spanning from December 2005 to May 2010 were handwritten by Lee, mostly on her personalized, embossed cardstock with the original envelopes addressed in her hand, and all but one are signed "Harper" or simply "H."
"She was a complicated, rich, nuanced human being," Michael Kirk, an auction manager at Nate D. Sanders, told Newsweek on Wednesday of Lee, who died on February 19, 2016. The letters highlight her core beliefs, progressive politics and optimism, Kirk said. "I think these letters are a nice snapshot into her thinking, and also into her friendships with these people."
These people include Gregory Peck, who played Atticus Finch in the 1962 film adaptation of To Kill a Mockingbird. On January 20, 2009, the day Barack Obama became America's first black president, she wrote Itzkoff, "On this Inauguration Day I count my blessings," and then recounted a conversation Peck apparently had with Lyndon B. Johnson (though she doesn't indicate when the exchange took place). "I'm also thinking of another friend, Greg Peck, who was a good friend of LBJ. Greg said to him, 'Do you suppose we will live to see a black President?' LBJ said, 'No, but I wish her well.'"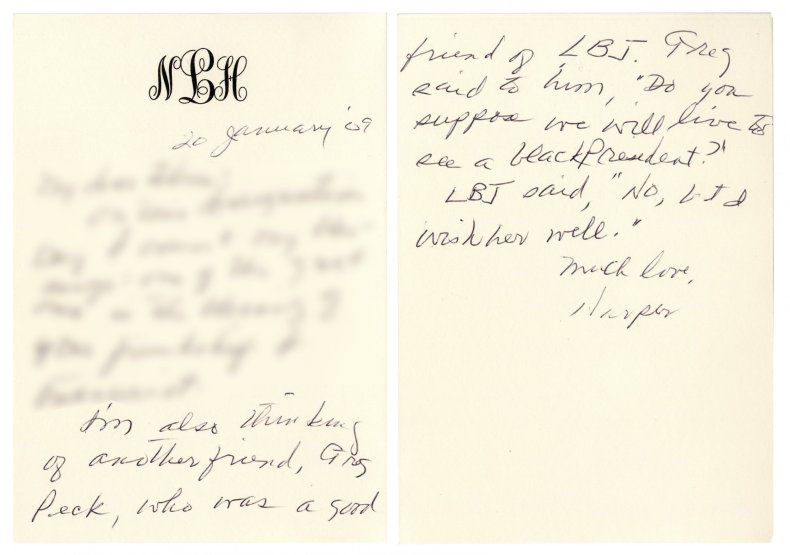 Lee also told her friend about the time Laurence Olivier accidentally insulted Helen Keller. In a letter dated May 13, 2009, she wrote:
My Helen Keller story is second-hand, but it comes from good authority. I was acquainted with Vivien Leigh—long divorced from Lord Olivier. Nevertheless her chief topic of conversation was "Larry." (She had a mine of good stories.) He was "on" one night and was considerably annoyed by the "noise" coming from two people in the audience. "Somebody making slapping sounds—can't the management put a stop to it?"

"If you want to put a stop to Helen Keller's enjoyment of your program, have her interpreter be quiet," he was told. "It is sometimes rather noisy, when things go as they should." Of course, Olivier melted, begged Miss Keller's pardon, and gave the rest of his performance in her honor, seemingly unaware of the "noise."
She wrote of her adoration of Horton Foote, who wrote the screenplay for To Kill a Mockingbird, after he died. "I am so proud to say that he was my friend. I never knew anybody like him except for my father, they had many traits in common. He was a great gentleman, and he did look like God!" she wrote in a letter dated May 14, 2009. "There is so much evil in the world today that I guess people don't recognize plain goodness. I wish 'heaven' were true."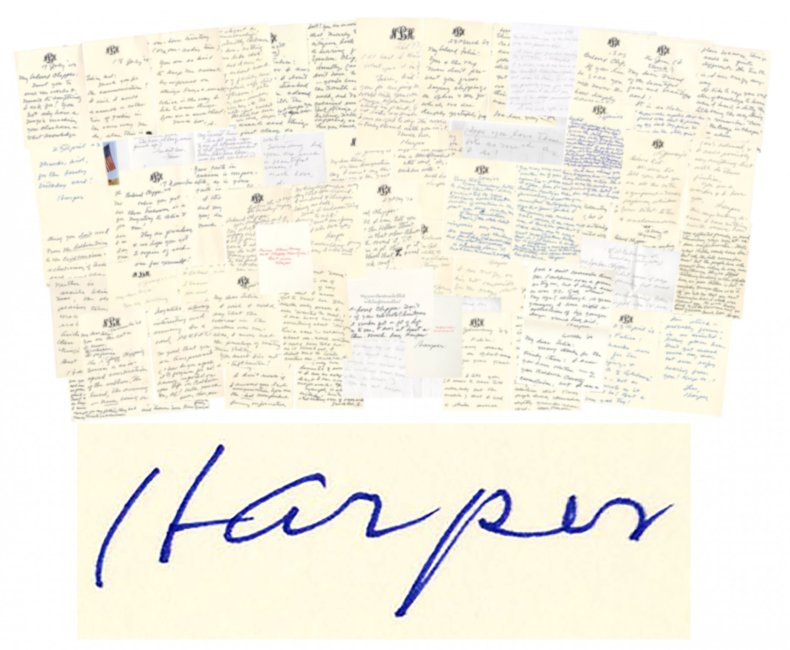 Her comments about religion didn't end there. In a 2009 Christmas card, she wrote to her friend: "Don't know if you celebrate Christmas, but it makes not a jot of difference to me. I am at heart a heathen." She cited Hebrews 13:8—"Jesus Christ is the same yesterday, today and forever"—at least twice in her letters, referring to her hometown of Monroeville, where she resided in an assisted living facility. "It is so Hebrews 13.8 here that I nearly go crazy from boredom," she wrote on June 26, 2009, one of many occasions on which she mentioned her hometown and the South.
In a letter from June 10, 2008, she wrote that "as I have advised you, nothing happens here—except the stray murder or two. The most recent was the murder of a dear friend of the lady who works for my sister—her house-keeper—who reported that her friend was shot to pieces by her irate boy-friend. So much for the still, quiet days in the South." In December of that same year, she wrote, "Your Christmas present went straight to this old Rebel's heart. Hadn't heard our side's yips in years [likely referring to the Rebel Yell], + I'd almost forgot how they sounded." She signed off with: "Much love to you from your unreconstructed Harper...I am a fool + also a nut. H."
She later wrote of Hitler, in a letter from May 14, 2009:
I hope your life buzzes with rewarding activity and that you live it with your affected friends in mind, thumbing your nose at us poor unfortunates. That's what Hitler would have done! But who the hell remembers him? Not the people here who weren't born when he was running things. They've stopped teaching history in the schools here, so poor Hitler is lost to anybody younger than WWII. (If you tell me that you can't remember him, I shall rise against you. He was living proof that the Germans had no sense of humor.)
In one letter, from May 21, 2008, the year after she suffered a stroke, she alluded to her state of mind, unclear whether in jest or not. "I haven't got bat sense—I blame drugs, but it's probably senility...Everybody here is in dementia of some sort + I am no exception," she wrote. "At least I can remember major events—9/11, for example, is also Alice's birthday. Ninety-seven + still taking care of baby sister."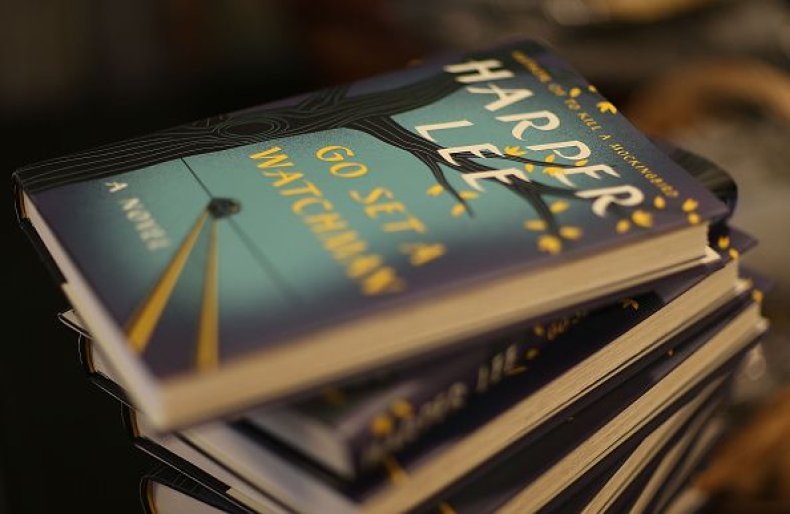 Kirk declined to venture a guess as to how much the lot would fetch, but did acknowledge that the auction house had received calls from potential bidders in the U.S. and abroad. "She's not just an American icon, I think she's also a global icon," Kirk said.
Though the current lot isn't the first of Lee's letters to be sold at auction, or even the first to be sold by this particular auction house, the sale brings echoes of the controversy that surrounded the publication of a second book by Lee. The author was notoriously reclusive after the immense success of To Kill a Mockingbird, and never released another book. That's why HarperCollins' announcement, in 2014, that it would publish an unearthed manuscript was jarring for some of Lee's friends and neighbors; they argued that her mental health didn't allow her to consent. The debate became heated enough that the State of Alabama intervened with an investigation, which found no evidence of abuse or neglect, and Go Set a Watchman was published on July 14, 2015. Still, Lee's reputation as a very private person suggests she might be none too pleased to know her musings to friends are up for sale.
"I think she was a private person but she's a role model and an inspiration to so many people. We certainly find nothing in these letters that's embarrassing. They reaffirm what a wonderful person she was," Kirk said, pointing to reflections and anecdotes that highlight her compassion and wit. "She was a remarkable person," he said, and from the auction house's perspective, the letters are "a celebration of her legacy."