What Has Senator Lindsey Graham Said About a Second Stimulus Check?
Republicans and Democrats are divided over the next stimulus package, but Senator Lindsey Graham may be able to be persuaded to back a larger package—depending on what's included in it.
It's been eight months since Congress passed the Coronavirus Aid, Relief and Economic Security (CARES) Act, but the unity that made that relief possible has been absent from Capitol Hill. Many Senate Republicans are backing a smaller, targeted package, while Democrats have long wanted a more substantive, higher price tag package.
Graham, who just won a hard-fought election, considers another stimulus package a top priority, telling WCNC his "number one goal" is "another stimulus package until we get a vaccine."
Vaccines for a new coronavirus progressed at historic speeds, in part because of scientific advancements and in part because of the financial investment made by the Trump administration. One company, Pfizer, is ready for the FDA to grant it Emergency Use Authorization and a hearing was scheduled for December 10.
General Gustave Perna, the head of Operation Warp Speed, the Trump administration's mission to have 300 million doses of a vaccine by the end of the year, said vaccines could be distributed 24 hours after the FDA grants the authorization. However, on Thursday, Trump said vaccines could start being distributed next week, a week prior to the FDA's meeting to review Pfizer's request for Emergency Use Authorization.
Newsweek reached out to Senator Lindsey Graham for comment as to how the progress of the vaccines impacts his opinion on another stimulus package but did not receive a response in time for publication.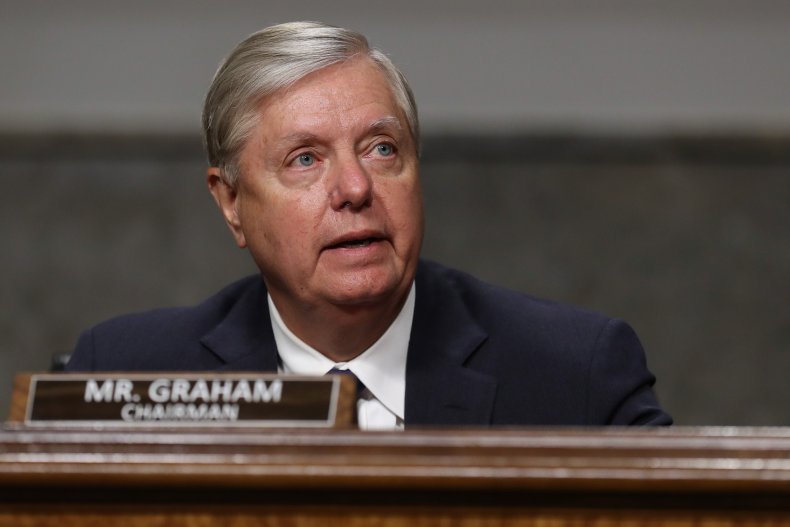 Graham told WCNC he didn't see "much desire" for lawmakers to help President Donald Trump and predicted a "bipartisan breakthrough" after the election is over. That package, he said, would be "somewhere around $2 trillion," a number that's closer to Speaker Nancy Pelosi's price tag than the Republicans' $500 billion proposal.
A week before his interview with WCNC, the South Carolina senator told reporters he would support a bigger package "as long as it's smart." His support for a bigger package echoed a tweet from Trump telling legislators to "go big or go home."
However, that doesn't mean Graham will be ready and willing to sign on to Democrats' proposals. He criticized a $2.2 trillion House proposal for the inclusion of provisions, including a ballot harvesting requirement, that aren't related to the pandemic.
"The $2.2 trillion package that the House passed doesn't have a penny for small business. There's no PPP money in it. There's no requirement you have a Social Security number before you get a $1,200 stimulus check," Graham said. "So that will go to people here illegally, most likely."
Trump's been supportive of a second stimulus check for months and more than 120 economists penned an open letter calling for more direct payments. While Graham hasn't made many comments specifically on the measure, his potential support for a larger package increases the possibility of another round of payments.
Stimulus checks under the CARES Act were expected to cost about $290 billion and the Problem Solvers Caucus, a bipartisan group of lawmakers, allocated $280 billion for another round of payments in its relief framework. Given the sum needed to issue the payments, a small package is unlikely to include them because it would mean needing to forego other relief provisions.
Congress is up against the wire to pass another relief package, as they only have a few weeks left of the legislative session before the year ends. Legislators will return to Washington, D.C., on Monday and while they technically have enough time to pass another package before the new Congress begins, with the fate of the Senate hanging on the January 5 Georgia runoff elections and President-elect Joe Biden gearing up for taking over office, hopes are dwindling of a package before the end of the year.