What is 'Heart Attack' Snow? Winter Storms Prompt Warnings
Winter storms are known for boosting certain risks, such as car crashes on snow-coated roads and frostbite from prolonged exposure to the icy temperatures that accompany the adverse weather.
But what some may not know is that the act of shoveling snow may also carry risks, and reports estimate that hundreds of people in the U.S. die every year from heart attacks either during or after snow removal, according to the American Heart Association.
A large winter storm is currently hitting much of the Central U.S., bringing snow, freezing rain, low temperatures, power outages and airline cancellations. Some areas are forecasted to receive considerable snowfall, including parts of Ohio, potentially forcing many Americans to pull out their snow shovels within the coming days, Newsweek previously reported.
Jacob Petr, a meteorologist with the National Weather Service, told WGN-TV that the term "heart attack snow" usually refers to a dense, wet snow accumulation. However, large accumulations of snow, even the type that isn't as wet and dense, can also pose a problem, he said.
Dr. Barry Franklin, a physiologist and director of preventive cardiology and cardiac rehabilitation at Beaumont Health in Michigan, told Newsweek that the dangers of shoveling snow come from the "perfect storm" of five factors that he believes contribute to the excessive cardiac demands associated with it.
These factors are that arm work is more taxing than leg work, people who are largely standing still when shoveling snow have less blood flow, lifting heavy loads of snow causes static exertion, people sometimes cause their heart rate and blood pressure to skyrocket by holding their breath and the cold weather that accompanies snow.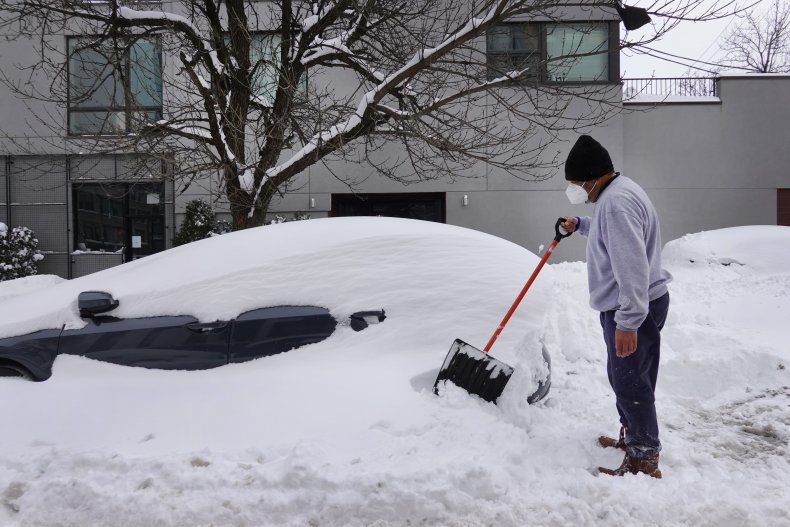 "Those five factors constrict the arteries, skyrocket the heart rate and blood pressure and, in a nutshell, your coronary arteries, which are about the size of cooked spaghetti, are already so small. But when you have underlying heart disease and then you ask the heart to do a lot by raising the heart rate and blood pressure, and you simultaneously really constrict blood vessels, it's a perfect storm," he said.
People who have previously had a heart attack, an angioplasty or a bypass surgery, as well as people who have high cholesterol, hypertension, diabetes, are obese or habitually sedentary are at the greatest risk of "for a snow shoveling related, acute coronary event," Franklin said.
He said that he typically recommends people who are experiencing these factors to have someone else shovel for them. If this isn't possible, he recommended that those people start gradually, push the snow rather than lifting and throwing it, pace themselves and take frequent breaks.
He also said that those people would be better off using an automated device like a snowblower and that he tells patients that they should stop immediately if they experience chest discomfort or any type of discomfort above the belly button when they're removing snow.
"That could be a sign your heart's not getting enough blood and oxygen flow, and you should stop immediately," Franklin said.