What the Hell Was Trump Talking About on Fox & Friends?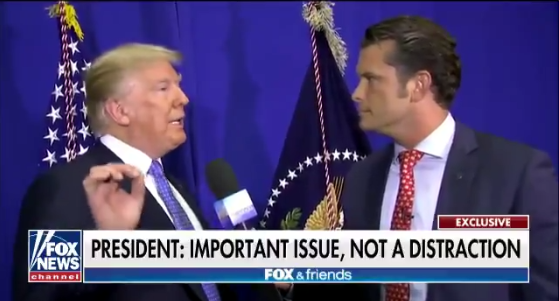 In an interview with Fox & Friends, President Donald J. Trump continued his remarkable assault on professional football players protesting during pregame performances of the National Anthem, casting them as disrespectful and un-American and calling on the National Football League, as well as the owners of individual franchises, to end the shows of dissent.
"The NFL cannot disrespect our country," Trump told Pete Hegseth, a Fox & Friends co-host. "They cannot disrespect our flag, or our National Anthem."
The president also discussed taxes.
Taxes, were in fact, the reason for Trump's speech in Indianapolis, Indiana, on Monday afternoon, before which he offered Hegseth the exclusive interview. During that speech, Trump said his plan would be "deliver historic tax relief to the American people." He called the plan "pro-growth, pro-jobs, pro-worker, pro-family" and "pro-American. It's time to take care of our people, to rebuild our nation, and to fight for our great American workers."
Supporters said the plan — the first major reworking of the tax code since 1986 — would foster economic growth. Critics claimed it would distribute more wealth to the already-wealthy.
The interview with Fox & Friends — a program Trump loves and watches daily — aired on Tuesday morning. It began not with tax reform, Trump's main legislative priority, but the NFL controversy, which Trump revived in earnest last Friday, during a rally for Senate candidate Luther Strange in Huntsville, Alabama, when he said that players who'd been kneeling during the National Anthem were "sons of bitches" who should be "fired."
In his conversation with Hegseth, Trump was adamant in his convictions, which generally tend to harden in the face of public criticism. Trump said the NFL, which carefully monitors player endzone celebrations and uniform modifications, was being hypocritical by allowing the pregame protests. "Why aren't they honoring this country by enforcing a rule that's been in existence for a long time?" Trump wondered, echoing a sentiment prevalent on conservative media outlets. But the fact-checking, myth-debunking site Snopes says that rules regarding the National Anthem are not clearly spelled out in NFL regulations.
"Most people agree with me," said the president, who is known to closely follow polls and ratings. While some public polling does show support for the president's position, there's evidence to suggest that Americans generally favor players' right to protest during the National Anthem. A Reuters/Ipsos poll, for example, found that 57 percent of respondents didn't think players should be fired for kneeling during the National Anthem. But the issue animates Trump's core supporters, and he clearly senses as much.
"They've gotta be tough, and they gotta be smart," Trump said of NFL franchise owners owners, employing two of his favorite adjectives. He suggested those owners were "afraid of their players," the majority of whom are African-American. Some have interpreted Trump's attacks on the NFL as racially charged, especially since they were first delivered in front of a conservative crowd in the Deep South and alluded with wistful anger to "our heritage"
As he said earlier this week, Trump claimed that the football controversy was "not a distraction at all" from issue like tax reform, disaster relief in Puerto Rico and a nuclear standoff with North Korea. As proof, he listed a bevy of accomplishments, including "a much stronger military," a seeming reference to the $700 billion defense policy bill passed by Congress earlier this month.
The second segment of Hegseth's interview with Trump dealt with tax reform, as well as the collapse, earlier this week, of yet another attempt by congressional Republicans to repeal and replace the Affordable Care Act, President Barack Obama's sweeping healthcare law. In discussing the tax plan, Trump seemed far more animated than he was during the past several months' myriad efforts to end or amend the Affordable Care Act, when he called one effort by the House of Representatives "mean." At other points, he seemed unaware of what was in Republican proposals, making claims and promises contrary to the legislation being authored by party leaders in Congress.
Many will take issue with Trump's characterization of the new tax reform bill as "really for the middle income people" and "for jobs," which is how he described the proposal to Hegseth. But at least for now, Trump seems enthusiastic in promoting the effort, and in doing so in a way broadly consistent with longstanding Republican ideas. Of course, tax reform is in its infancy, and Trump's attitudes are known to change quickly and unpredictably.
Asked by Hegseth about the failure of the ACA repeal effort proposed by Republicans Lindsey Graham of South Carolina and Bill Cassidy of Louisiana, which did not have sufficient votes in that chamber earlier this week, Trump complained about Democratic intransigence and the 60-vote filibuster, which he blamed for that and other legislative shortcomings. He called once more on Senate Majority Leader Mitch McConnell to end the fillibuster. McConnell has made clear that he will not do so.
Trump told Hegseth his relationship with McConnell was sound, but that he was willing to work with House Democratic leader Nancy Pelosi of California and Senate Minority Leader Chuck Schumer of New York to make necessary fixes to the ACA.
He complained, as he has previously, of a hospitalized senator whose vote would have allowed him to finally fulfill the longstanding promise of repealing the health law. That seemed to be a reference to Thad Cochran, Republican of Mississippi, who has made clear that he is not hospitalized.
"It's block grants," Trump said of what he promised would be a successful anti-ACA push in the coming year. "It's gonna be great health care."
These healthcare-related claims ended the Fox & Friends interview, which began with a burst of NFL-inspired anger, on a confused note.
"I don't know what that means," Fox & Friends co-host Brian Kilmeade said of Trump's remarks on the ACA. "Do you?"