What Clinton Could Do for Gun Control If Elected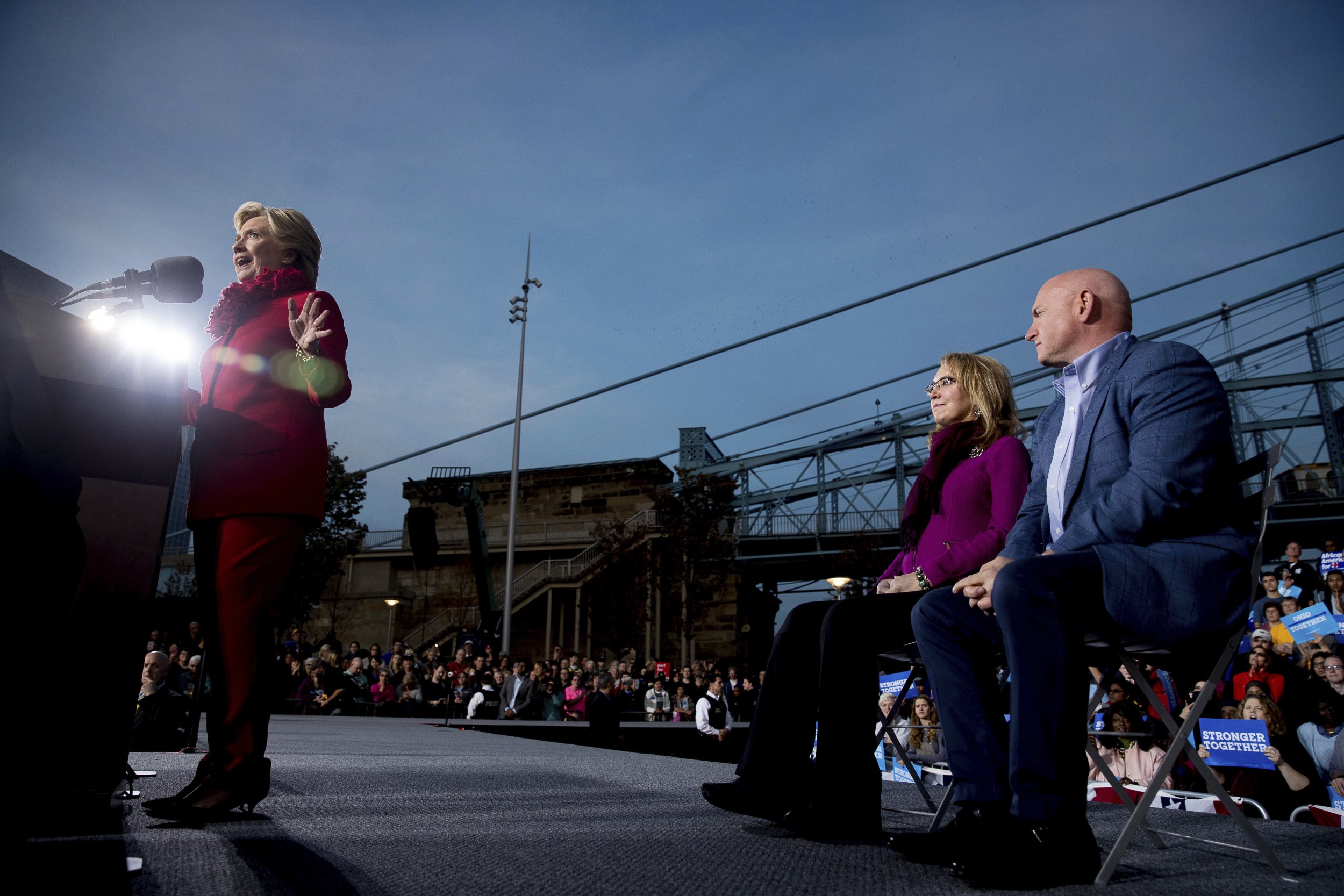 In the final days leading up to the election, Democratic presidential nominee Hillary Clinton and her running mate Tim Kaine are talking about guns. That's notable because it likely would not have happened in past election seasons. But in the wake of several high-profile mass shootings in the United States, Democrats—and even some Republicans—no longer view advocating for stronger gun legislation as much of a political risk.
While Clinton is an emblem of that shift, the reality is that, if she's elected, there's likely little she would be able to do to push gun control beyond the action taken during the Obama administration.
No one could argue with a straight face that Clinton is winning the 2016 presidential race because of her tough talk on guns, but it is important to note that she's not losing as a result of it, either. November 8 will mark the first presidential election since the December 2012 Sandy Hook Elementary School massacre that left 26 people—including 20 children—dead. In April, Clinton took her message to Hartford, Connecticut, about 50 miles upstate from where the tragedy occurred. There, she sat beside panelists who have been affected by gun violence, including Erica Smegielski, whose mother was killed in the school shooting. Clinton vowed to push for stricter gun laws as president. "I am not here to make promises I can't keep," she said. "I am here to tell you I will use every single minute of every day, if I'm so fortunate enough to be your president, looking for ways that we can save lives, that we can change the gun culture."
Clinton made that promise again on Monday during a return trip to Ohio, a key battleground state where she is locked in a tight battle with Republican nominee Donald Trump. Standing near former U.S. Representative Gabrielle Giffords, a leading gun-control advocate since she was a victim of a 2011 shooting in her home state of Arizona, Clinton warned voters about the high stakes of the election and the prospect of her rival becoming commander in chief. "Think about the difference between electing a president who will do nothing and a president who will tackle the epidemic of gun violence in America," she said at Cincinnati's Smale Riverfront Park.
As a candidate, Clinton has laid out an ambitious gun-control agenda, vowing to stay focused on what she calls commonsense reform that resonates with most Americans even while respecting the Second Amendment. "Let's try," she told New Hampshire Public Radio in January, "to get what everybody already agrees on passed." Namely, Clinton has promised to expand the criminal background checks system and block criminals, domestic violence abusers, terrorists and others who pose risks to public safety from obtaining guns.
It's a tricky issue, considering that Pew Research Center polling in August showed that 90 percent of registered voters who back Clinton and 75 percent of those who favor Trump want stricter background checks, even though divides remain on the question of whether it's more important to protect the right to own a gun than to control gun ownership. Clinton has also committed to building on the executive actions President Barack Obama announced in 2013 and earlier this year, which included exploring and promoting new gun safety technology and hiring more than 230 FBI agents to process background checks. And she wants to crack down on gun companies linked to criminal activities, including repealing the federal law that shields gun companies from legal action—a measure she repeatedly slammed Democratic primary rival Bernie Sanders for supporting. "It's a civil rights issue, and I will do everything I can—legislation, regulation, litigation—because I think we have veered off the track," Clinton told The Chicago Defender over the summer.
As long as the GOP holds the House, though, Clinton isn't likely to move any substantive gun legislation through Congress. Republicans on Capitol Hill have already signaled they aim to be a roadblock to virtually all of her agenda if she's elected, and Representatives Jim Jordan of Ohio and Jason Chaffetz of Utah, to name just two, are promising to continue investigating her use of a private email server as secretary of state. Some Republicans are even talking publicly about the possibility of holding impeachment hearings.
Even if the Democrats take over the Senate, it doesn't guarantee Clinton success in carrying out her gun policy to-do list. As a minority, Republicans could still be a high barrier to action for her as president. "Nothing will happen on gun control," a Senate Republican aide predicts to Newsweek via email, requesting not to be identified in order to speak candidly. If the GOP does lose the Senate, the aide notes, Democrats are unlikely to be able to cobble together the 60 votes necessary to overcome a filibuster on any gun measures. And if they go so far as to gut the Senate's filibuster rules? "Even then, nothing will pass the House unless Dems win that, too," the aide says. And the odds are against that kind of electoral wave this year.
She also would have few executive branch options. Obama has already pushed the limits of executive authority on guns, and while Clinton could "do some symbolic things," says Loyola Law School professor Allan Ides, she independently wouldn't be able to "do anything of significance." Any strictures on the right to bear arms, he adds, would trigger a lawsuit and ultimately be tested in court.
Hope for change on guns rests largely on Clinton's power to appoint government officials—and in particular on nominating a replacement for the late Supreme Court Justice Antonin Scalia. What the gun lobby and its allies fear most about a Clinton White House is that she will appoint, in National Rifle Association spokeswoman Jennifer Baker's words, an "anti-gun Supreme Court justice." That could spell doom for the court's groundbreaking 5-4 decision in District of Columbia v. Heller. Penned by Scalia, the decision in that 2008 landmark case recognized for the first time the individual right of average citizens to own handguns for self-protection. Gun advocates see Heller as a legal roadblock to potential firearms restrictions at any level of government. But with a Clinton nominee, there might be a motion to overturn the outcome.
Representative Elizabeth Esty of Connecticut also notes that Clinton could appoint new leaders at the Bureau of Alcohol, Tobacco and Firearms and the Centers for Disease Control and Prevention who could challenge the interpretation of the Dickey Amendment, which limits gun violence research.
When Newsweek asked Clinton's campaign about how hard she would push for stricter gun legislation as president, a staffer responded by emailing a list of her remarks about guns from the campaign trail in the past year. The staffer didn't reply to Newsweek's follow-up inquiries about how soon Americans could expect change to happen.
"The gun issue is not a top tier of most Americans. It will not be a top tier of the Hillary Clinton administration," says Robert Spitzer, Political Science Department chairman at the State University of New York at Cortland. "They just have too many other fish to fry, a narrow window, tough going in Congress." Recently, Clinton's rhetoric on guns has become less heated, at least when compared to how it was during the primary season—when she often savaged Sanders for being soft on the issue—except for a few lines on the campaign trail and, most notably, roughly two minutes of speaking during the opening parts of the final presidential debate.
Connecticut Senator Chris Murphy, one of the Democrats' leading voices on gun violence, agrees with Spitzer. "I think it will be hard to get any big changes if Republicans control both chambers," Murphy tells Newsweek. "I think ultimately for the time being, Republicans are very slow to change on this issue."
Emily Cadei contributed reporting to this article.