What Is HIMARS? U.S. Providing Rocket Launchers to Help Ukraine
Ukraine's M142 High Mobility Artillery Rocket Systems (HIMARS) provided by the United States has been touted as a "gamechanger" by Western officials for its long-range and capacity to inflict serious damage on the Russian military.
HIMARS first arrived in Ukraine in June from the U.S and has been seen as crucial to helping Kyiv's forces repel Moscow's military, as the conflict remains focused on the eastern Donbas region.
What Is HIMARS?
The rocket system, built by Lockheed Martin, is long-range, mobile and fires with precision, meaning that it is a formidable weapon on the battlefield. It mounts to a standard U.S. Army M1140 truck frame.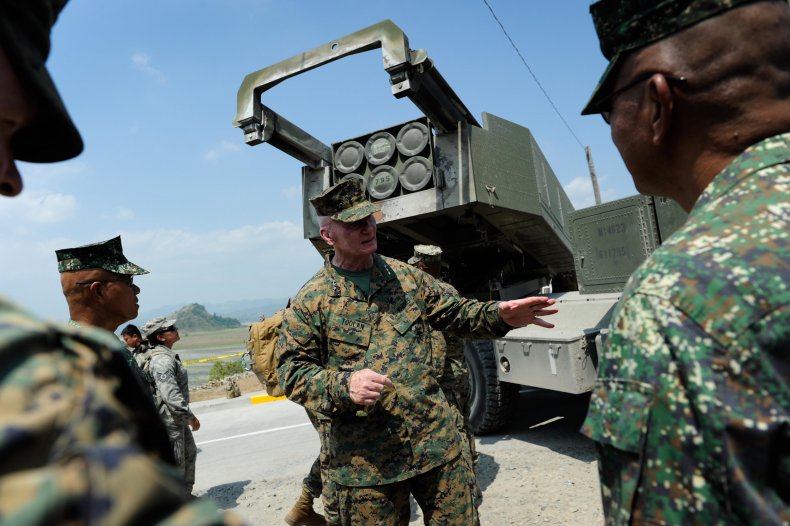 Each system can carry six GPS-guided missiles that can be reloaded in about a minute with a small team consisting of only a driver, gunner and launcher section chief.
The range of the units is about 80km (50 miles), almost double the ranger of M777 howitzers, which is a Western-made weapon that Ukraine has been using against Russian forces since May.
A HIMARS can fire in similar ranges to convention multiple launch rocket systems, at targets up to 300km away.
HIMARS Previous Use
The system was developed in the late 1990s and has been in service since 2005. It was key in the fight in Iraq and Syria against ISIS.
The weaponry was also used in Afghanistan in 2010, helping strengthen the NATO offensive in Kandahar against the Taliban. It was later used to kill 50 Taliban fighters in Musa Qala in Afghanistan in May 2018.
Why Is HIMARS Effective Against the Russians?
A senior U.S. defense official told reporters on Friday that Ukraine had used HIMARS to destroy more than 100 "high value" Russian targets in recent weeks. Those targets were ammunition depots, long-range artillery positions, command posts, air-defense sites, and radar and communications nodes, the official said.
Retired U.S. Army General Mark Hertling said Saturday that the HIMARS is a "game changer" and that Moscow's forces are now "in dire shape." The weapon has greater range, precision and accuracy than most of the artillery Ukraine is using to fight Russian forces.
At the end of May, Hertling also wrote the weapon was "more agile, less training required, less maintenance and support."
The White House said on Friday that an additional $270 million in security assistance would be sent to Ukraine, including four additional HIMARS. Once they have arrived, the U.S. would have provided Ukraine with 12 of the systems, according to the Pentagon.
Since Russian President Vladimir Putin invaded Ukraine on February 24, the Biden administration says it has provided $4.6 billion in assistance to Ukraine and approved an additional $40 billion, which includes four M142 high-mobility artillery rocket systems.
Newsweek reached out to the Russian foreign ministry for comment.