What Is Holi? Facts, Myths and Dates of the Hindu Festival of Colors 2019
Despite its religious Hindu origins, Holi is perhaps best known as the Festival of Colors. It is the celebration of the coming of Spring—but critics warn it has a dark side.
In the more romanticized and tourist-friendly descriptions, Holi is a time of relaxed social norms that centers on the festive use of powdered paints and water balloons. But in others, it is a time when women are at heightened risk of harassment, assault and non-consensual touching.
India's Holi has its roots in myth and legend. As the darkness of winter starts to recede, and brighter days emerge, the holiday takes place every year on the day after the full moon in the Hindu month of Phalguna (which translates to early March on the Gregorian calendar). While exact dates for celebrations will vary, Holi is scheduled to take place between March 20 and March 21 this year.
Across the U.S., live music, dancing—and of course color-throwing—will be taking place in several states, including California, Utah and Nevada. The Festival of Colors USA website has listed events in Los Angeles, Las Vegas, Reno, Salt Lake City and more.
The Main Holi Traditions
Like all religions, the celebration is steeped in tales and legends. One popular telling revolves around an evil king called Hiranyakashipu who stopped his son Prahlad from worshipping Vishnu, a Hindu deity. The father challenged his son to sit on a fire with his aunt Holika, who according to the myth was immune to the burning. By praying to Vishnu for protection, Prahlad was able to survive the flames. It is a parable about the power of belief and religious devotion.
In another tale, the deity Krishna placed color on the face of a companion called Radha to change the complexion of the skin—which has evolved into the use of paints today.
During Holi, men, women and childen take to the streets and throw bright paints on each other. Clothes, which typically start off clean and white, are left stained with vivid colors.
What Happens During Holi?
In India, Holi typically lasts between two and five days. The first day includes a bonfire (linked to the burning of Holika tale) and consumption of food and alcohol continues into the night.
While it is a time for fun, the holiday is also a time when tight social structures fall apart. Shops and workplaces close during the festival—and a party atmosphere takes over the streets. National Geographic noted families prepare gujiya, a food consisting of dried fruits and nuts. Some participants consume bhang—a drink that uses cannabis leaves as an ingredient.
A popular phrase has emerged—"Bura na mano, Holi hai"—which roughly translates to "don't be offended, it's Holi." The Society for the Confluence of Festivals in India claims on its website: "Holi helps to bring the society together and strengthen the secular fabric of our country."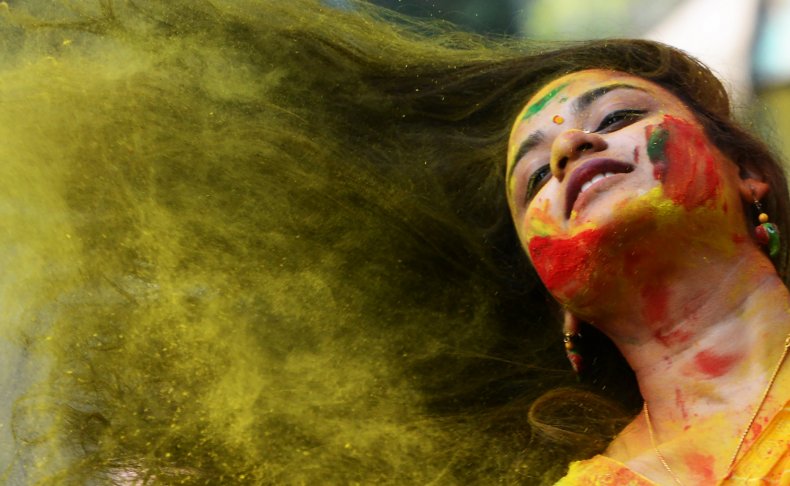 The Importance of Color
The paints hold their own symbolism, National Geographic noted. The colour red, for example, is a way to show love and fertility. Blue represents Krishna, and green is a symbol for new beginnings. During Holi, paints are thrown on the body, hair and clothing of revelers. As a result, participants are typically seen as equal despite age, gender or wealth.
The encyclopaedia Britannica states that India's societal pressures are reduced during Holi in part due to the use of the coloured dyes—but not everyone would say that is for the best.
Harassment, Abuse, Assaults
While paint hides the person, many women who have taken part in the seemingly fun-loving rituals have calimed men have used it as an excuse to touch, grope and even sexually assault victims in public spaces. The Australian Broadcasting Corporation (ABC) reported last year that some women claimed to have been hit with water balloons filled with semen and urine.
The story emerged in an Instagram upload by student Tolino Chishi on February 27 last year. "I didn't know what semen flinging was, I learnt that today," she wrote in the viral post.
Kavita Krishnan, secretary of the All India Progressive Women's Association, wrote for India's The Print website last year: "Holi has become a day of dread—when the streets are taken over by violent, power-drunk men who see the festival as a licence for sexual harassment."
The Hindustan Times reported in 2016 that local police received hundreds of complaints about sexual harassment and forceful application of paints and water during that year's Holi festival.
Last year, Delhi university student Gurmehar Kaur told the BBC about the festival: "As you grow older, Holi becomes the time when you start realising that your body is an object."
Universities have been forced to issue warnings saying that harassment "in the name of Holi" will lead to disciplinary action. Leaflets noted that law enforcement would be on patrol.