What is Huawei Being Charged With by DOJ and What Phones Do They Make?
Chinese telecommunications giant Huawei faces criminal charges filed by the United States on Monday. The U.S. Justice Department said the charges include Huawei attempting to steal trade secrets from T-Mobile and working around U.S. sanctions in Iran.
The Justice Department also unveiled charges against Huawei chief financial officer Meng Wanzhou, who the United States is trying to extradite and who was arrested from Canada in December. It's a move that China called "political" by the North American countries.
"Today we are announcing that we are bringing criminal charges against telecommunications giant Huawei and its associates for nearly two dozen alleged crimes," acting Attorney General Matthew Whitaker said. "China must hold its citizens and Chinese companies accountable for complying with the law."
The graphic below by Statista illustrates the rise of Huawei in terms of revenue and market share.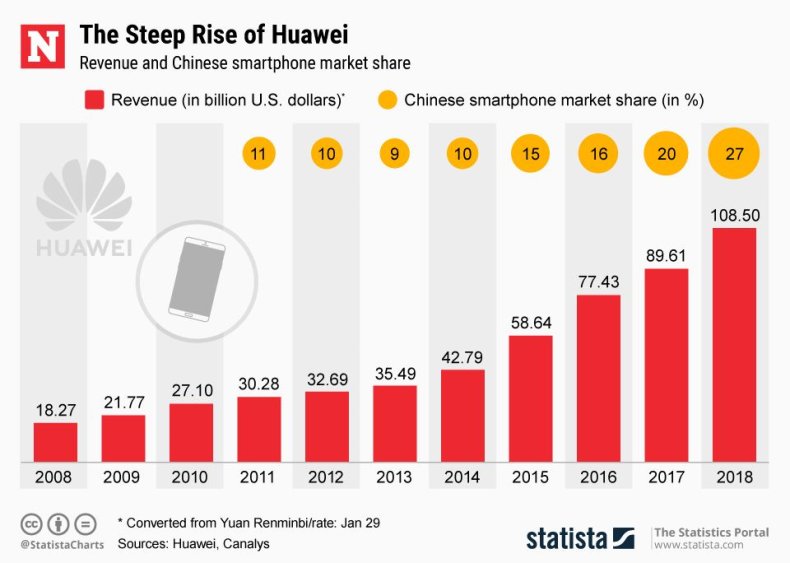 Huawei makes and sells a wide array of smartphones, usually mid-range options on the inexpensive end of the buyer's spectrum. The Huawei androids have all the typical features of phones seen elsewhere around the world, including high-powered camera and video capabilities, large screens and ease of use.
Some of the more popular Huawei phones — and higher priced — are the Huawei Mate 20, Mate 20 Pro and the Mate 20 X.
It's Huawei's business practices that have come under the microscope of the American judicial system. FBI Director Christopher Wray said Huawei "relied on dishonest business practices that contradict the economic principles that have allowed American companies and the United States to thrive."
"The prosperity that drives our economic security is inherently linked to our national security," Wray said. "And the immense influence that the Chinese government holds over Chinese corporations like Huawei represents a threat to both."
According to the indictment filed in Washington state, Huawei tried stealing T-Mobile's "Tappy," which is a phone-testing technology
And when T-Mobile tried suing Huawei, the Chinese company obstructed justice, according to the indictment.
The U.S. government revealed a 13-count indictment against Huawei and Meng, stating they worked around U.S. sanctions on Iran and deceived financial institutions.
Members of Congress have considered Chinese telecom companies like Huawei in violation of U.S. export control laws, in which U.S. lawmakers could pass laws to ban the sale of American parts to any companies who pose a supposed threat to U.S. national security — a measure aimed mostly at Huawei.
"It has been clear for some time that Huawei poses a threat to our national security, and I applaud the Trump administration for taking steps to finally hold the company accountable," Democrat Sen. Mark Warner said Monday in a statement.
As negotiations begin this week with China over the trade deal, it's uncertain if President Donald Trump is using this as a pawn, or if he'll interject himself into the Meng case to reach a deal.
This article was updated to include an infographic.
What is Huawei Being Charged With by DOJ and What Phones Do They Make? | U.S.