What I Learned From Marcus Arbery: More Unites Us Than Divides Us | Opinion
Following the verdict that found Travis McMichael, his father Gregory McMichael, and their neighbor William "Roddie" Bryan Jr. guilty of killing Ahmaud Arbery, Ahmaud's father, Marcus Arbery, issued a moving statement.
"All lives matter, not just Black children," Mr. Arbery said. "We don't want to see nobody go through this. I don't want no daddy to watch his kid get shot down like that. It's all our problem. It's all our problem. So, hey, let's keep fighting, let's keep making this place a better place for all human beings. All human beings. Everybody."
Mr. Arbery made this moving statement at the moment when he had perhaps the most right to be selfish, to be focused on his own pain. He would have been totally justified to solely focus on the unjust murder of his son. But Mr. Arbery knew that there was a collective lesson to be learned. And he took this moment to teach it to us.
In the midst of grieving the tragic loss of his son, Mr. Arbery managed to give a synopsis of the totality of life: Everyone matters.
Despite the simplicity of this truth, it is not uncontroversial. This simple sentence—"All lives Matter"—got a newscaster fired as recently as last year. It has long been considered a right-wing dogwhistle for racism on the Left, shorthand for a person unfeeling about threats to Black life.
But how can something true be racist?
That's what Ahmaud Arbery's father understood. And what so many who claim to stand for Black lives need to learn.
Of course, police brutality exists, and has led to deep misunderstanding between communities of color and those who have sworn to protect us. A dialogue is needed, a consistent and frequent one, to repair the relationship between Black communities and the police. And yet, it's not Black Lives Matter or Blue Lives Matter; these must and can co-exist. For in truth we are not trying to compete with one another; we're trying to get to a place where we can find a harmonious coexistence.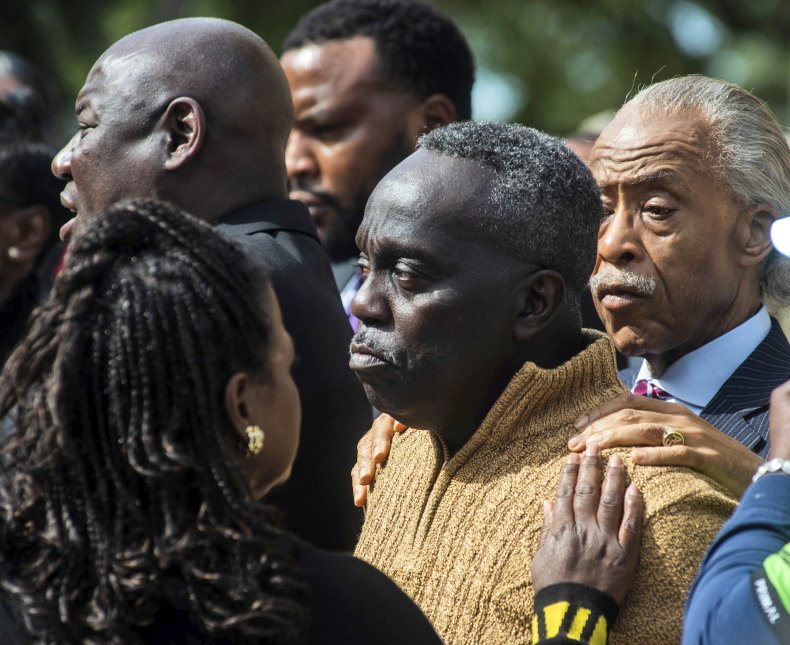 But all too often, the Left seems more hung up on phrasing. Politicians would rather we insert catchy colloquial statements into our vocabulary than actually confront issues head on.
Worse, this parsing of phraseology obscures an important development: the fact that Americans have formed a consensus around the importance of guilty verdicts for people like Derek Chauvin, George Floyd's killer, and the men who lynched Ahmaud. Unlike during the trial of Kyle Rittenhouse, which divided the nation into those who supported Rittenhouse's claim of self defense and those who did not, I can't recall seeing a single conservative defending Ahmaud's killers. The opposite: There seemed to be wall-to-wall approval and praise of the guilty verdict that will all but certainly send them to life in prison.
Take Georgia Republican Governor Brian Kemp's statement: "Ahmaud Arbery was the victim of a vigilantism that has no place in Georgia. As legal efforts continue to hold accountable all who may be responsible, we hope the Arbery family, the Brunswick community, our state, and those around the nation who have been following his case can now move forward down a path of healing and reconciliation."
He was joined by Republican lawmaker Buddy Carter, who tweeted that "Today, justice was served" in the wake of the verdict. "I thank the jury, judge, and legal counsel for their commitment to our orderly system of justice," Carter added. "I pray for the family of Ahmaud Arbery and hope that this verdict brings some much needed comfort ahead of the holiday season."
They were two of many Republicans, in Georgia and across the nation, to express dismay at the events that led to Ahmaud's death, proposals for legislation to protect others from suffering a similar fate, and even anger at a prosecutor who initially declined to bring charges.
I won't presume to know Marcus Arbery's political affiliation. But this consensus is what I heard in Marcus Arbery's words—not just a desire for unity over division, a demand that we see everyone's children as equal before the law, but the belief that beyond the slogans, we are already one.
If Marcus Arbery is willing to say that all lives matter, I believe it behooves us to follow his lead. And while we're at it, it's time to stop besmirching our fellow Americans, and live up to the promise that is now ready to be delivered, the promise of a more perfect union.
Demetrius Minor is a preacher, advocate, relationship builder, and a writer. He has been the director of coalitions in Florida for Americans for Prosperity, where he worked in partnership with the NAACP. He is a Contributor to Family Vision Media.
The views in this article are the writer's own.