China's One-Child Policy and American Adoptees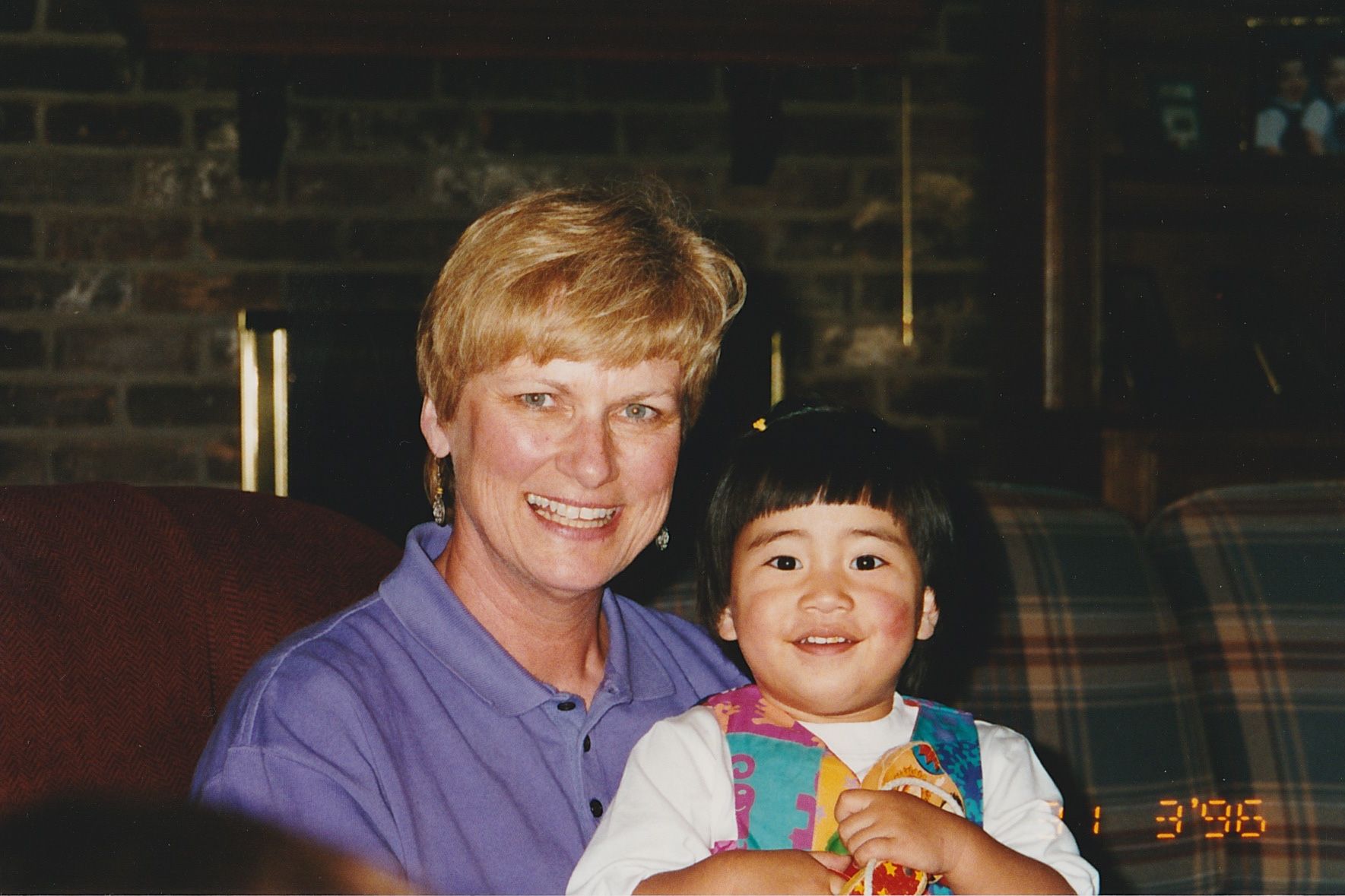 Updated | "I felt winded. My stomach dropped. My eyebrows raised. I managed a small chuckle. Talk about feeling a mix of emotions," Jenni Fang Lee posted on her public Facebook page Thursday. She was reacting to an early-morning New York Times notification: China would end its one-child policy. "I thought I was going to fall over," she told Newsweek the next day.
"So many mixed feelings about this," Katie Mantele wrote on her own Facebook page Thursday morning—just six words and a link to the same New York Times article that had so affected Lee a few hundred miles to the northeast. It felt almost like a slap in the face, she said that afternoon.
Lee, director of marketing at Boston-based startup Statisfy, and Mantele, a junior at Rutgers University in New Brunswick, New Jersey, were both adopted from China and raised in the U.S. For them, and for thousands of other Chinese adoptees and their families, the news was personal.
Introduced in 1979, the one-child policy regulated the size of Chinese families as a tool for population containment and economic reform. This social experiment was "a nationwide policy to limit births, enforced by an authoritarian state through mandatory contraception, forced abortion, fines and a Communist Party structure that closely monitors daily family life," according to the Schuster Center at Brandeis University, which runs a project on international adoption.
For a complex set of reasons—including inheritance laws, family name and the responsibility of caring for parents in old age—Chinese families faced immense pressures to have boys. Combined with the one-child policy, the societal pressure to raise male offspring drove thousands of families to give up female babies.
Related: Gender Imbalance: How China's One-Child Law Backfired on Men
Since it was illegal to abandon a child in China, the babies were often left in plain sight in a busy market or street, occasionally with a note bearing the child's name or date of birth, sometimes with a bit of money or milk powder. Many were found by police and brought to a child or social welfare institute. Essentially orphanages, the often short-staffed institutes employed "nannies" who would care for the babies.
More than 85,000 children have been adopted from China and raised in the U.S. since China formally opened its doors to international adoption in 1992, according to State Department statistics. Nearly 90 percent of those adopted between 1999 and 2013 were girls. The few boys given up for adoption almost always had cleft palates, missing limbs, heart defects or other special needs. (In more recent years, many of the girls adopted have also had special needs, whereas in the earlier years of China's international adoption program, thousands of healthy baby girls became daughters to families in the U.S. and other countries.)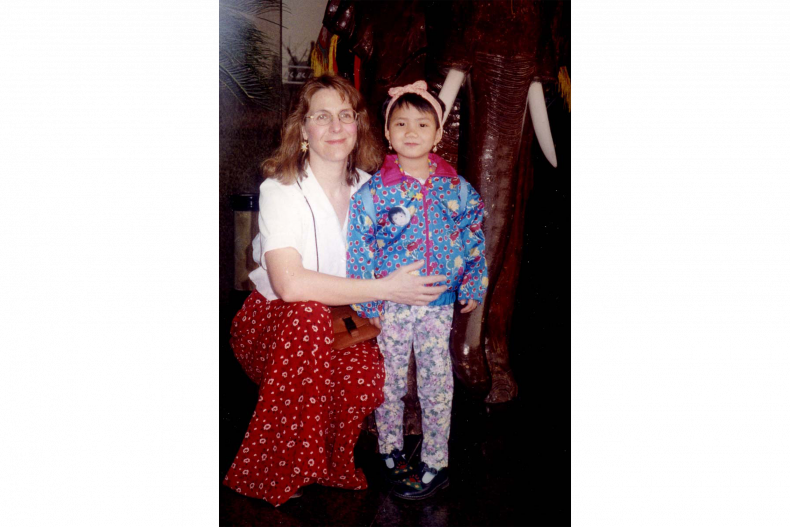 The one-child policy has also created a striking gender-imbalance within China—with the China Academy of Social Sciences, a leading government-affiliated think tank, projecting that more than 24 million men will not be able to find spouses by 2020 because of the disparity—and has led to an aging population.
The end of the one-child policy will "increase labor supply and ease pressures from an aging population," the National Health and Family Planning Commission said in a statement. In the future, any family that would like to have two children is permitted to do so.
China's forward-looking announcement does not mention the sons and mostly daughters who have grown up outside its borders and are surprised, confused, angered, relieved, saddened and overwhelmed by the news. For each individual adoptee, Thursday's decision has brought a unique mix of thoughts and feelings, from indifference to betrayal, frustration to hope, and sometimes all of these at once.
"Each story is very, very different. There are some points where we can relate to each other," says Jennie Lytel-Sternberg, a sophomore at Vassar College majoring in science, technology and society. But, she adds, "it's important not to necessarily lump us together."
Lytel-Sternberg was found in Xixiashu in September 1996 and adopted from Changzhou after spending nine months at the orphanage there. She grew up in the predominantly white town of Sudbury, Massachusetts. Though she met more Chinese-American students in college, her adoption "makes me seem less Asian to them," she says, and she has felt sometimes like an outsider in either context. Upon hearing the news Thursday, she says, "My first thought was sort of 'What if this had been changed when I was born 19 years ago? Would that have made a difference? Would my parents have kept me?'"
The "what if" questions were a common thread for many adoptees who spoke with Newsweek. Adoptees' lives are peppered with what ifs, says Iris Chin Ponte—who earned her doctorate in child development from Tufts University, conducts research on adoption from China and birth family searches and has mentored groups of Chinese adoptees for more than a decade. What if I were a boy? What if I was a bad baby? What if I had been found by someone else? What if I had been matched with a different family? What if I had stayed and was poor?
For many, the what ifs and other factors lead to birth family searches. Lytel-Sternberg and her friend Maya Ludtke, who slept in the next crib over in Changzhou's orphanage and grew up nearby in Cambridge, Massachusetts, explored the questions in a different way the summer before their senior year of high school. Staying with their moms at a hotel in Changzhou, the two girls spent three weeks going out to the rural towns where they had been found as babies years earlier and getting to know girls who grew up there.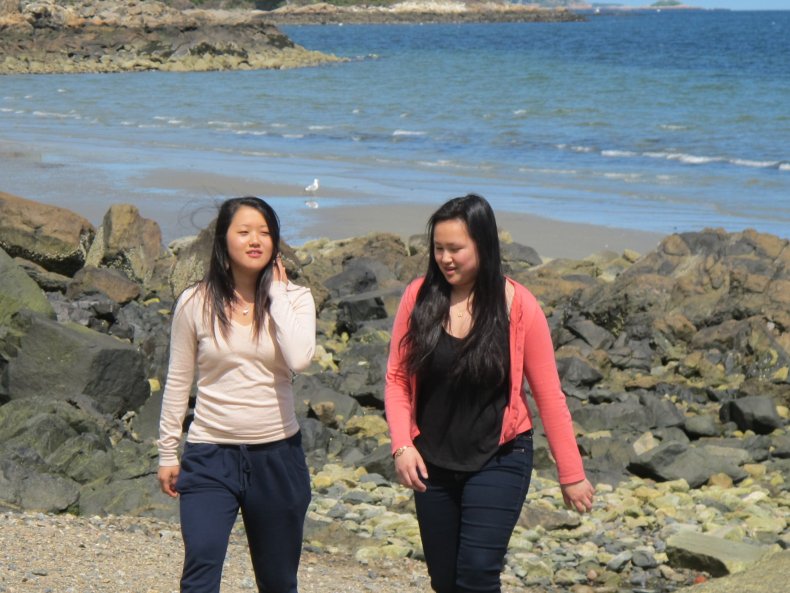 "These things that happened so early…so defined their lives," says Melissa Ludtke, Maya's mom, a veteran journalist, author and now the producer of Touching Home in China: In Search of Missing Girlhoods, a multimedia project that tells the story of Jennie's and Maya's adoptions and the time they spent with girls they might have grown up with. The trip "gave them a way to fit in pieces of their Chinese identity," she says.
Maya, a freshman at Wellesley College hoping to major in environmental studies, was raised by her single mother in a more diverse community than her crib neighbor was. "Our project was touching home in a way. I could feel a sense of home in this place I had never been to," she says. She had a chance to see the school she might have gone to, the market she might have shopped in and other landmarks that might have been familiar. "These are the places I would have spent my days. It's hard to imagine."
Related: What the End of the One-Child Policy Means for China
She, too, felt a mix of emotions upon hearing last week's news from her mom. "In some ways, the policy definitely is present in my life. My life is a product of the policy," she says. "I guess I was thinking, What would happen if the policy had been, you know, changed a few years earlier? How would my life have been different?"
Imagining what life might have been like had adoptees grown up with their birth families, often from rural areas and less than affluent, is complicated. On one hand, life in America has likely offered material comforts and opportunities they may not have otherwise had, as well as the freedoms that come with living in a democracy. But on the other hand, there is a sense of loss.
"I think about the life I could have and all these what ifs. It gets you to this really dangerous place," says Lee. "Someone pointed out to me, You have a much better life now materially," she adds, but "comfort doesn't take away the pain of losing your birth family and your heritage." For Lee, Thursday also brought calls from parents whose daughters were crying and who didn't know what to do.
Unlike most adoptees, Lee was old enough to have vague recollections of her beginnings. As she told me in a 2012 interview published in the San Francisco Chronicle, she has blurry images of her mother's long braid and her chubby father, and remembers sitting on a sidewalk in Kunming at age 4, waiting for her stepbrother to come back and pick her up, but he never did.
Lee was one of four Chinese adoptees featured in the 2011 documentary Somewhere Between and has become well known within the adoptee community through the film and talks she has given. Her public Facebook page has more than 3,500 likes, and her Thursday morning post garnered more than 300 shares and dozens of comments. The Huffington Post quickly reached out and asked if she would write a piece responding to the news. "A Letter of Frustration and Gratitude on the End of China's One-Child Policy," addressed to China, swirls with the mixed emotions that accompany the end of a policy that shaped her life and those of both her families.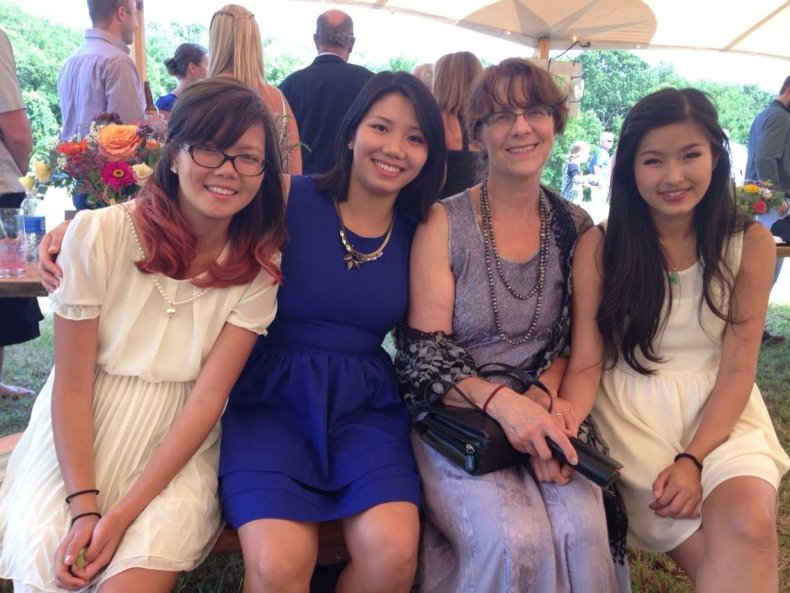 One of the first things Lee thought of amid that emotional chaos was what her birth mother was thinking that day—Did she have regrets? She ends her letter by saying, "If you can, please tell my birth mother I love her and I think of her often. I wonder if I look more like her or Baba. I hope she is thinking of me on this day. I want her to know that she is forgiven, and that she must forgive herself. I am doing well, Mama."
Similar thoughts struck Laney Xue Allison, adopted from Maanshan in 1994 and raised by a single mother in Preston Hollow, outside of Dallas. Allison, who will graduate from George Washington University in December, co-founded China's Children International with fellow adoptee Charlotte Cotter in 2011 as a way to connect older adoptees all over the country who were searching for a network. Mantele, for example, made a solo trip up from New Jersey to Cambridge in the fall of 2013 to attend a CCI conference and meet other adoptees. CCI held a Facebook chat on Monday evening to discuss the news.
"My heart goes out to the families who had to make the decision to give up their child," says Allison, whose perspective is shaped by her search for her birth parents and the families she has encountered along the way. Several have stepped forward in her search, and for more than three months she communicated with siblings and parents she thought were her own, until a discrepancy about her birth date led them to discover that the DNA lab had confused the test results. "[You] can't fathom the remorse," she says of the families she has met. Though she has not found her own birth parents, she's met others who made the heart-wrenching decision to give up a baby and have thought about that child every day since.
"I think my immediate thought was, More families won't have to feel the pressure," Allison says, and "that child won't have to go through the emotional trauma of having been given up."
For parents of Chinese adoptees, the news also brought to mind birth families. Ludtke's mother wrote a Medium post titled "My Daughter Is My Daughter Due to China's One-Child Policy." "I can't imagine my life without her," she tells Newsweek. "Yet it brings to mind—what is always in the back of my mind—is somewhere is this mother for whom she has not been a daughter," she adds. "How could I ever begin to imagine what it must be like to give up that child?"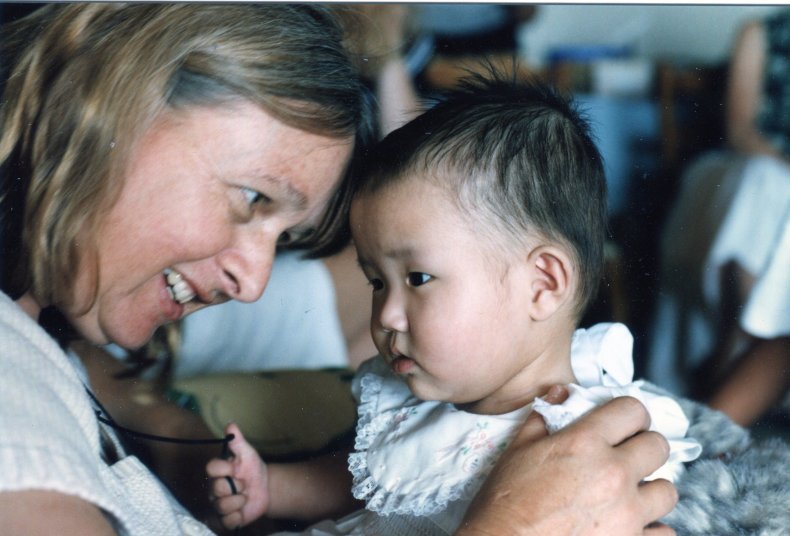 David Youtz, former president of the New York chapter of Families with Children from China (FCC) and the father of four girls adopted from China, echoes Ludtke's thoughts, saying he's always assumed birth families carry around a burden for their whole lives, "having had to be in the position to relinquish a child."
"I think the families in our community have a really complicated relationship" with the policy, says Youtz, who recently became executive director of the Yale-China Association in New Haven. "We are all very aware if there hadn't been a one-child policy these children wouldn't have come into our lives," although he and others feel the circumstances are a little more complex than that. He had yet to speak with his college-aged daughter, he told Newsweek Friday, while "there was sort of a shrug" from his 11-year-old triplets when he brought the news up at dinner.
Related: One-Child Policy Is One Big Problem for China
Relieved the policy has finally been changed, he says, "I think this is another removal of an area of very bad PR for China. Most of the world has been kind of aghast." As Ponte explains, the change may help ease conflicting emotions among adoptees who feel like they are supposed to love their heritage, but also feel angry or resentful about the government rules that most likely led to their adoptions.
For some, Thursday's news has brought on a wave of negative comments about China at school. "I think it's hard for us in the United States to understand what it's like to live in a Communist country," says Ponte, who has a 6-year-old son adopted from China, (One of the relatively few boys adopted in the U.S., he had a diagnosed heart defect.) It's "easy to jump and say, 'That's so unfair, crazy China and its crazy rules,'" she adds, Or "'Oh, crazy Chinese people eating dogs and leaving babies on the street,'" as some adoptees have heard at school and relayed to Ponte.
For exactly that reason, Ana Tanner, a senior at Smith College majoring in East Asian studies and completing premed requirements, has stayed away from the topic of adoption in her academic work, and usually prefers not to discuss the one-child policy with non-adoptees. Even among older classmates, she feels it often "turns into a session of bash China and all its policies," she says. "It's not like I think China has all of the best policies in the world, but there's always a part of me that's slightly defensive."
Tanner, who was adopted in 1994 from Jiujiang in China's Jiangxi province and grew up with two moms (and two cats) in Berkeley, California, had mixed emotions, like many of her fellow adoptees: feeling frustrated that the decision doesn't change her experience mourning the loss of her birth family and birth culture, thinking about birth families she met during her (as yet unsuccessful) search process—when she saw firsthand the nuances that went into the decision to give up a child—and running through some of the what ifs.
At the same time, she admits, "I have not been 100 percent open to processing my reaction." Too busy to go down the what-if road again or have a long, deep think about her adoption, she says she might "put it on the shelf and think about it in a little bit."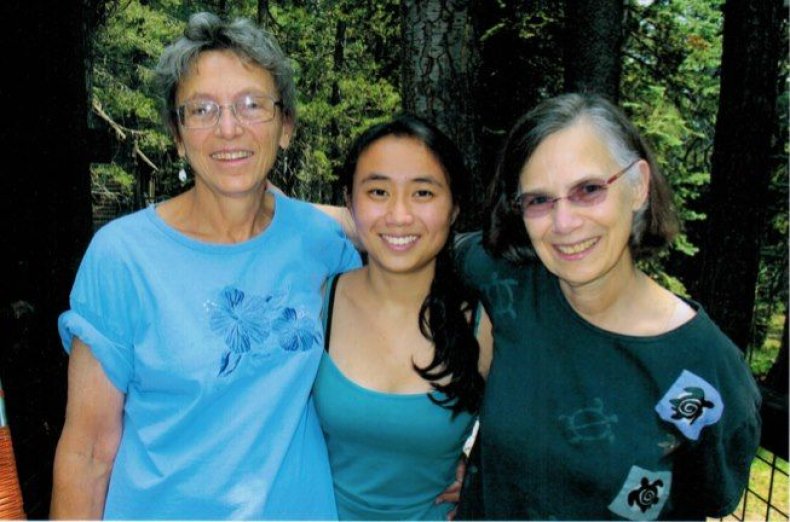 Elizabeth Helminska, a junior studying psychology at Antioch College who was adopted from Nanjing in Jiangsu province, wonders whether the change will open doors for adoptees who want to search for their birth families and whether families might be more willing to be found. Ponte, who recently gave a talk for teen and older adoptees about birth parent searches through FCC New England, says she's heard many similar questions about what the decision means for future attempts.
"Will this impact how birth families feel about stepping forward?" asks Ponte, explaining that "birth parents are very nervous and scared about the repercussions of abandoning a child," despite the fact that there have been no fines issued to date for families who have stepped forward.
Helminska also points out that while the end of the one-child policy is certainly a step in the right direction, it has been replaced by a two-child policy rather than complete freedom for couples to have as many children as they want. There is "someone still following your fertility," as Youtz says, pointing to a Human Rights Watch dispatch emphasizing that the end of the one-child policy does not equal reproductive freedom. Lee also emphasizes that, based on the language used in the announcement, the change was made for economic reasons rather than to correct a violation of reproductive freedom.
The end of the one-child policy doesn't erase the effects it had during the roughly three and a half decades it existed. For adoptees and their families, and for the birth families back in China, the policy had deeply personal consequences that have fundamentally altered their lives. "The two-child policy being passed seems like China ignored what happened to those of us who were...affected by the one-child policy in the first place," Mantele said in a text after thinking more about the news. The change "makes me more uncertain of where Chinese adoptees fit in China."
While 36 years register as barely a blip in China's long history, the sudden change in policy has some adoptees wondering whether they are too. "A step forward is a reminder of injuries past," says Lee, who in some ways feels betrayed that the decision was made too late. "We don't want to be forgotten," she adds, though she doesn't expect China to acknowledge the pain the policy has caused. "I think this is the closest to an apology we'll ever get."