Dozens of cities across America have abandoned Columbus Day commemorations in favor of Indigenous Peoples' Day, a celebration of Native American culture and history.
More than 70 cities, states and universities are not celebrating Columbus Day this year, Fortune reported, with mayors and celebrities now speaking out against the holiday.
Los Angeles, Seattle, San Francisco, Cincinnati, Phoenix, and Denver—as well as Portland, Oregon; Santa Fe, New Mexico; Berkeley, California; and Madison, Wisconsin—are only some of the cities now shunning the European explorer who landed in America in 1492 in favor of paying respects to those who were there long before.
Indigenous Peoples' Day advocates have for years argued that statues of and memorials to Columbus whitewashed his true legacy, which included the enslavement of Native Americans and the introduction of new diseases into the region.
As noted by USA Today, even Columbus, Ohio, would not be observing the holiday this year—although city officials said it was not because of competition with Indigenous Peoples' Day. On Twitter, both #ColumbusDay and #IndigenousPeoplesDay2018 were quickly trending.
Fortune published the full list of those taking part in 2018. The city of Berkeley was the first to adopt Indigenous Peoples' Day, in 1991, and it appears the ideas are spreading.
"We need to shift our pride"
In a Facebook update from September 13, Joe Curtatone, mayor of Somerville, Massachusetts, called Columbus Day "a relic of an outdated and oversimplified version of history."
He wrote: "The specifics of this holiday run so deep into human suffering that we need to shift our pride elsewhere. We still have descendants of the first people who populated these lands among us. We should not make a celebration of their tragedy.
"This is not a case of erasing history. It is a case of recognizing the fuller scope of history and being more respectful toward those to whom it was unkind. Designating a holiday for the people whose history in the lands dwarfs those of us who came over post-Columbus opens the door to a richer understanding of history. I know we have a nation that gets embroiled in culture wars these days. Yet this is one instance where we should be cultured enough not to have a war."
Curtatone was not alone in his adoption of Indigenous Peoples' Day commemorations this year.
Viola Lyles, mayor of Charlotte, North Carolina, urged her Twitter followers to "take time today to reflect in the history of this land" and to learn more about the "deep history" of the native population.
And David Holt, mayor of Oklahoma, wrote in support of adopting the new memorial.
"We are proud to be the capital city of a state that is the home of 39 tribes," he tweeted. "We are proud that our city's history is preceded by many, many centuries of Indigenous history.
"Whether called Indigenous, Native, Native American, or American Indian, we value the contributions made by our citizens of Indigenous heritage, as we value all people. And so, I have just signed a proclamation declaring October 8th to be Indigenous Peoples' Day in OKC."
Elizabeth Warren, U.S. senator from Massachusetts, tweeted:
The representatives were also joined by The Avengers actor Mark Ruffalo.
He tweeted: "I'm proud to stand beside my Native American brothers and sisters to help protect their languages and cultures, lift their voices, and respect their rights as human beings."
It seems that not everyone got the memo from the White House, which released a declaration for Columbus Day on Saturday, October 6. It noted that October 8 was designed to honor Columbus's "remarkable accomplishments as a navigator, and celebrate his voyage into the unknown."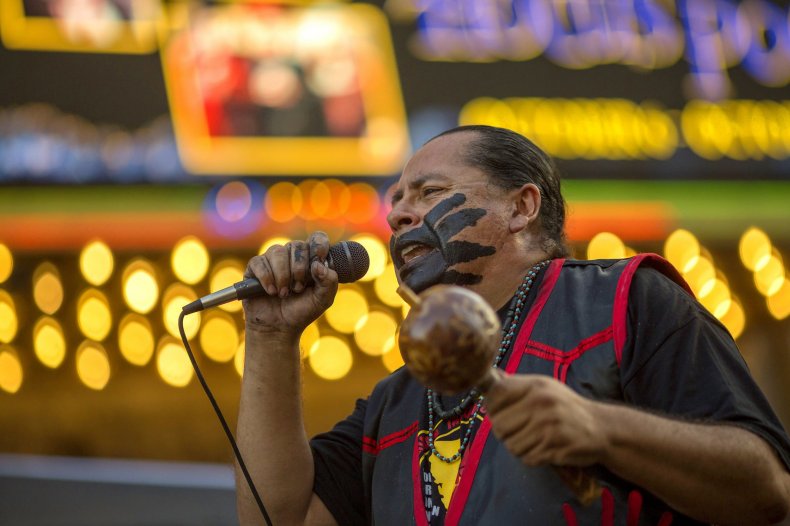 Unlike President Barack Obama's 2016 proclamation, Trump's made no reference to the suffering of Native Americans, only noting that the Columbus expedition "changed the world forever."
In comparison, Obama wrote: "As we mark this rich history, we must also acknowledge the pain and suffering reflected in the stories of Native Americans who had long resided on this land prior to the arrival of European newcomers. The past we share is marked by too many broken promises, as well as violence, deprivation, and disease. It is a history that we must recognize as we seek to build a brighter future—side by side and with cooperation and mutual respect."