What Did ISIS Do in 2017? Islamic State Reveals Its Favorite Terror Attacks And Calls for More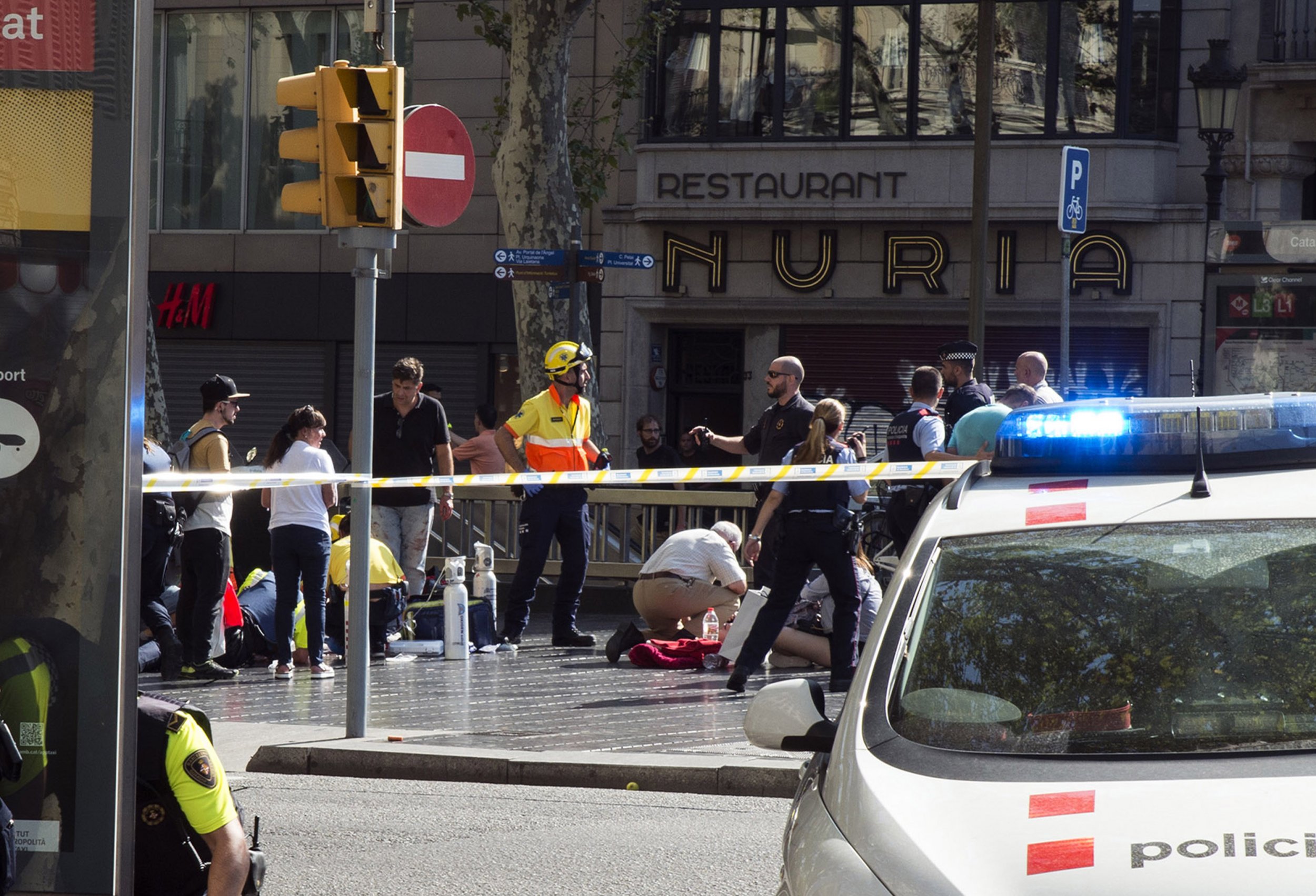 The Islamic State militant group revealed Thursday a list of what it considered to be its most prominent attacks around the world this year and called for more deadly violence.
ISIS, by most accounts, was effectively defeated as a warfighting force in 2017, but its ability to strike without warning in major cities across the globe remains a serious security issue for countries contributing to the multinational battle against the jihadis, mostly in Iraq and Syria. Capitalizing on its residual influence on social media, ISIS included in the latest issue of its weekly digital magazine Al-Naba an evaluation of its attacks abroad throughout the Islamic calendar year of 1438, which lasted from October 3, 2016, to September 21, 2017.
Related: If ISIS was behind Las Vegas shooting, there's a terrifying reason it won't prove it yet
Noting that "figures include only officially endorsed operations," the group counted 38 operations conducted by 60 jihadis in 19 countries this year. The list of nations included Australia, Bangladesh, Belgium, Egypt, France, Germany, Indonesia, Iran, Italy, Jordan, Kenya, Palestine, Russia, Spain, Sweden, Tunisia, Turkey, the U.K. and the U.S.
Out of these attacks, the group said 24 percent involved bombs and grenades, 21 percent involved stabbing, 19 percent involved firearms, 18 percent involved suicide missions, 13 percent involved vehicle ramming and 5 percent involved fire.
The infographic displaying these statistics was paired with five of what the magazine called the group's "most prominent operations."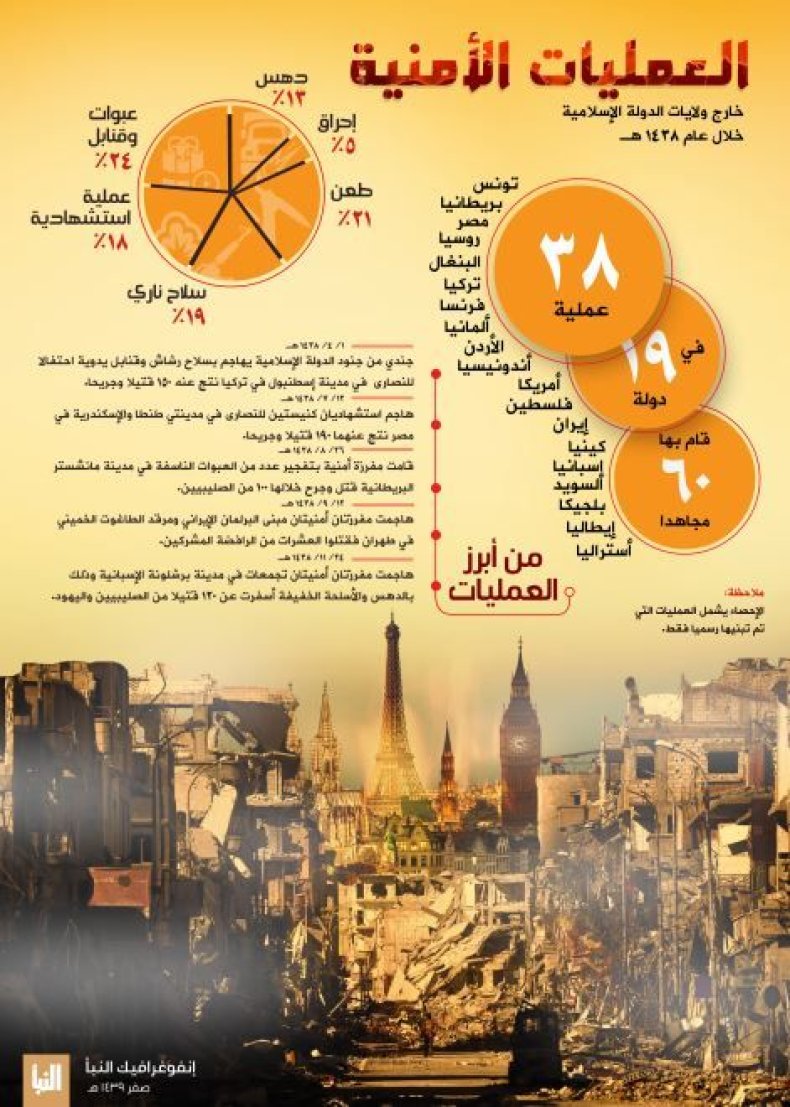 "A soldier of the caliphate attacked a celebration in Istanbul, Turkey with a machine gun and hand grenades, resulting in 150 deaths and injuries," ISIS wrote, referring to the January 1 gun and bomb attack on the Reina nightclub conducted by Uzbek national Abdulkadir Masharipov that killed 39 and injured at least 70 more.
"Two martyrs attacked two Nazarene [Christian] churches in the cities of Tanta and Alexandria in Egypt, resulting in 190 deaths and injuries," ISIS wrote, referring to the April 9 dual suicide bombings of Coptic Orthodox churches, reportedly conducted by Egyptians Mahmoud Hassan Mubarak Abdullah and Mamdouh Amin Mohammed Baghdadi, who killed themselves along with 45 people, injuring up to 126 more on Psalm Sunday.
"A security detachment detonated himself with a number of explosives in the city of Manchester, Britain, killing and injuring around 100 crusaders," ISIS wrote, referring to the May 22 suicide bombing by 22-year-old U.K. national Salman Ramadan Abedi, who targeted people attending an Ariana Grande concert at Manchester Arena, killing 22 and injuring hundreds more.
"Two security detachments attacked the buildings of the Iranian parliament and apostate tyrant Khomeini in Tehran, killing tens of rejectionist polytheists [Shiite Muslims]," ISIS wrote, referring to the June 7 twin shootings that struck Iran's legislative building and the mausoleum of late Islamic Republic founder Ayatollah Ruhollah Khomeini. Iranian intelligence identified the attackers only as Seriyas, Fereydoun, Qayyoum, Abu Jahad and Ramin, all believed to be Iranian Kurds.
"Two security detachments attacked gatherings in the Spanish city of Barcelona by vehicle ramming and with small arms, leading to the death of 150 crusaders and Jews," ISIS wrote, significantly exaggerating the death toll of several vehicle attacks and stabbing attacks by Younes Abouyaaqoub, Moussa Oukabir, Said Aallaa, Mohamed Hychami, Omar Hychami and Houssaine Abouyaaqoub—all originally from Morocco—in Barcelona and Cambrils and two non-fatal explosions in Alcanar that altogether killed about 16 people and injured about 150.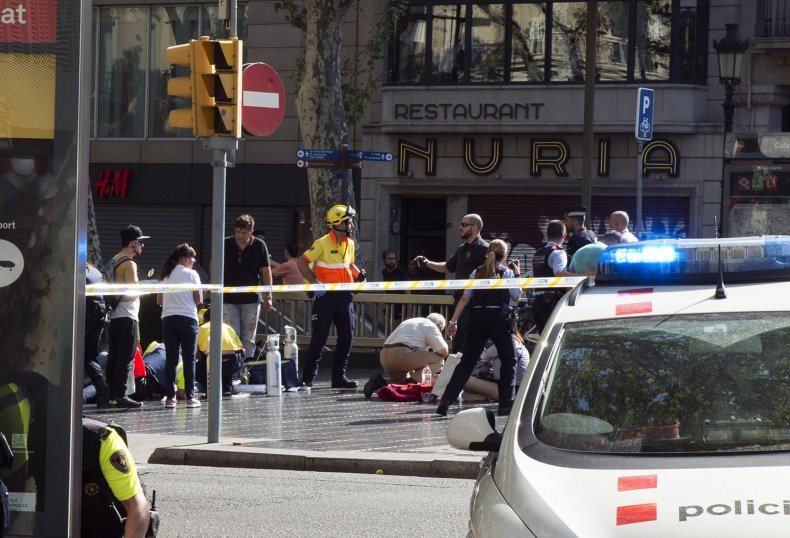 Since the Islamic calendar year of 1438 concluded, the group claimed several more attacks including a fatal stabbing in Marseille, France, and a truck ramming that killed 8 in New York City's lower Manhattan. Most notably, however, the group claimed to be the inspiration for 64-year-old Stephen Paddock's Las Vegas shooting spree that killed up to 58 people and injured hundreds more.
The attack, considered the deadliest mass shooting in modern U.S. history, has not shown any signs of ISIS involvement, nor have authorities found any evidence that Paddock converted to Islam six months before the attack as ISIS has claimed.