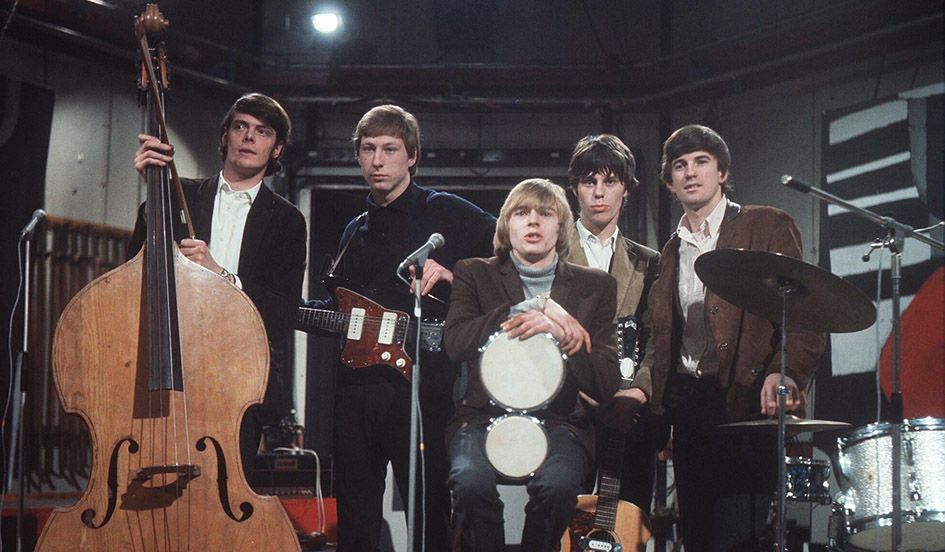 Updated | The Yardbirds are known for classic rock and blues, but their Facebook page is all about sex these days.
It's a little disconcerting to see. The legendary group—known for launching guitarists Eric Clapton, Jeff Beck and Jimmy Page to prominence—appears to have been hacked by a mischievous bot intent on spamming the band's nearly 600,000 followers with NSFW links.
The hacking has been going on for weeks. On December 4, for instance, the band inexplicably shared a list of "sex positions that'll get her off every time":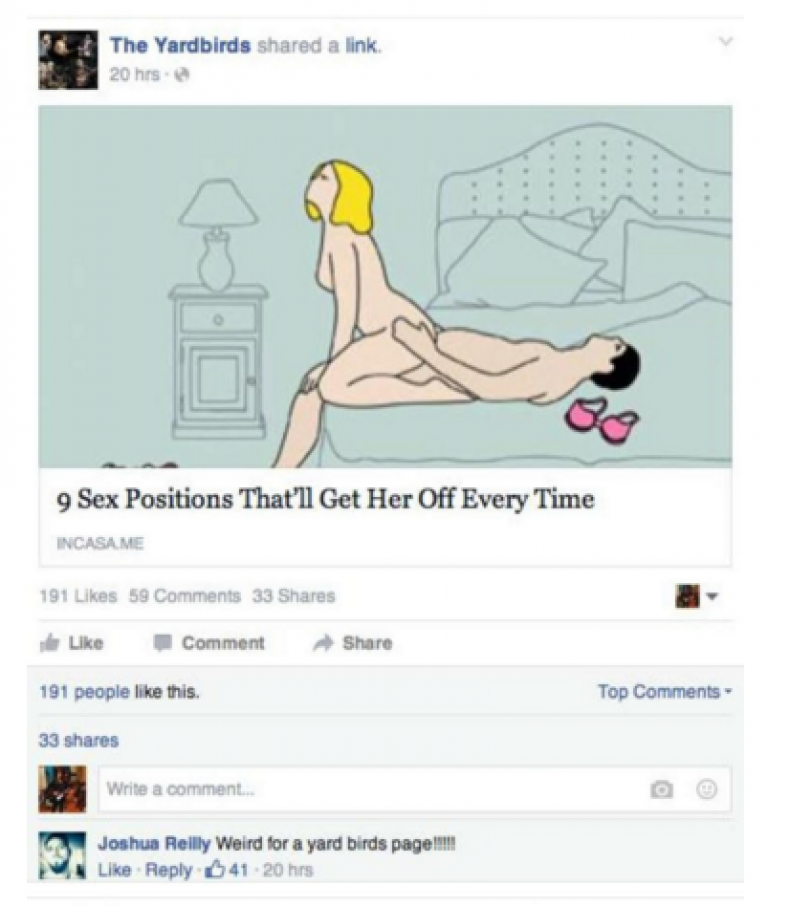 A few days later, the Rock and Roll Hall of Fame-inducted group followed it up with a list of anal sex positions: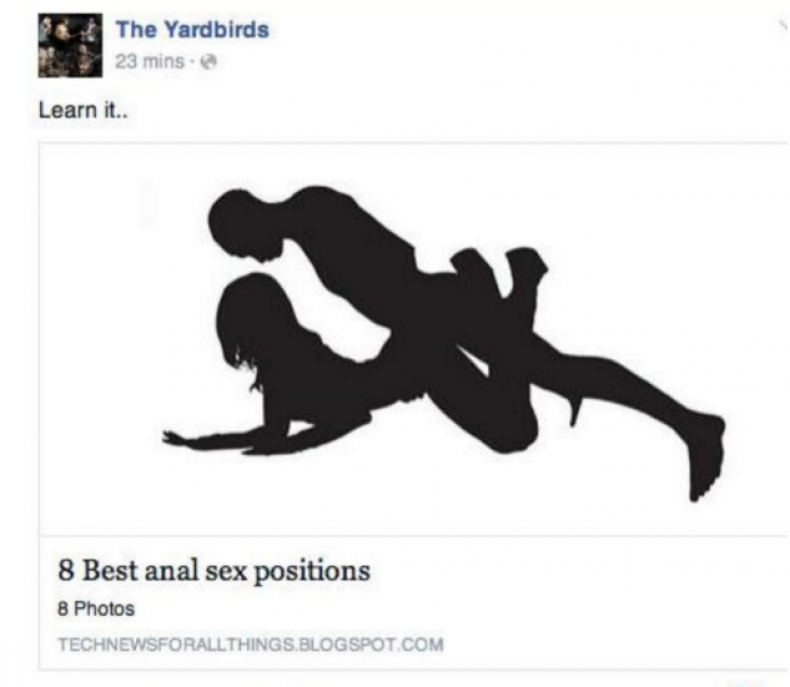 More recently, the page's name began appearing as "The Bird's Music" (likely confusing fans looking for another '60s band, the Byrds), but at least one thing remains constant: guides to sex positions.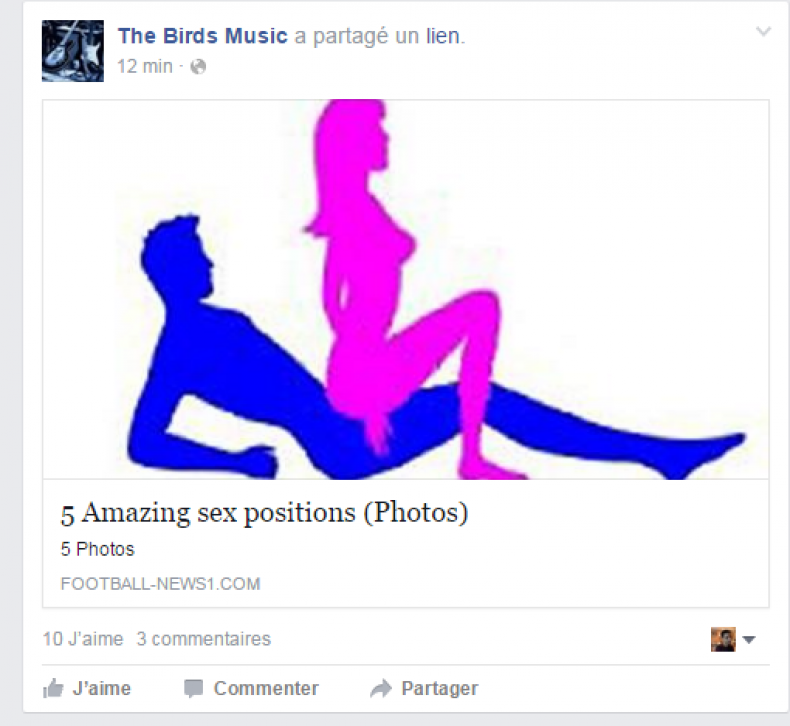 In each instance, the link has been quickly deleted.
The situation was brought to our attention by Yardbirds fan and Facebook user Michael Goodman, who says he was scrolling through his newsfeed when a sex positions link caught his eye.
"I was taken aback when I saw that the victim of the spam was the official Facebook page of one of the most important and respected rock groups of all time," Goodman writes. "Part of what I find so pathos-inducing about this whole mess is how the Yardbirds—a band with an indelible place in rock history, a band who appeared in Antonioni's groundbreaking 1966 film Blowup—could have their online presence undone by such a vulgar, needling social media pitfall. There's something so '2015' about all of it."
The band's U.S. agent, Mike Oberman, seemed at first unaware of the situation. "Thank you for alerting me to these disgusting messages," he replied in an email message. "Will send to band so they get it attended to."
But the group's moderators are aware of the hacking. They just haven't been able to fix it.
"I am one of the admins locked out of the page," Russ Garrett, the group's webmaster, merchandise manager and co-tour manager, explained in an email to Newsweek. "We no longer have access to the controls. Facebook has been totally unresponsive to our complaints about the hack."
Judging from Facebook and Twitter comments, Yardbirds fans are growing increasingly baffled and fed up by the smut. It's frustrating to get hit with "8 Best Anal Sex Positions" when you just want to hear a good live version of "Heart Full of Soul."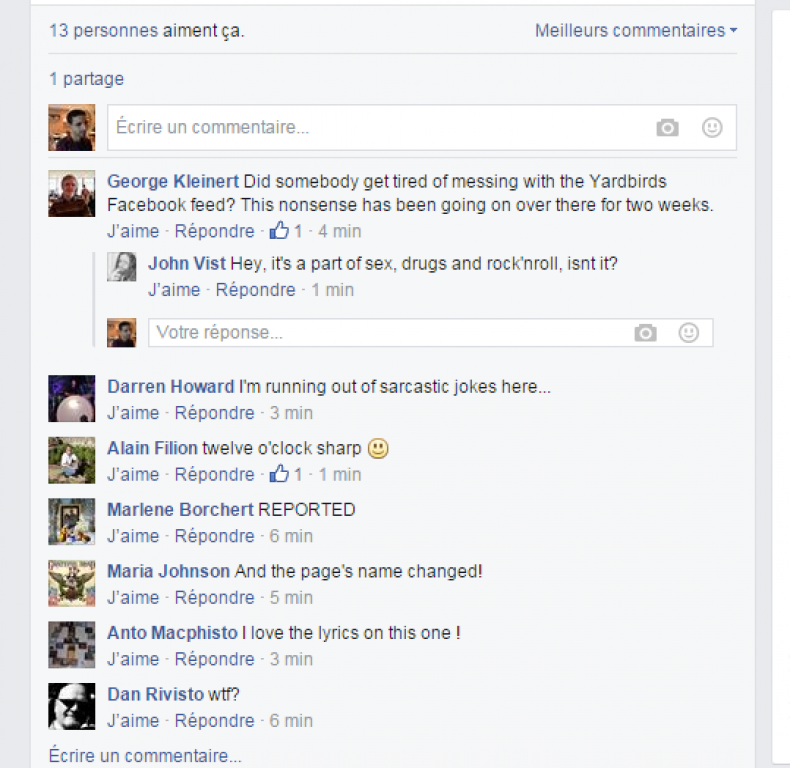 The band's team has been contacting Facebook for two weeks without response. (Facebook has not yet responded to an inquiry from Newsweek, either.)
In the meantime, the Yardbirds have set up a new, G-rated page called Yardbirds 2016. It's a nice way to see photos of the rockers now and then, though not very useful if you're looking for sex positions that'll get her off every time.
This story has been updated to include a quote from Michael Goodman.
Update: According to the Yardbirds 2016 page, the hacked site has been deactivated. Fans appear to be breathing a sigh of relief.