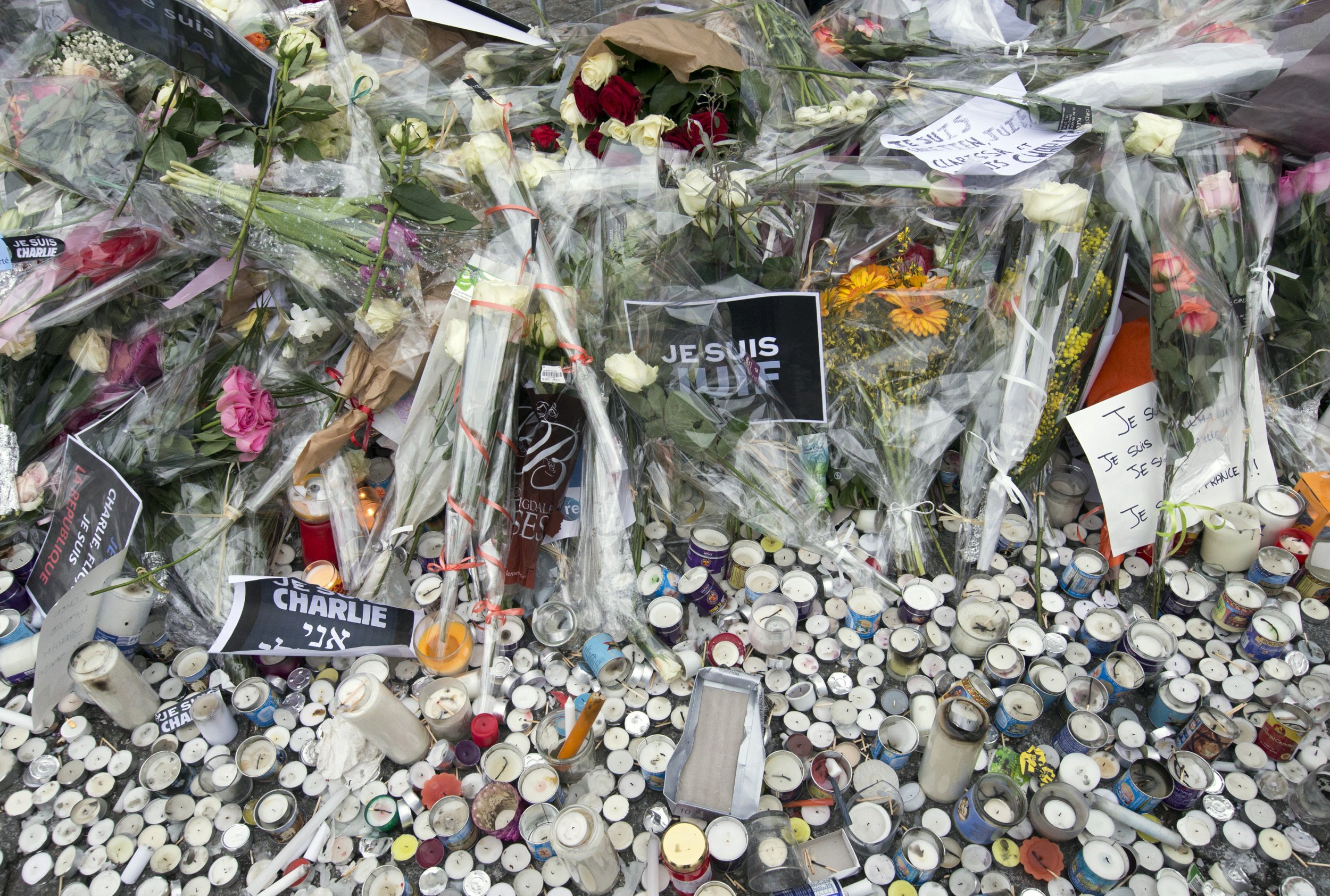 Delphine Meillet, a French lawyer and mother of two whose Jewish family roots in France stretch back to the 16th century, watched the attacks this month in her country with trepidation. But she remained resolute: Meillet says she is never going to leave France.
"All my family are in Israel now," she says from her small office in the heart of Paris's Left Bank, just behind the Panthéon. "My father, sister and brother are there. But I am not going. I am Jewish, but I am French first. The identity of a French Jew is like a cake—a slice of each. It's not a mélange—a mix. It's an important slice of each that you retain separately: Juif and French."
France has the largest Jewish community in Europe and the third largest in the world (after Israel and the U.S.), but the community has changed dramatically since World War II. For centuries, France has had a totally assimilated Jewish population, and there are now an estimated 500,000-600,000 Jews in France. Their history stretches back to the Middle Ages. Once the center of Jewish learning, France was the first country to emancipate Jews, during the French revolution. Later, Napoleon liberated Jews from the ghettos and established a "relative" equality.
During World War II, one-quarter of the French Jews were sent to the death camps—sometimes with the collaboration of the French. After the war, around 40,000 Jewish refugees who had been forced from their European homes arrived here seeking a safe haven. In the 1950s and '60s, the rapidly expanding community was joined by North African Jews who were escaping persecution. They made their mark on French society by building more Jewish schools and institutions, and spreading out into suburbs beyond Toulouse, Strasbourg, Nice, Marseilles, Lyon, Paris and other cities. By the time of Algerian independence in 1962, most of the Jewish population had moved to France.
But this proud and long-standing community is now visibly shaken. According to Roger Cukierman, president of the CRIF (Conseil Représentatif des Institutions Juives de France), an umbrella group that represents France's Jewish organizations, around 10,000-15,000 French Jews are expected to leave for Israel in 2015, to make aliya. More might leave for the U.S., Canada and the U.K. Their fear of rising anti-Semitism and terrorist strikes, Jewish leaders here in France say, is "palpable."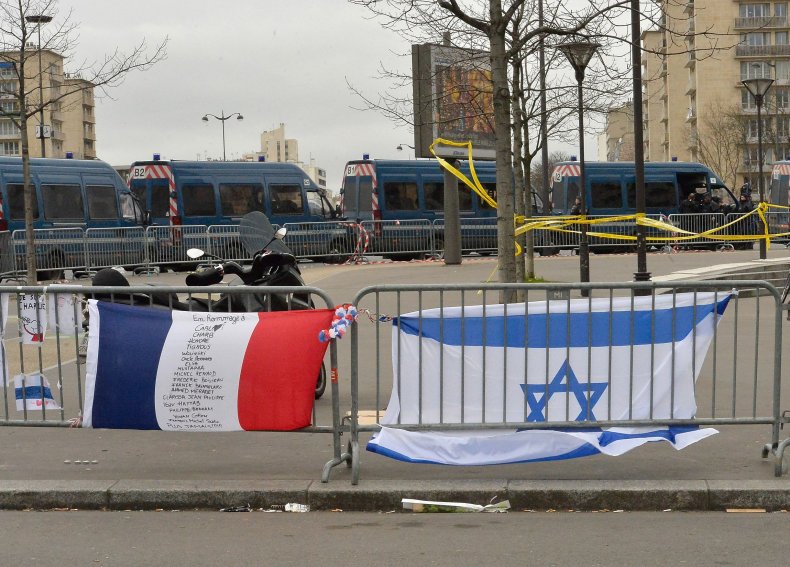 In 2014, the Jewish Agency, which is responsible for immigration to Israel, reported that around 6,900 Jews left France for Israel. In 2013, it was around half that figure—3,300 people. Rabbis here are concerned that Jews will abandon France and their rightful cultural heritage, but they are equally concerned about future attacks.
Even before the attack on the Hyper Cacher supermarket outside of Paris on January 9, two days after the massacre at the satirical magazine Charlie Hebdo, anti-Semitism has been a problem. In 2012, an attack in the southwestern city of Toulouse, which has a sizable Jewish population, killed a rabbi and three schoolchildren.
Nine years ago, in January 2006, another incident shook the Jewish community to its core. A group who called themselves "The Barbarians" kidnapped Ilan Halimi, a young French Jew of Moroccan descent, from his workplace.
The Halimi story dominated the French press for weeks. He was held, brutally tortured, and later died from his wounds on the way to hospital. But what was so chilling was the way Halimi was lured to his death by the gang (who used an attractive female Muslim as bait) and the motives and language The Barbarians used—they demanded money for ransom from Halimi's family, but at the core of the attack was anti-Semitism.
The French prime minister at the time, Dominique de Villepin, declared that the killing was an "odious crime…anti-Semitic, and that anti-Semitism is not acceptable in France."
"I know from the moment of the Toulouse attack, Jews began thinking of leaving," says Rabbi Moshe Lewin, the executive director of the Conference of European Rabbis, and a special adviser to the Grand Rabbi of France, Haim Korsia. "But many needed to get organized—leaving a country and your roots is a big step."
Lewin said that French authorities owed the Jewish community explanations about the measures being taken to guarantee its security. "If the means being used are not sufficient, the efforts of the Chief Rabbi to convince French Jews not to leave the country will be in vain," he warned.
Lewin, who lives in Le Raincy, an eastern Paris suburb that has what he described as "security issues" for Jews, is focused on multi-culturalism. He has been working with a local Imam and a priest to try to reconcile the community after the Charlie Hebdo attacks. On a rainy January morning, the trio rose early and began visiting schools, mosques and synagogues in their area in an attempt to heal the wounds, and soothe the fears.
For many French Jews, who are willing to speak but afraid to give their names or locations, there is a growing sense of resurgence of the fears their parents and grandparents experienced in the 1930s and '40s.
"We feel it, we are afraid," said one 82-year old rabbi living in a northern Paris suburb (because of security, he asked not to be identified, and for his neighborhood not to be named). "I live surrounded by Muslims—Turks, Pakistanis, Algerians, Moroccans. It's not that they are bad neighbors—at the moment we have good relations. It's just that we live in a small circle, Jews surrounded. At my synagogue, there were once 1,000 people who attended Shabbat (Friday night) services. Now there are about 25 who come—and they are all the old people."
"I am afraid. After last week, I am more afraid."
But his wife, who is 76, says she and her husband emigrated from Algeria in 1962, and made their home here. She insists they will never leave France. "We take precautions. We installed close-circuit TV in the synagogue, but my husband is more afraid than me. My children are here, my grandchildren are here—we are Jews, but we are French first. I won't leave. I won't give in and be afraid."
Rabbi Moshe Lewin says, "Most synagogues have closed circuit TV now for protection. And the French Army is protecting the Jewish schools. But what kind of message does this send? It sends one of fear."
Cukierman, the head of CRIF, says, "My personal guess is that it is very worrisome for Jews today in France. If you are the parent of a Jewish child, for instance, you have the choice of sending your child to a public school—which is where we all went 20 years ago, but now there are more attacks on Jewish children—or to pay to go to a private one."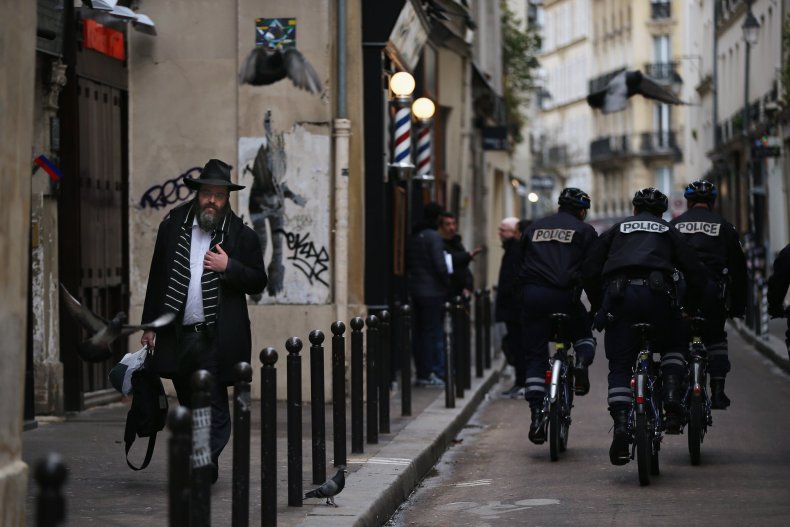 He says one third of Jewish children in France go to a Christian school.
"Why? If they go to a public school, they get attacked by the Muslim population."
"If you send your child to a public school, they are at risk. But now, if you send them to a Jewish school, the Army protects them. This is not a very attractive option."
"I am not leaving, but I think about it, " says one Parisian doctor who works in the 17th arrondissement around the corner from a Kosher deli. "We hear so many stories of attacks against Jews, jumped on the street for just wearing a kippa," she says, adding that while she herself has not experienced a personal attack, she hears about it often from the community.
The doctor, whose parents emigrated from Tunisia to France, has just returned from a trip to Jaffa, Israel, with her family where she was looking at apartments. Back in Paris, she sends her youngest son to a Catholic school.
Even though he has to sit through catechism classes, she says: "It's safer, it's better than the public schools… Even if we are Jews, I'd rather he sit through the Catholic doctrine than get beat up in a public school."
In 2013, the Jewish Community Security Service, a joint body that works with France's main Jewish organizations, compiled crimes against Jews. The figure was 423 incidents. That is up from 82 incidents in 1999.
"The decision to stay or leave is very personal," says Cukierman from CRIF. "We don't tell people to leave or to stay. But Jews have been in France for 2,000 years. We have given five Prime Ministers, big writers like Montaigne and Proust. Many Nobel Prize winners and even a Cardinal!"
"How do we get through this dark period?" he asks. "We have to educate people. We are all human beings. We have to live together."
Delphine Meillet, the lawyer, agrees. "People have to learn to be more tolerant," she says, adding she is determined not to let fear force her family to abandon a centuries-old identity.
Norman Lebrecht, a writer in London whose family are French Jews who have lived in France since 1727, says of the French-Jewish community, "Peacetime or war, our loyalty to France was absolute."
Correction: An earlier version of this article stated that Rabbi Moshe Lewin was part of the Council of European Rabbis. This article has been amended to reflect that Rabbi Lewin is part of the Conference of European Rabbis.