What Italy's Phased Reopening After Extensive Coronavirus Lockdown Could Look Like
On Sunday, Italy's Prime Minister Giuseppe Conte announced that the country will begin to ease its lockdown measures previously put in place to stop the spread of the novel coronavirus.
Italy imposed one of the strictest lockdowns across the globe, but residents will begin to return to their normal lives starting on May 4. During his announcement, Conte noted that beginning on May 4, Italians will be permitted to use parks, attend funerals and travel within their own regions. The funerals will be limited to 15 people and are recommended to be held outdoors. Some construction companies, wholesalers and manufacturers will also be allowed to reopen, while bars and restaurants will be permitted to offer takeout service.
Following the reopening, Italian residents will continue to see a return to their normal lives on May 18. Conte announced that on May 18, retail stores and museums would begin reopening. Sports teams will also be allowed to hold group training, but Conte did not discuss a date for Italy's premier soccer league, Serie A, to resume playing games.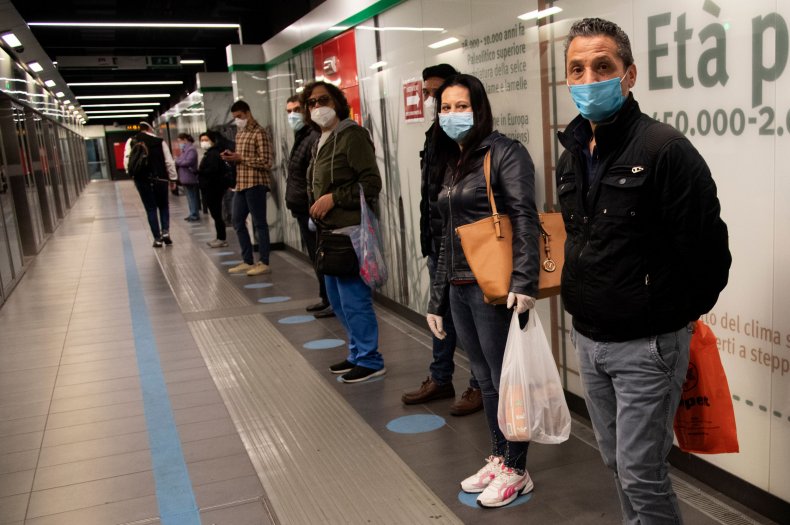 Italy's phased reopening will continue through June 1, with hairdressers, beauty salons and barbershops permitted to reopen at that time. Also June 1, restaurants will be allowed to resume dine-in service.
Conte also noted that schools can resume in-class sessions starting in September.
Despite these reopening plans, Italian residents will still be urged to follow social distancing measures such as wearing a protective face mask and avoiding large public gatherings. During his announcement, Conte told the nation that they were entering a time of "responsibility and coexistence with the virus."
"If we do not respect the precautions the curve will go up, the deaths will increase, and we will have irreversible damage to our economy," Conte said during his announcement, according to BBC. "If you love Italy, keep your distance."
On April 14, the country introduced its very limited lifting of virus control measures, allowing small shops, such as bookstores and dry cleaners to reopen, as they were considered to be businesses at a lower risk.
Conte's announcement included a phased reopening plan as the country as seen a downward trend in the number of cases from its peak on March 21. According to a tracker provided by Johns Hopkins University, on March 21, Italy reported at least 6,600 new cases, compared to April 26, where only 2,300 cases were reported.
Throughout the global pandemic caused by the new coronavirus, Italy has experienced over 197,000 cases and at least 26,644 deaths. On the other hand, at least 64,928 Italian residents have already recovered from the virus, which causes the respiratory disease COVID-19.