What It's Like to Have a Child Imprisoned in Iran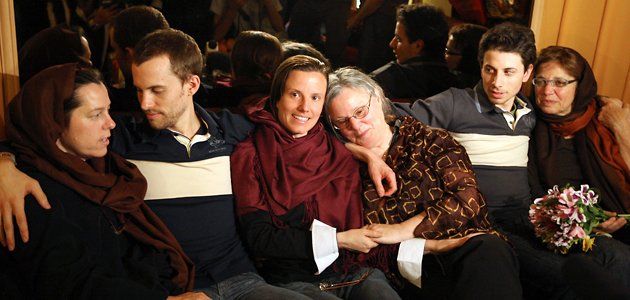 It's not often when your interviewees have more questions for you than you have for them. When I met Cindy Hickey and Nora Shourd, the mothers of two American hikers imprisoned in Iran—Shane Bauer, 28, and Sarah Shourd, 31—they thought I could shed some light on the situation of their children in Evin Prison. I was held there for 118 days last year, and I heard the American prisoners during my interrogation and in the hallway when they tried to communicate with their captors. But no one, even many high-ranking members of the Iranian government, knows why Shane and Sarah have been held for almost a year—and what the Iranian government is trying to achieve by keeping them.
On July 30, 2009, Shane, Sarah, and their friend Josh Fattal, 28, left their hotel in the city of Sulaymaniyah in Iraqi Kurdistan for Ahmad Awa, a small town close to the Iranian border. Their friend Shon Meckfessel was feeling ill that day and was going to catch up in a couple of days. Ahmad Awa is famous for its hiking trails and waterfalls and is heavily advertised by the Kurdish regional government as a safe place for outdoor activities, though Shon felt that the Kurds had overstated its safety: the area is infested with mines left from the Iran-Iraq War in the 1980s. Sarah wrote to her mother:
Hello Sweetness,

So, we're traveling.
Actually, we're in N.Iraq!
It's totally safe.
The Kurds in this area have been pro-American since 1991. No single American has ever been hurt on Kurdish territory.
So, don't worry.
Tonight we're going camping.
I love you.
Love Sarah
On July 31, Shon received a call from Shane, Sarah, and Josh with the news of their arrest. The circumstances are still unknown. Iran insists that the hikers crossed the border, but in the only interview after their arrest Shane said they were not arrested in Iran. The three have not been formally charged, and they told their mothers they haven't been interrogated since last September. Josh and Shane share a cell; Sarah has been in solitary confinement for the whole period. In February, President Mahmoud Ahmadinejad talked about the possibility of exchanging the hikers for Iranians held by American forces in Iraq, but the idea was dismissed by the American government. In the latest twist in the saga, the alleged Iranian scientist-cum-spy Shahram Amiri, who returned to Iran from the United States two weeks ago, said in an interview that his CIA captors told him they wanted to exchange him with "the three American spies." When the interviewer asked Amiri if he was sure that his American interrogators used the word "spy," he answered, "Yes."
The mothers of the hikers—and Shon, the fourth hiker—vehemently deny the accusation of espionage. They want the Iranian government to free their loved ones. After months of trying to contact Iranian officials from their homes in the United States, where Iran has no embassy, Cindy and Nora (whose daughter may have developed cancer) came to London to meet with the Iranian ambassador to the United Kingdom, Rasoul Movahedian. After they had stood for hours under a typical London summer rain in front of No. 16 Prince's Gate, across the street from Hyde Park, Movahedian refused to meet them.
I invited Cindy, Nora, and Shon to our flat in London for a late lunch and a heartfelt conversation. I was familiar with the desperation of two mothers who didn't know anything about the situation of their children. My family went through a very similar experience last year. The conversation was long and at times had to be stopped when they or I broke down in tears. Here are the excerpts.
Maziar Bahari: You went to the Iranian Embassy in London this morning. What happened?
Cindy Hickey: Our government, the American government, has no diplomatic relations with Iran, and all our communication from the State Department has to go through the Swiss Embassy in Tehran. So we thought we should contact an Iranian ambassador directly, and that's why we came to London. We'd sent a couple of letters to the ambassador, but there was no reply. So this morning we went to the embassy, we rang the bell three times, but no one answered. Finally someone came down and said there's nothing he could do for us.
Nora Shourd: It's quite symbolic. The door was closed on us like it's been repeatedly closed since July 31, 2009, when our kids were arrested. We have no way to communicate with the government that is holding our children.
Bahari: Shon, many people are wondering why you chose Ahmad Awa for hiking. If you wanted to hike, why didn't you go to Colorado or Switzerland?
Shon Meckfessel: Colorado was quite far from us. We'd been living in Damascus. Shane and Sarah had been there for a year. Sarah was teaching English, and Shane was working as a freelance journalist; I was working on my Ph.D. dissertation. Iraqi Kurdistan was only a day trip from Damascus, so we decided to hike in that part of the world. Josh came a week before the trip and joined us.
Bahari: Didn't you know it was dangerous?
Meckfessel: It's not dangerous. There is a huge tourism campaign by Kurdistan's regional government in that area. The ads assure tourists that there's been no conflict in that area since [before the first Gulf War in] 1990, and no Westerner has been harmed, so it's not a dangerous area.
Hickey: I'm sure if it were dangerous, Shane and Sarah wouldn't go there. They're very conscious of danger, and both know the Middle East quite well. Shane speaks perfect Arabic.
Shourd: And Sarah speaks Arabic as well. They're both careful people. Shane would never put Sarah's life in danger, and Sarah would never do something careless or adventurous.
Bahari: In the interview in Iran, Shane said that they didn't cross the border, and in June The Nation reported that there was news that Iranians abducted the three hikers inside Iraq. Shon, what happened?
Meckfessel: Based on the information I have gathered so far, I believe rogue elements within security forces of the Iranian government or local Iranian border police arrested my three friends inside Iraq without the knowledge of the central government in Iran. I don't think that there was any incentive for the government of Iran to arrest three young Americans. But after the post-presidential-election turbulence in Iran, and because of the ongoing standoff between Iran and the United States, the Iranian government couldn't just let the three arrested American citizens go, because that would make Iran look weak. So they chose to keep them. I'm sure that my friends didn't cross the border.
Bahari: What happened to you after you heard they were arrested by Iranians?
Meckfessel: The American Army flew me with a Black Hawk into the Green Zone, and I was debriefed for two days. They were quite professional, but they told me that as far as they were concerned I wasn't part of the situation. Then they let me go.
Bahari: Nora, Cindy, how did you hear about the arrests?
Shourd: Cindy called me. I was in a bank. I was trying to send money to Shane so he could buy a dress for Sarah's birthday. When I heard the news I didn't know what to do. I just sat down and smoked a cigarette. My first one after 15 years. Don't tell Sarah that!
Hickey: I was in my office when someone from the American Embassy in Baghdad called and gave me the news. In the last year the Swiss have managed to see our kids only three times, with the interrogators present in the room. Was it the same for you?
Bahari: Whenever my family came to see me, there was a guard who either sat at our table or outside the room where I met my family. Before each visit, my interrogator warned me that I shouldn't talk about my case—or his line of questioning—with my family. And if we said anything like that, the guard would stop the conversation.
Shourd: Did you hear Shane, Sarah, or Josh while you were in prison?
Bahari: Actually, I did. I remember I heard either Josh or Shane trying to ask a guard to take them to the bathroom. The guard, who obviously couldn't speak English, kept on answering, "Yes, yes," without understanding what did they want. So the prisoners kept on asking to go to the bathroom. Also, when they arrested your kids, my interrogator told me, "We've arrested some of your colleagues." When I asked whether they were journalists, he said, "No, they're working for the CIA in Iran!"
Hickey: No way!
Bahari: Do you think the American government has done enough to release them?
Meckfessel: No. Shane had written articles that were critical of American policies in the Middle East, and he has very strong opinions against American occupation of Iraq. That may have something to do with the American government's lack of interest and lack of action.
Hickey: I don't know about that. I've always thought that when I see my son out of Iran and in my home, I'll know that our government has done enough.
Shourd: I don't think there's a will in either the American or the Iranian government to release our kids. Otherwise they would be freed by now.
Bahari: In May you went to Iran and saw them for a couple of days. How was that experience?
Hickey: They didn't tell them that we were there. They took them out of prison, and the kids thought that they were going to court. They waited in a room for four hours before they brought them to us. They didn't know what was going on. It was such a shock for them. It was a very emotional moment when they saw us.
Shourd: From the moment we arrived, the Iranian government said that Press TV [the English-language Iranian satellite channel] would have full access to us. We had no choice. Our two meetings were monitored by Press TV and the interrogators. The only time I had a private conversation with my daughter was when I went to the bathroom with Sarah and opened the faucet and the shower so they couldn't hear us. Sarah has a precancer condition. She has [had] cancerous cells on her cervix for the past eight to nine years and has to have a Pap smear every three months. In the last year she's had only one Pap smear test. Also, she showed me a lump on her breast. She said that they'd checked it up, and it's dormant, but still it's a lump. When she showed me the lump I noticed how skinny she'd become. Did you lose a lot of weight too?
Bahari: Twenty-five pounds. Why haven't you talked about the cancerous cells before?
Shourd: I don't know why I even mentioned that to you. She's a grown-up woman. It's a private matter, and I usually don't like to talk about it. But Sarah said that I should tell everyone about her condition.
Hickey: Maziar, when do you think they will release them?
Bahari: If one could predict the actions of the Iranian government, Iran and the world would be in a much better situation. All I can tell you is that I think your kids are in a much better condition than other prisoners in Iran. The government in Iran treats its prisoners and hostages as commodities. They're used as bargaining chips, so as long as they think it's in their interest to keep them, they hold on. As soon as they become liabilities, they release them. Because your children are bargaining chips—I don't know for what—they are kept in a good physical condition. Their food is OK, and I'm sure they've been given the best rooms in Evin Prison. Your kids are lucky they're not Iranian prisoners.
Hickey: They told us that they haven't been interrogated since September.
Shourd: There are no charges against them except for hiking along the border.
Meckfessel: The Iranian government may think releasing them will be a sign of weakness, but in Islam mercy and forgiveness are signs of strength. I ask the Iranian government to live up to those high principles.
What It's Like to Have a Child Imprisoned in Iran | World