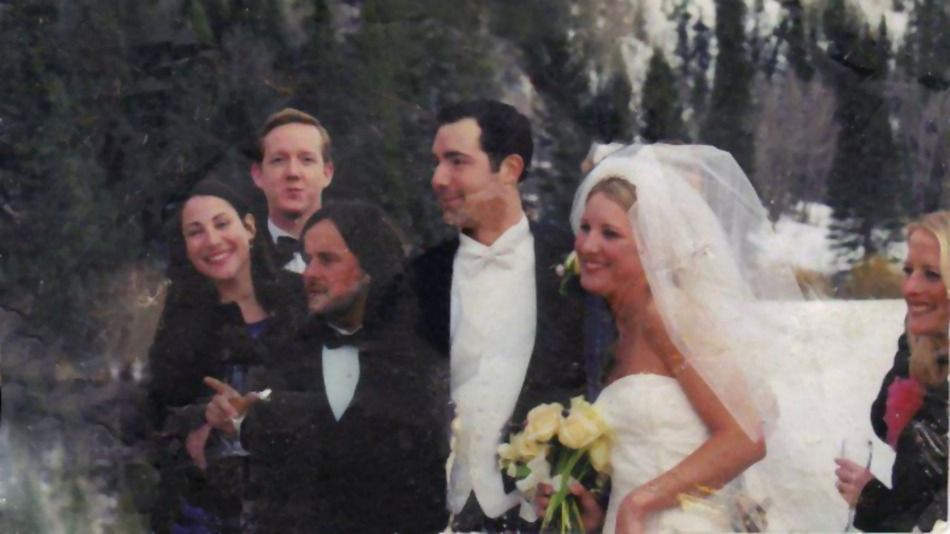 On September 11, 2001, Thomson Financial account director Fred Mahe was one of the lucky ones. He came to work just late enough that he wasn't at his desk yet on the 77th floor of the World Trade Center when the first plane struck.
Thirteen years and one day later, he learned that a personal trinket from his cubicle had survived the rubble. This is the story of what may well be the final surviving Ground Zero possession: a photograph from a wedding Mahe had attended in March 2001 in Aspen, Colorado.
"It was tacked to the wall, set up on my two tacks," Mahe, who has since relocated to his home state of Colorado, tells Newsweek. After the attacks, it was naturally presumed to be gone forever. In 2002, a few other items were found from the same desk, then cataloged and returned at City Hall: a paycheck stub discovered on a nearby roof, a half-burned US Airways frequent flier card. But to have "a picture with people I love—that's a really cool thing to get," Mahe says. "Much cooler than a paycheck stub."
As Mashable's Jason Abbruzzese explains in an extensively reported account of how the photo made its way back to Mahe, a professor named Elizabeth Keefe had obtained it from a friend who found it amid the debris of lower Manhattan, miraculously preserved from Mahe's cubicle. For years, the story behind the photo went unknown. But Keefe regularly tweeted it out on 9/11 anniversaries in a search for its owner. Mahe is pictured second from the left:
According to Mahe, Keefe went so far as to scan thousands of photos of September 11 victims to confirm that the photo's subjects weren't among the dead. For more than a decade, she couldn't identify who the mysterious wedding-goers were.
Then, last week, a friend alerted Mahe to the photo when he saw it reposted on Gothamist. "A friend of mine, who I used to work with in the World Trade Center, sent me a text message. And said, 'Fred, you've got to check out this link.' … I looked at it like, 'Oh my God, crazy.'" Upon spotting the 13-year-old, pre-Facebook image of himself, Mahe says he nearly didn't remember it: "It took a minute. I wouldn't have been able to remember it unless I saw it. It's pre-digital. You can't print another one off your iPhone."
One trip to New York later—which included appearances on Fox, Good Morning America and the Today show—Mahe has the original copy of the photograph. He says he was more amazed by Keefe's persistence over the years than by the item itself.
"Her actions speak to what happened on 9/12 of 2001," Mahe says. "That's when humanity was at our best. Obviously, we saw the worst of humanity on 9/11. How I saw people act on 9/12 was the coolest thing ever. She embodies that. She embodies how wonderful people can be. And how cool is it that her mystery was solved on 9/12/14?"
He added, "This kind of resolution—I think it helps everyone. I think that's why so many people across the world were re-tweeting it and helped solve this mystery."