What It's Like to Holiday-Shop in Hawaiian Village Threatened by Lava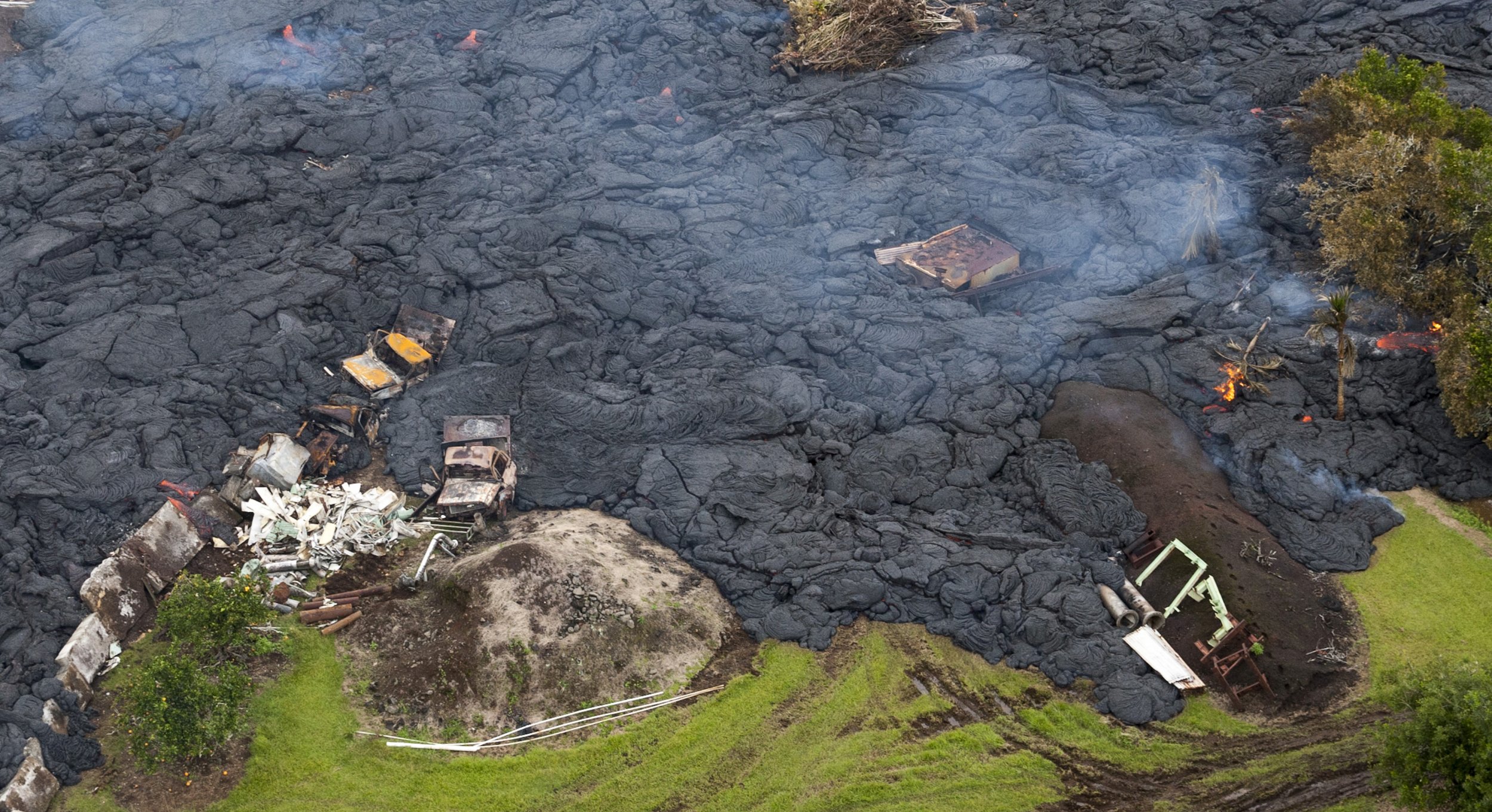 The small village of Pahoa, Hawaii, is facing a mighty foe: Madame Pele. Pele is the mythical goddess of volcanoes in Hawaiian lore, but to residents of Pahoa, she is all too real and comes in the form of the Kilauea volcano. This past summer, concern and quiet panic spread through the region as Kilauea's lava began to threaten the center of town.
Janet Babb, a volcano expert with the U.S. Geological Survey, has been keeping an eye on the eruption for years. "This eruption has been ongoing since 1983. It'll be 32 years this January," she said.
For years, residents of Pahoa have lived peacefully with Kilauea, and its lava flow did not interrupt their daily lives. But on June 27 that all changed when lava threatened to take hold of Pahoa's only major highway, which could effectively cut off the village from its surrounding communities. For the first time, lava could change life in the small town, though the highway remains tentatively open.
Lava is, essentially, unpredictable. "The advance of the lava flow has varied greatly," Babb explained. "For a while, it was moving 300 yards per day. Now it has slowed to 70 yards per day, but there are times when it is moving at a rate of 600 yards per day. That is what makes this all so very difficult, this variability in the flow rate."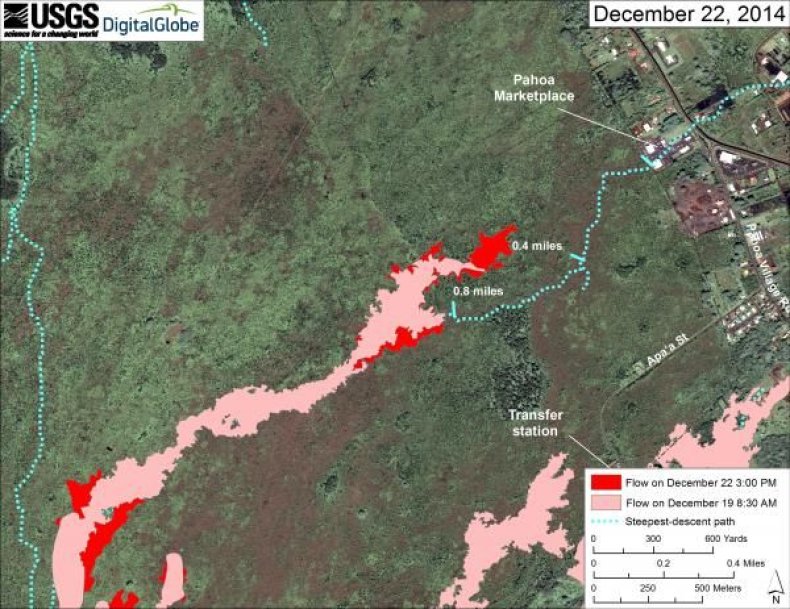 Because the flow's motion is so unpredictable and it could veer away from the town's businesses, Hawaii County Civil Defense, an emergency-management agency, has put off calling for a mandatory evacuation. But even without that call, businesses and schools have started to close. In the meantime, kids play on hardened lava in the absence of classes, and holiday shopping involves a lengthy, congested drive as residents take unfamiliar alternative routes and face traffic on the highway.
Before the lava began its slow but steady descent on the village, Pahoa Marketplace, the shopping district, was home to a number of retail shops, a large grocery market and some commercial offices. Today, the marketplace is deserted, with one notable exception down the road: Island Naturals, a health food store that has decided to remain open as lava bubbles less than a half a mile away.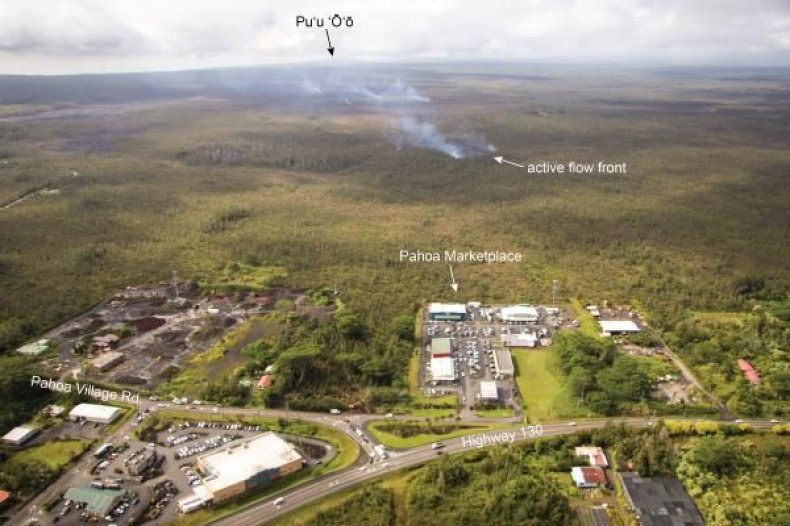 After a number of other shops shuttered, including a local gas station and a Subway restaurant, Island Naturals became one of the last places to buy food and gifts in Pahoa. "We were not anticipating supporting our whole community like this," Cienna Cohen, the grocery buyer for the shop, told Newsweek. "We are trying to get ready for this, but we have a small store, a small parking lot, a small staff. We are trying to create more storage and are ordering backups of supplies when we do run out, but when we place an order, it takes at least 10 days to get here."
When the shops decided to close, some held blowout sales, while others simply locked their doors with the merchandise inside, hoping it would not be affected by the lava. Most laid off employees, shrinking holiday shopping budgets for Pahoa families and making it hard to buy anything. "Christmas shopping has been very difficult. It's frustrating because the shop is there, the product is on the shelf, they're just closed," Cohen told Newsweek.
Nancy Cabral, owner of Day-Lum Rentals and Management, witnessed a shopping frenzy before the stores closed. Panic and everything-must-go pricing fueled a rush. The Malama Market Center "was just mobbed with people shopping. It was very sad, somehow, and spiritual. It is such a small community," Cabral said.
Her company manages hundreds of properties throughout Hawaii, including 54 affected by the lava flow. Day-Lum offered lease payment forgiveness to any tenant forced to close due to Pele's wrath.
Locals were left to do holiday shopping at Island Naturals, which has a particularly popular gift section: beer and wine. "That is one of our biggest fine-item sections in the store, and we are absolutely seeing more people coming in," Cohen said.
To buy other gifts, however, Pahoa residents must make the long trek to neighboring Hilo, a larger town with more shopping options. While alternative routes are being built in and out of Pahoa, traffic has become extremely congested after the highway closed due to an influx of tourists coming into town to see the lava and repair crews. While another small town is only 20 miles away, locals told Newsweek it took 40 minutes to drive there with traffic. While the ride is usually only about a half hour between Hilo and Pahoa, some have reported traffic pushed it over two hours.
For now, Island Naturals has decided to remain open, offering holiday and grocery options for the 800 residents of Pahoa. "If there is lava at our doorstep, well, then we will take precautions. But for now, we are staying open, and we are here for our community," Cohen said.
Correction: A previous version of this story implied the highway was closed due to lava; the highway is in danger of being closed due to lava and is currently open.