What It's Like to See Smash Mouth, Sugar Ray and Blues Traveler in a Park in Connecticut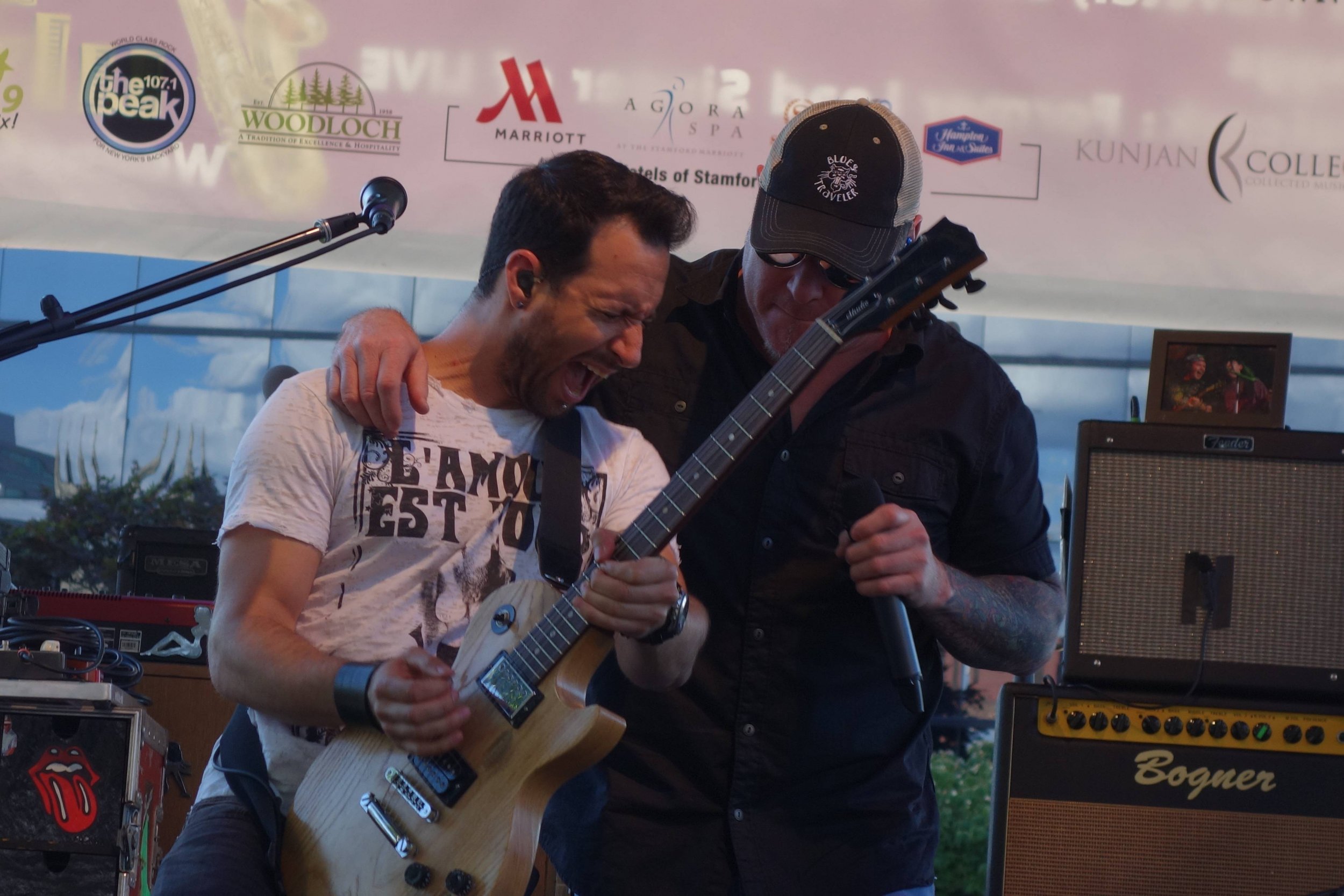 My grandma was surprised when I told her I was going to see Smash Mouth, Sugar Ray and Blues Traveler perform at a small park in Stamford, Connecticut.
Not because of the acts. Like most people born in the 1930s, she isn't quite sure who or what Smash Mouth is. She doesn't have fond middle school memories of walking into Sam Goody and buying Astro Lounge on CD. But she does know the venue, because she has lived in or near Stamford for the past 40 years. Columbus Park "isn't much of a park," she warned me. "It's just a small green space at the intersection of two streets."
That wasn't enough to temper my enthusiasm. I'd waited two months for the Under the Sun 2014 tour to come within commuting distance of New York City. Before that, I interviewed Smash Mouth singer Steve Harwell and was promised that Smash Mouth is playing better shows today than ever. Sure, I was amped for Sugar Ray and Blues Traveler, two fun bands who dredge up nostalgic associations of their own. But neither compares to my turn-of-the-millennium love affair with Smash Mouth, an enthusiasm that was weirdly rekindled when I conducted that interview on the occasion of the 15th anniversary of the release of "All Star."
Anyway, yesterday afternoon, I boarded a train to Connecticut, which may as well have been a time traveling device to 1999. This is the story of how it went down.
2:45 p.m.: I quietly leave my office and make my way uptown to Grand Central Terminal. Somehow, as cubicles fade behind me, I resist the urge to shout: "See you all stars later, I'm going to see Smash Mouth."
2:49 p.m.: I get a text from a friend asking if I want to go see Sun Kil Moon tonight. There is tremendous joy in declining a social invitation by saying, "Sorry, I'm going to see Smash Mouth instead." I wish I could do this every day.
3:02 p.m.: On the subway, I listen to Smash Mouth's 1999 magnum opus, Astro Lounge. This is Smash Mouth's best album. It contains "All Star," yes, but it also has some of the band's best lesser known tracks, like "Diggin' Your Scene" and "Then the Morning Comes." It is impossible not to grin while listening to these songs, unless you don't like Smash Mouth, in which case it is very easy not to grin while listening to these songs.
3:10 p.m.: I start reading a particularly poignant piece in this week's Newsweek It doesn't really sync with the Smash Mouth soundtrack, though, so I put the magazine down.
3:32 p.m.: My train leaves Grand Central. I'm surrounded by stoney-faced businessmen in business clothes. I wonder if they're secretly also on their way to see Smash Mouth. "We are all Smash Mouth," I think silently to myself as I bite into overpriced Grand Central falafel.
3:41 p.m.: I relax and put on Smash Mouth's 2001 self-titled record. This is their most underrated album and also their last decent one. (2003's Get the Picture? marks where I stopped paying attention for about a decade.) Pretty soon, we're in Stamford.
4:21 p.m.: My brother—my accomplice—picks me up at the station. There's a weathered CD copy of Astro Lounge playing in his car. "This is a classic album!" he exclaims, and then tries to engage me in a conversation about cultural appropriation with regard to the reggae track "Road Man." I do not engage.
4:33 p.m.: Grandma was right: This isn't a park, it's two blocked-off streets swarming with upscale restaurants and then a small, grassy area in the middle. Bud Light tents flash us from all angles. There's weirdly strict security and an "express lane" for those older than 35, bless them. My ID is scanned, and I'm handed a shiny media badge.
4:40 p.m.: We pass security and make our way towards the grassy area in front of the main stage, where about 30 people are gathered and an electric violin is blaring.
4:52 p.m.: That's the sound of a local warm-up act called Kunjam Collective. An MC joins in and tries to get the crowd hyped. "Smash Mouth and Blues Traveler is coming! Sugar Ray is here!" he exclaims. To my right, a man with a Superman shirt and Superman hat is showing off some moves. I'm getting impatient.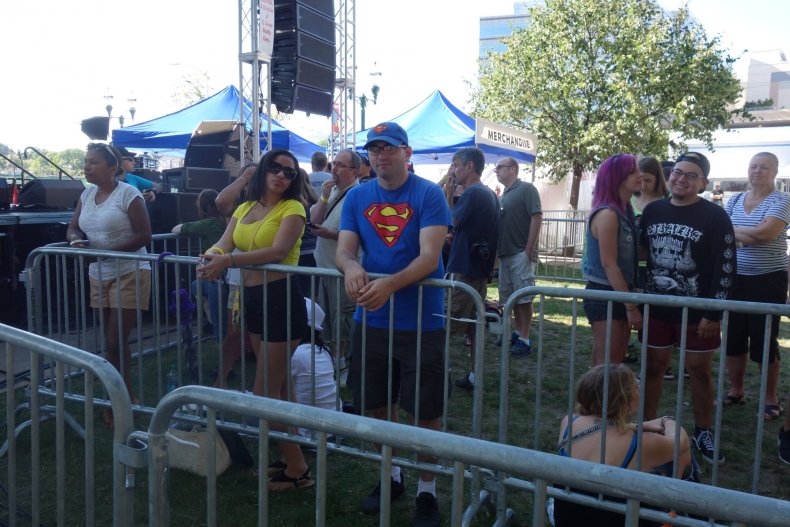 5:23 p.m.: Still no Smash Mouth. The crowd balloons to about 100 or 130. People of all races and ages. Lots of cargo shorts and preppy button-down shirts. I'm up front with my brother and a woman in a wheelchair who's passing time by thumbing through a VIP invitation to The Jerry Springer Show.
5:30 p.m.: Oh my god oh my god oh my god what's that sound? It's the cheesy space-noise intro to Astro Lounge, followed by distant snippets from Smash Mouth choruses, an aural montage that's sort of like something from 2001: A Space Odyssey, except it's all Smash Mouth songs.
5:32 p.m.: Oh my god the drummer's coming out, now he's pounding, now the whole band is here, it's Harwell with his baseball cap and goatee, it's really him, now they're playing a loud, overdriven version of "Can't Get Enough of You Baby." Guitarist Sean Hurwitz, who replaced founding member Greg Camp in 2011, is squealing through lots of solos and twirling his guitar around like a hair metal icon.
5:35 p.m.: The band blasts through "Getaway Car" from their 2006 album Summer Girl, which I streamed once on Spotify at work and then never listened to again. It is the only post-2001 track that appears in this setlist. This is as it should be.
5:38 p.m.: Security breaks up a mosh pit during Smash Mouth's cover of War's "Why Can't We Be Friends?" I vaguely recognize the track from 1997 debut Fush Yu Mang, though I was never allowed to own that CD because it had a Parental Advisory sticker. It's strange to think I could just walk into a CD store today and purchase it and no parent would stop me.
5:40 p.m.: Finally, some Astro Lounge originals: "Stoned" and "Diggin' Your Scene." The bass is horribly loud and Harwell's voice is a little deeper these days, but overall it sounds like a very, very good Smash Mouth cover band. I'm into it.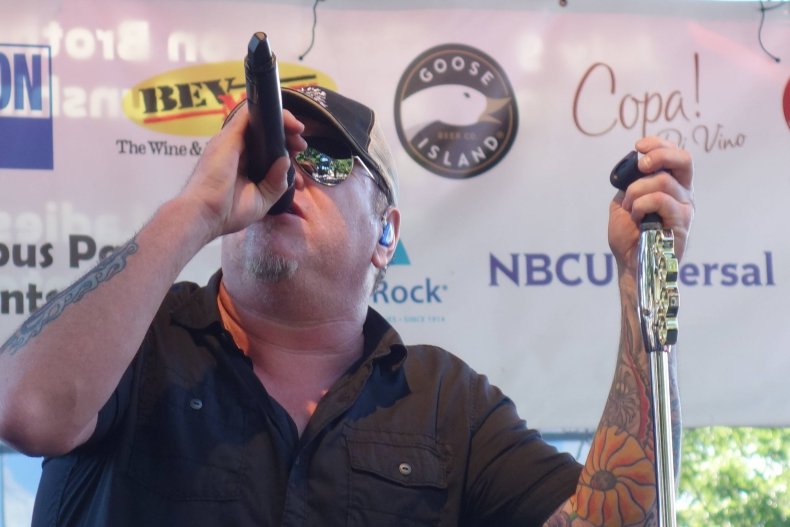 5:51 p.m.: Most of the band leaves the stage during a lengthy drum solo. Then they march back on for a Kinks cover ("You Really Got Me"). The crowd has grown to several hundred people and stretches back towards those restaurants.
5:59 p.m.: "Kind of sunny out here today," Harwell muses as his band riffs on the "Walkin' on the Sun" intro. "I think we should walk on it. Anyone got a ladder?"
6:01 p.m.: A large gaggle of teen girls has settled in behind us. They spend most of the show taking selfies and they know every word to "Walkin' on the Sun," which is confusing because I am not sure they were born in 1997. One of them grabs my camera and insists on taking a photo of me and my brother during the next song, the popular "I'm a Believer" cover.
6:04 p.m.: The crowd is fully amped. Suddenly I appreciate the subtle genius of Smash Mouth's setlist: they start with the least distinctive songs and slowly but surely build towards a raucous AllStargasm. We all know it's next.
6:05 p.m.: My brother leans towards me and says, "I feel like I'm in the credits of Shrek."
6:07 p.m.: "SOMEBODY ONCE TOLD ME—" Harwell starts and then he steps away from the mic and lets the crowd handle the rest of the line. He doesn't have to sing another note. The guitar player is jumping up and down and the keyboardist totally nails that "Bwwwah!" sound effect.
6:08 p.m.: A hundred teen girls are screaming the chorus of "All Star" in my ear—or maybe it's only 12 of them but it sounds like 10,000. It is barely 6 o'clock, and my night has peaked. A beach ball lands near the stage.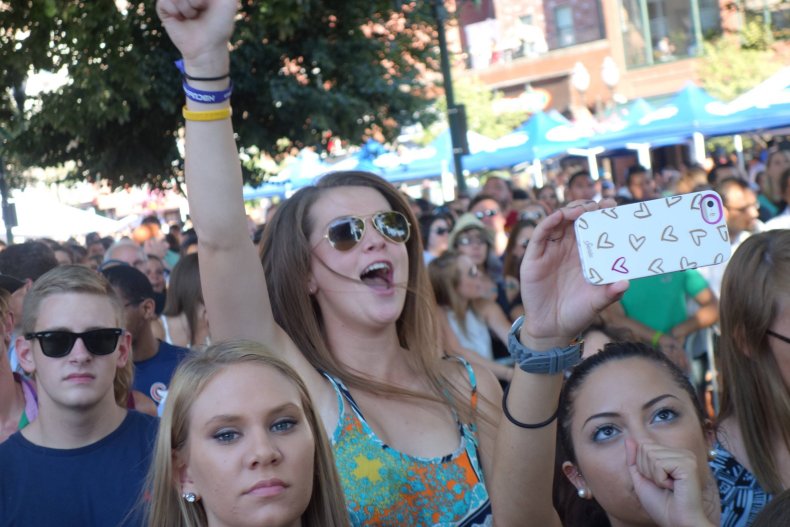 6:11 p.m.: Then the song turns into a funk jam, and then it's all over. A nice bald man wearing Tevas streams out to read off the sponsors but I can't hear what he is saying because the chorus of "All Star" is still ringing in my head.
6:19 p.m.: A heavily tattooed roadie is setting up for Sugar Ray. "If that's a Sugar Ray guy, I saw him in the pita place when I got a sandwich," my brother tells me.
6:25 p.m.: The warm-up act is doing its shtick again and Smash Mouth's guitarist is roaming through the crowd shaking hands and handing out picks.
6:37 p.m.: Sugar Ray kicks into gear with a new song apparently called "Summertime's Coming." The chorus goes: "Summertime's coming! / We can't go wrong!" This is not a hit song from 1999, but I am willing to be convinced that it is.
6:42 p.m.: A 46-year-old Mark McGrath is roaming the stage and gesturing to the crowd and yelling things like a seasoned television host, which is what he is. "It's Thursday night in the place of my birth!" he shouts. "You people were just rocked by my brothers in Smash Mouth. Do you mind if we play a few No. 1 songs on top of their No. 1 songs?" Nobody minds.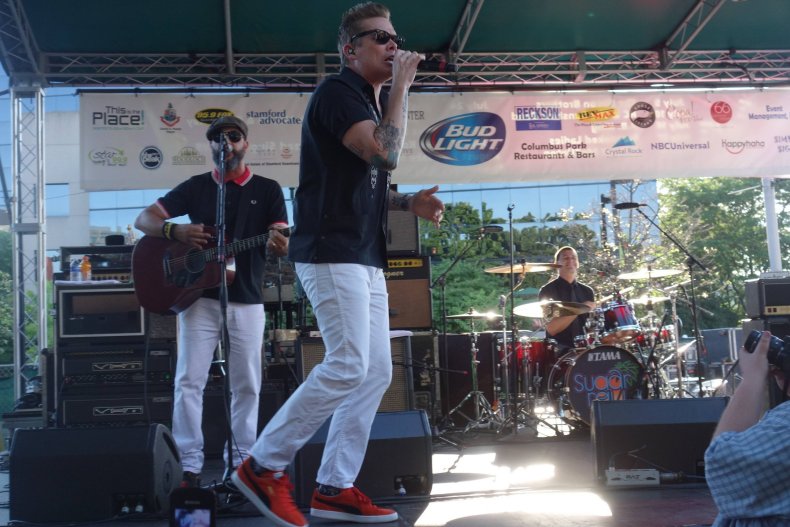 6:46 p.m.: McGrath starts addressing one of the teen girls behind me. He asks her name. It's Isabelle. She's from Norwalk. He announces that he will play a No. 1 song from 1999 for "Isabelle from Norwalk." He mentions "Isabelle from Norwalk" frequently throughout the remainder of the set.
6:50 p.m.: Sugar Ray plays "Someday", which is somehow the catchiest song that I forgot existed. "Do you remember the '90s, my brothers and sisters?" McGrath asks. The teens behind me evidently do, or at least know how to fake it.
6:53 p.m.: McGrath shamefully confesses to "Isabelle from Norwalk" that "Someday" did not actually make it to No. 1. "It did get to No. 3," he clarifies. "It's a great song, Isabelle."
6:57 p.m.: The people in front of me exit after a raucous take on 2001's "Answer the Phone." Suddenly I am struck with the frightening realization that I am front row at a Sugar Ray concert. I fear McGrath will point me out for his next audience participation exercise. Thankfully, his focus hasn't really shifted from "Isabelle from Norwalk."
7:00 p.m.: McGrath decides to make it up to "Isabelle from Norwalk" by playing an actual No. 1 song from 1999. His band teases the "Every Morning" riff and the crowd screams. "That's what I did when I first heard that," McGrath says. "I went, Aaaah!"
7:03 p.m.: "Every Morning" approaches "All Star" levels of crowd euphoria, though not quite. The bass is so distorted and clipped it rumbles in my stomach.
7:10 p.m.: McGrath announces that he is going to play a 16-minute blues jam "that we think will get us back on top." This is his cheeky way of introducing a cover of "Blister in the Sun" by Violent Femmes, which is fun but disorienting because McGrath sings in a high, nasally voice to try to sound like Violent Femmes vocalist Gordon Gano.
7:16 p.m.: "It's a crazy world," McGrath tells us. "Every time I go on the Internet or turn on the TV there are planes disappearing." This is the most political moment of the evening. He dedicates the next and final song, the 1997 summer hit "Fly," to members of the military.
7:19 p.m.: I spot a crowd of people watching from the top level of a nearby parking garage. A TARGET banner flashes from behind them. Sugar Ray wraps up and the nice man in Tevas returns to the stage to read off more sponsors. Then he starts throwing prizes into the audience and starts a "Jerry! Jerry!" chant, because one of those prizes is a Jerry Springer lunchbox.
7:50 p.m.: Blues Traveler, the band I am least familiar with but which some higher power has chosen to headline the show, takes the stage to the "America, fuck yeah!" chorus from Team America.
7:51 p.m.: "Stamford, Connecticut, land of my boyhood youth!" frontman and harmonica-player-in-chief John Popper cries out. Apparently lots of '90s pop-rock frontmen are from Connecticut.
7:55 p.m.: Blues Traveler plays a long and jammy set. It all sounds like that one Blues Traveler song that everyone knows (you know the one), except less catchy and with more harmonica solos. On the bright side, John Popper is very good at the harmonica.
8:18 p.m.: Blues Traveler finally plays that one Blues Traveler song that everyone knows ("Run-Around") as my brother and I make our way to the back of the crowd. We push through hundreds of collared bros who know every word to the song. I briefly wonder if Smash Mouth will come out and do "All Star" again, but they don't.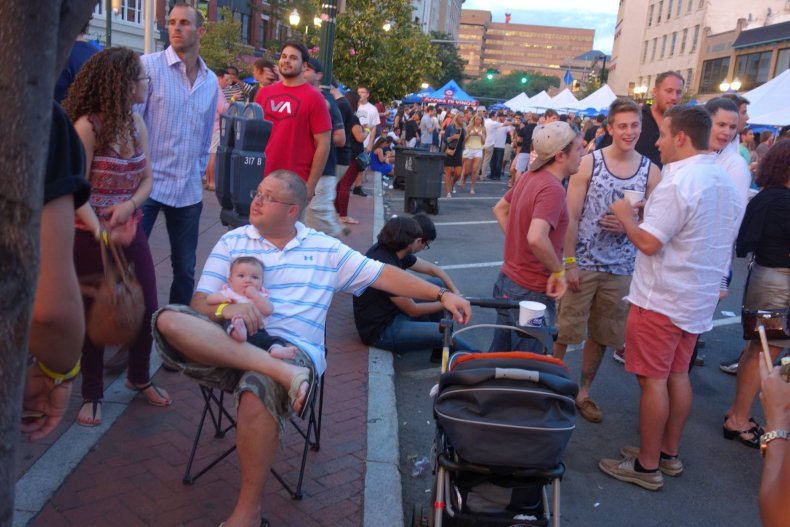 8:30 p.m.: I wonder if we'll be able to listen to Smash Mouth on the way home or if we're all Smash Mouthed out by now. How much Smash Mouth is too much Smash Mouth for a Thursday night?
8:32 p.m.: Who are we kidding? We both want to get "Run-Around" out of our heads and relive the best bits of the Smash Mouth set, so we put Astro Lounge back in the CD changer and start it from the beginning.