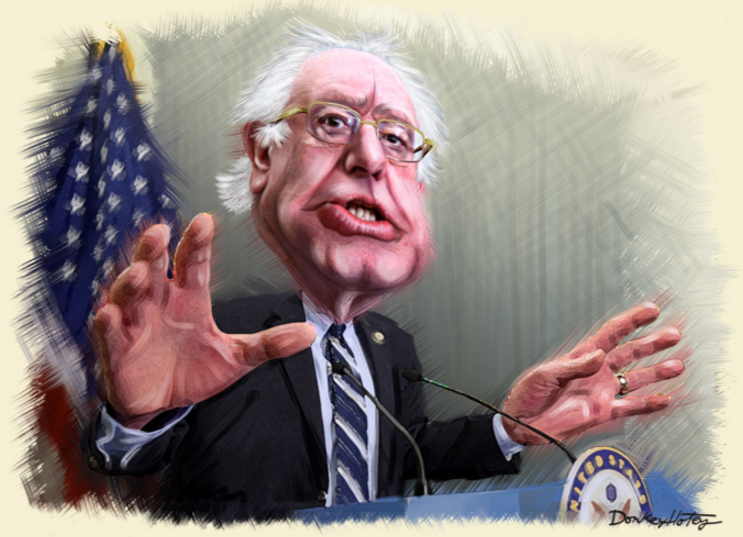 Previously: Sharing a Name With Nick Jonas Can Be Pretty Stressful
Bernie Sanders is voting for Trump.
Not that Bernie Sanders. The other Bernie Sanders, a 66-year-old financial advisor in Roanoke, Virginia, who says he likes the Vermont senator who shares his name but just can't see his brand of Democratic socialism panning out. Then there's 61-year-old Bernie Sanders, a railroad contractor who lives outside Jacksonville, Florida, and runs his own company, which puts computers on train locomotives.
He's also leaning toward Trump.
On the occasion of Sanders's long-awaited endorsement of Hillary Clinton, we interviewed these two Bernie doppelgängers about what it's like to live through the election while sharing a name with 2016's most popular socialist. They both spoke highly of the man—but wouldn't go so far as to say they'd vote for him.
A third Bernie Sanders, a woman in Ohio, declined to be interviewed for this article.
On the strange things that happen when you share a name with Bernie Sanders:
Bernie Sanders, Florida: I was in Washington about a month ago. I didn't have any trouble getting good restaurant seats, and the Uber was showing up on time pretty often.
Bernie Sanders, Virginia: I get friend requests from languages that I can't read. I think they're people that are curious or are thinking I'm Bernie Sanders from Vermont.... I'm not trying to make friends out of [strangers] on Facebook. I think that's asking for trouble.
Bernie Sanders, Florida: I get comments every day. Every day. Most of them are fine. [People] do a double take, and they look and I don't have white hair. So they do a double take.
Bernie Sanders, Virginia: I get people that'll laugh and say, "OK, come on now, I'm busy. What's your name?" I say, "Naw, it really is, good or bad, right or wrong." I'm smart enough not to get into political rogues with anybody. That's not too sexy. But that's the truth.
Bernie Sanders, Florida: In 1995, I was on a project working with a not-for-profit organization. We were building a regional park for the county. I headed up the nonprofit organization for that group. We had a referendum for the county to help pay for the park. I started to get Bernie Sanders contributions. I was getting contributions for our political action committee and our not-for profit group. They had notes in them that were referring to things that were not related to the park. I started to realize it was Bernie Sanders the congressman. He was kind of out there, [an] independent kind of guy. What really struck me at that time—this was in '95—he was getting cash. I started to have the postmaster get the mail because when the cash started coming through, I didn't think it would be a good thing.
Bernie Sanders, Virginia: You wonder when you see "Bernie for President" bumper stickers. You think, Wow. That's pretty cool, I guess, that sometime in your lifetime you had to share the same name as a presidential candidate that you like.
On the unexpected perks of sharing a name with Bernie Sanders:
Bernie Sanders, Florida: It's actually been very good for business. Nobody forgets my name at all. Just about everybody—they say, "Well, I won't forget that name!"
Bernie Sanders, Virginia: I did have a buddy that went to the trouble—I don't know if he had the T-shirt printed or not—but he sent me [a Bernie Sanders shirt] in the mail. I don't wear it.
On why they wouldn't vote for Bernie Sanders:
Bernie Sanders, Virginia: I like him. But I just can't believe that it would work. College education for everybody? Free health care? From where we are today, I don't think I could vote for him. Not because I don't like him. But I just don't think his policies are realistic. Particularly where we are—our budget and our deficit and all that.
Bernie Sanders, Florida: I just think he's too liberal. A lot of politicians say things that they can't pull off. His stuff seems pretty out there. You wonder, How in the world can he ever pull that off? Free education for everybody, some of his stances on the military.
Bernie Sanders, Virginia: I'm going to vote for Donald Trump. And every time I say that, I'm assuming people want an explanation. I can give you a short and dirty one. You don't take a knife to a gunfight. Because you're gonna lose. So Donald Trump may be a madman. But I think he's got too much at stake to be a complete madman. He has perhaps—perhaps!—more at stake financially than any preceding president. Nobody knows what he's going to do any more than we know about any other candidate. But I know what's been done. I've lived it. I think it's a gridlock that we've had, because of our two-party system, that seems to be going nowhere. So I think we do need somebody who has a proven track record of economic [success] and finance.
Bernie Sanders, Florida: Right now I'm up in the air. The Hillary stuff that's happened over the last couple of weeks has disturbed me. The Clintons—it amazes me that they can lie on national TV. He can lie and do immoral things and not get in trouble for it. Now she does things. I got a granddaughter that's 4 years old. It's hard to tell her what's right and what's wrong.
[Asked whether he's leaning toward Trump.] At the moment, yes.
Bernie Sanders, Virginia: I just gotta let the guy that has not been a lifelong politician see what he can do. And I'm willing to take the consequences.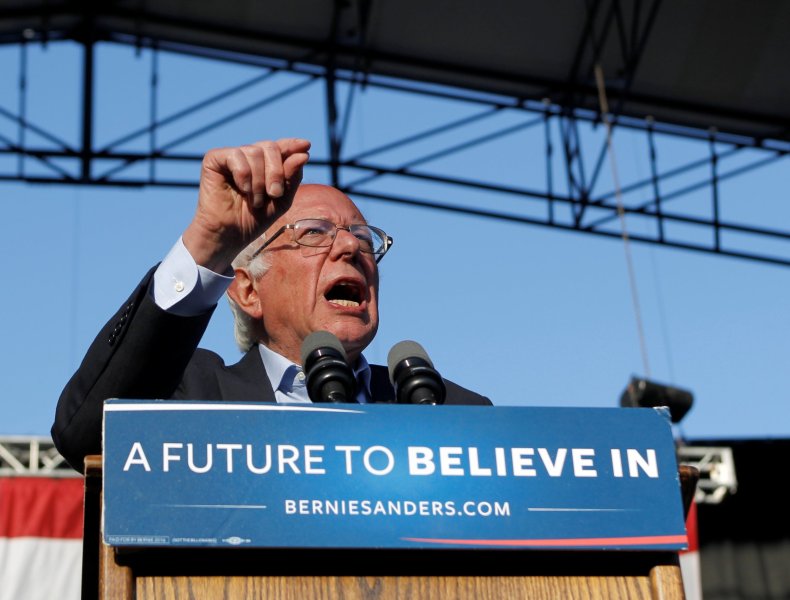 On why they think younger voters have embraced Sanders:
Bernie Sanders, Virginia: Because he's offering them free education. I'm not so old that I don't understand why that would be appealing to me if I were a millennial or something approaching that. I think he also is a polite, father-looking figure that a lot of millennials wish they had.
On whether they've ever heard of "Bernie Bros":
Bernie Sanders, Virginia: No, I don't believe I have. I wish I were a bit more technologically astute. But the truth of the matter is, I survive, and that's about it.
Bernie Sanders, Florida: Yeah! I heard it on one of the late-night shows. No opinion [on whether Bernie Bros are a real phenomenon].
On what they would tell Bernie Sanders if they met him:
Bernie Sanders, Florida: I would give him my name. And tell him that I appreciate his effort over the last several years. He's brought a lot of recognition to the cause. I think he has good intentions. And my goodness, the energy that man has shown! I'm impressed with that alone, to tell you the truth. He's out there!
Bernie Sanders, Virginia: I would shake his hand briskly, look him right in the eye and thank him for his service and his very heartfelt contribution. I think he's a damn good man.... I believe he told it like it is.
Bernie Sanders, Florida: I did meet him in Washington, at a luncheon. But we didn't even exchange names. I was there on a railroad issue. We shook hands, and when he walked off, [a congressman] said, "You know, that was Bernie Sanders." I went, "Oh, really!"