What Jeff Daniels Thinks About Donald Trump After Playing James Comey
The Comey Rule, possibly one of the most controversial TV series of the year, came to an end on Showtime Monday night with the series telling the inside story of former FBI director James Comey (played by Jeff Daniels), President Donald Trump (Brendan Gleeson) and other top political figures' role in the 2016 election.
Daniels, known for his roles in Dumb and Dumber, The Newsroom, The Martian, Fly Away Home and more, took on the role of Comey in the series which is a dramatic retelling of his own 2018 memoir, "A Higher Loyalty."
Daniels portrays Comey who was the director of the FBI from 2013 until his high profile dismissal in May 2017.
Speaking about the role, Daniels shared his opinion of President Donald Trump and the upcoming election following the show's finale.
"Trump thinks the biggest thing in the world is himself, and doesn't think about anything past the end of his nose," the 65-year-old actor told The Courier Mail.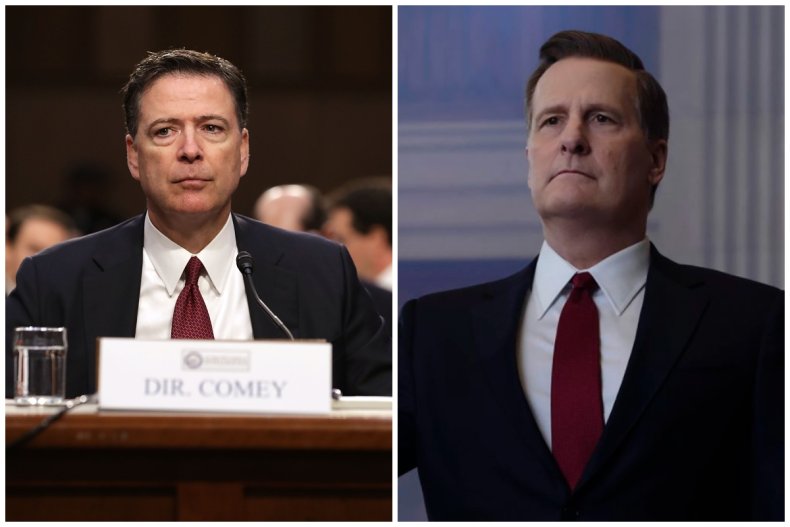 He continued to the publication: "I think Americans need to put their phones down and they need to get educated. My optimism tells me that because of the last three-and-a-half years, we know a hell of a lot more about Trump than we did back in 2016. I fully hope that the American public is paying a little bit more attention in October 2020 than they were in 2016."
Daniels took part in an interview with MSNBC's Nicolle Wallace Monday where he said that t"One of the things that struck me, and the contrast between how Jim Comey and Donald Trump—you have honesty, decency and a respect for the rule of law on one side and have the opposite of that on the other end," he said. "And we're so politically polarized, we don't know what's true anymore. Rudy Giuliani told us 'truth isn't true.'"
He added: "We're all so confused."
Daniels was also asked about Trump's links to Russia.
"It's so obvious," he said. "Where did he get all the money? All roads, as Speaker Pelosi said, all roads lead to Putin."
The actor also suggested that Russian President Vladimir Putin meddled in the U.S. Presidential elections in 2016 with Putin "extending and reaching out to the cyber-space thing with America."
Daniels added, however: "Putin did not admit anything but he did get on the lifeboat in the Titanic."
The Comey Rule concluded on Monday, September 28 at 9 p.m. ET / 8 p.m. CT on Showtime.