What Joe Biden Has Said About A Post-Election Stimulus Check
Democratic President-elect Joe Biden on Tuesday said that Americans are in desperate need of stimulus and another round of checks "right now" as coronavirus hospitalizations reached an all-time high.
At a press conference, Biden stressed that "one of the urgent things that need to be done is people need relief right now." He added, "I would hope the president at least has the sensitivity and knowledge to know a lot of people are in real trouble between now and the time we get sworn in."
With stimulus negotiations still deadlocked, it is unclear whether President Donald Trump's administration will move forward with plans for another coronavirus relief package, which would include a second round of stimulus checks, before he leaves the Oval Office.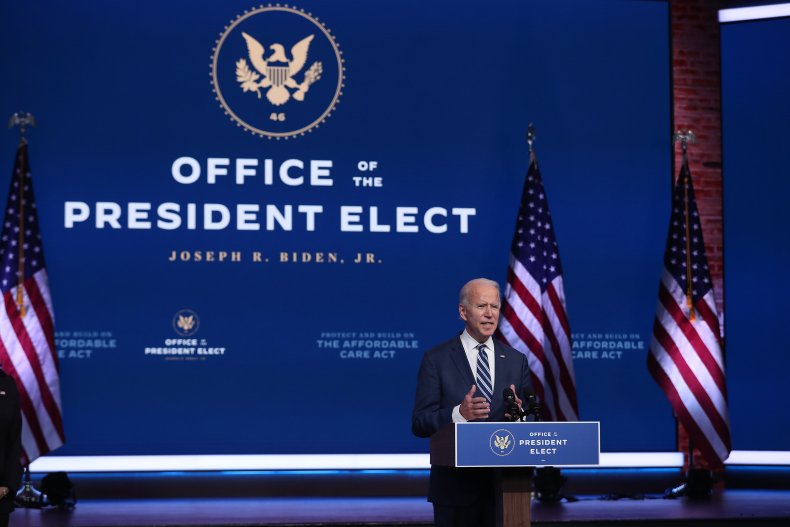 Biden outlined his coronavirus economic plan during his campaign and it does include a second round of direct payments to Americans "should conditions require."
Although his plan supports more stimulus checks during the pandemic, it doesn't specify how many, exactly how much or whether any of the qualifying factors would be amended from the $2.2 trillion Coronavirus Aid, Relief and Economic Security Act, also known as the CARES ACT.
Prior to Election Day, Trump had been more vocal than Biden about sending out another payment. Experts say further stimulus payments would have increased his chances of reelection.
Jake Sullivan, a senior Biden policy adviser, told Axios in August that the former vice president has "always contemplated the need for additional stimulus" and will "confront the situation we find in January." At the time, economists on Biden's advisory committee were eyeing a $1 or $2 trillion stimulus package for January, if he wins.
Newsweek reached out to Biden's team for further comment.
Congress is back in session but both sides of the political aisle are still deadlocked over another round of COVID relief. On Tuesday, Senate Majority Leader Mitch McConnell indicated that the disagreement between Republicans and Democrats over the stimulus price tag still persists.
"It seems to me the snag that hung us up for months is still there. I don't think the current situation demands a multi trillion-dollar package. I think it should be highly targeted," he said.
A second round of stimulus checks could still come this year. The deadline to pass the next federal budget falls on December 11.
Congress must approve another spending bill by that date to avoid a government shutdown, and lawmakers could seize on the window to pass another stimulus package.
Treasury Secretary Steven Mnuchin previously indicated that when a bill is passed, the government would be able to get out tens of millions of direct payments "really quickly"—within weeks.