What Joe Biden Has Said About a Second Stimulus Check
By selecting Senator Kamala Harris as his running mate, some were hopeful Americans could see recurring monthly stimulus checks, but former Vice President Joe Biden has yet to sign on to the measure and it's unlikely he ever will.
To jumpstart an economy stunted by the new coronavirus pandemic, legislators pumped money into it by way of the pockets of the American people. Six months later, businesses have yet to reopen fully and Congress is eying another round of stimulus checks, but differences of opinion and a looming election have left Republicans and Democrats too divided to reach an agreement.
Both parties blame the other side for allowing politics to fuel their negotiations in an attempt to sway the upcoming election. Further relief may not come until after people cast their ballots on November 3, putting the form a stimulus package takes in the hands of which candidate wins the presidency.
While President Donald Trump and his team have been vocal about their willingness to send out another payment, Biden's been noncommittal and instead pushed messaging about the impact his broader economic plan will have. He isn't against another round of payments, as his campaign website stated back in March, when Congress passed the CARES Act, that as president he'll send additional checks to families "should conditions require."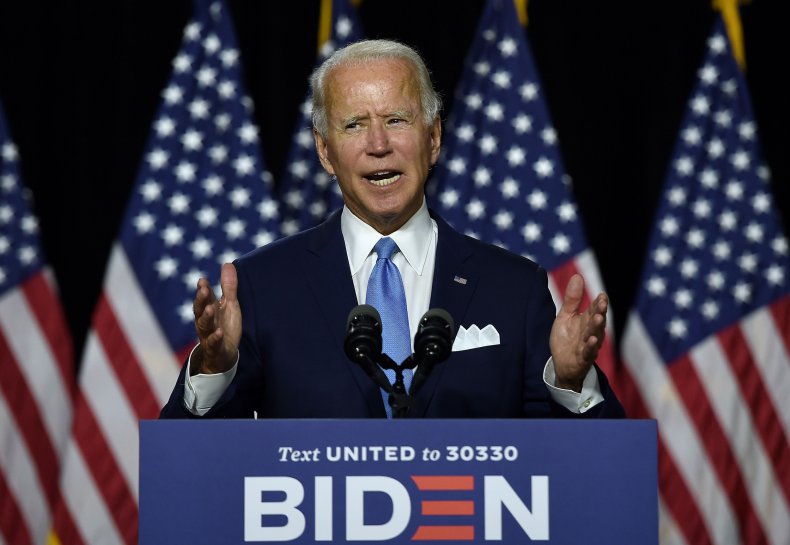 However, another round of stimulus checks weren't listed as a means to provide "further immediate relief to working families, small businesses and communities," under his "Build Back Better" plan. Economists on his advisory committee are also eyeing a $1 or $2 trillion stimulus package in January, if he wins, depending on what Congress does in the meantime, Axios reported at the end of August. Although, it's unclear what that package could include.
"We have always contemplated the need for additional stimulus," Jake Sullivan, a senior policy adviser to Biden, told Axios. "We will confront the situation we find in January."
Newsweek reached out to the Biden campaign for comment but did not receive a response in time for publication.
Harris, alongside Senators Bernie Sanders and Ed Markey, proposed a bill in May to provide individuals with incomes below $120,000 with recurring monthly payments of $2,000 plus an additional $2,000 for each child with a cap of three children. Payments would be retroactive to March and continue for three months after the pandemic.
A Change.org petition calling for a similar measure gained more than 1.7 million signatures and a separate petition urging Biden to publicly endorse the monthly payments had over 376,000 signatures. The recurring monthly payments are similar to how a universal basic income would work, a measure Biden opposes.
Biden, who's repeatedly credited his father for teaching him a job is about more than a paycheck, said in March 2018, a guaranteed income isn't the way "America is built." He told Pod Save America getting an annual wage to "sit home and do nothing" would "strip people of their dignity."
Harris and Biden's joint plan to "beat COVID-19" published on the campaign website credited Biden with being "laser-focused" on the steps needed to deliver "immediate relief to working families" but doesn't mention stimulus checks and focuses on the needs to increase testing and issue uniform public health guidance.
Another round of economic impact payments has broad support from both Republicans and Democrats inside and out of Congress. However, stalled negotiations over other issues, such as the price tag of a package and the real "stumbling block," according to White House chief of staff Mark Meadows, is the amount to give to state and local governments.
A slimmed-down stimulus package from Republicans, which didn't include economic impact payments, failed to get support from a single Democrat last week and Senate Majority Leader Mitch McConnell isn't confident there'll be a package. Trump used his executive privilege to take action on unemployment and suspending student loan payments and even if Democrats win the Senate and the presidency, taking control of the legislative and executive branches, another round of stimulus checks isn't guaranteed.