What Joe Biden Has Previously Said About Saudi Arabia as Visit Confirmed  
President Joe Biden will travel to Saudi Arabia next month during a trip to the Middle East, the White House confirmed Tuesday.
The visit, set to take place between July 13 and 16, could mark a shift in relations between the two nations after the U.S. leader called the oil-rich nation a "pariah" for its human rights abuses as he entered office.
During his stop, Biden is expected to meet the country's de facto ruler, Crown Prince Mohammed Bin Salman, who was deemed responsible for the 2018 murder of the Washington Post journalist Jamal Khashoggi.
"The president looks forward to outlining his affirmative vision for U..S engagement in the region over the coming months and years," White House press secretary Karine Jean-Pierre said in a statement Tuesday.
"The president appreciates King Salman's leadership and his invitation. He looks forward to this important visit to Saudi Arabia, which has been a strategic partner of the United States for nearly eight decades," added Jean-Pierre.
The visit will start in Israel and the West Bank before Biden lands in Jeddah, Saudi Arabia. He is expected to meet with regional leaders as part of a summit of the Gulf Cooperation Council, the White House said.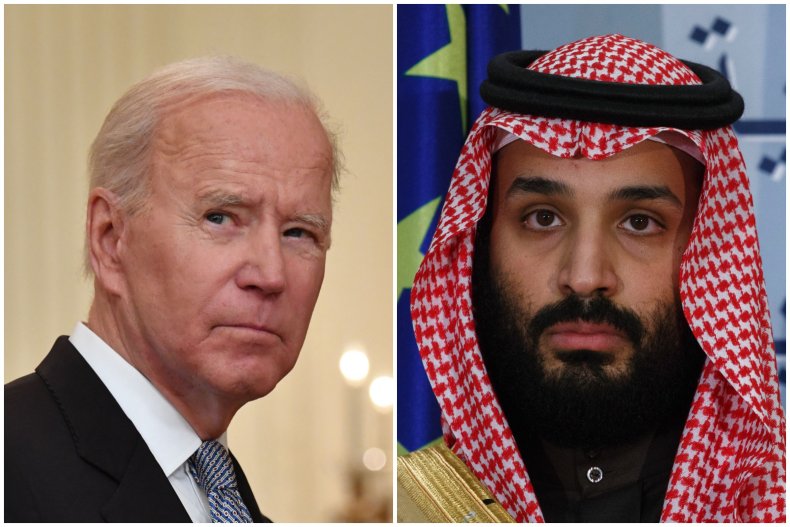 It comes as Biden is pushing to lower U.S. gas prices, which have soared following Russian President Vladimir Putin's invasion of Ukraine in February.
Biden's administration is hoping to reduce energy prices ahead of November's congressional elections. The group of oil-producing nations called OPEC+, led by Saudi Arabia, agreed recently to ramp up oil production to help reduce prices.
If successful, Biden's trip will mend relations that shattered following Khashoggi's death in 2018. It would also mark a shift in the leader's diplomatic priorities since February.
During his presidential campaign, Biden pledged that his administration would seek to make Saudi Arabia "the pariah that they are" and signaled that "they have to be held accountable."
Biden has also said that Saudi Arabia's government has "very little social redeeming value," and that Saudi Arabia had murdered "children ... and innocent people" in Yemen.
"Under a Biden-Harris administration, we will reassess our relationship with the Kingdom [of Saudi Arabia], end US support for Saudi Arabia's war in Yemen, and make sure America does not check its values at the door to sell arms or buy oil," Biden said in October 2020.
A declassified U.S. intelligence report published in February last year under the Biden administration determined that Salman had approved the murder of Khashoggi, a critic of the regime, in the kingdom's Istanbul consulate.
Salmon has denied ordering Khashoggi's killing but took responsibility for his death as Saudi Arabia's de facto ruler.
Biden said earlier this month that he is "not going to change my view on human rights."
"As president of the United States, my job is to bring peace if I can. And that's what I'm going to try to do," he said.
Human rights groups have warned that Biden's visit and expected meeting with the crown prince risks "encouraging new abuses and further entrenching impunity."
"Meeting Mohammed bin Salman without human rights commitments would vindicate Saudi leaders who believe there are no consequences for egregious rights violations," Lama Fakih, Middle East director at Human Rights Watch, said in a statement.
Newsweek has reached out to the Biden administration for additional comment.