What Joe Biden Should Tell the Iraqi Prime Minister | Opinion
When President Joe Biden meets Iraqi Prime Minister Mustafa al-Kadhimi this weekend at a summit in Saudi Arabia, Iraq's relations with Iran will be at the top of the agenda. President Biden will likely express concerns about Iranian attacks on U.S. forces and the activities of pro-Iran militias in Iraq. However, a vital issue he should also raise is the recent Iraqi law that criminalizes any contact between Iraqis and Israel. The law is dangerous because it represents an Iranian attempt to undermine U.S. allies and U.S. diplomacy throughout the Arab and Muslim world—and is a model for similar laws elsewhere.
The law works hard to be extreme. Proposed by Iraqi Shia politician Muqtada al-Sadr, but with Iran's fingerprints all over it, the text prohibits all contact with Israel because of its very existence—not, as its defenders claim, in response to the Israeli presence in the West Bank and the Golan Heights following the 1967 Arab-Israeli war. The legislation, adopted on May 26, explicitly bans "any act that would lead to and achieve any form of dealings with the Zionist entity, whether directly or indirectly." It covers relations through "conferences, gatherings, literature, publications, social media, or by any other means." The text applies to Iraqis and Iraqi media outlets inside and outside Iraq, and foreigners in the country. Worse yet, articles 6, 7, and 8 impose the death penalty for persons forming "any kind of relations with the Zionist entity."
As if the law's threats were not brazen enough, article 9 applies the death penalty to a long list of Iraqi officials, including the president and prime minister, for even minimal contact with "the Zionist entity." And just in case anybody was confused about the law's true motivation, article 7 criminalizes "masonic ideas," a classic antisemitic trope. The shameless closing paragraph states that these draconian measures are meant "to maintain the national, Islamic and humanitarian principles of Iraq and Iraqis in defending Palestine."
Thus far the U.S. response has been diplomatic and ineffectual. The State Department is "deeply disturbed." Such restraint is self-defeating. The law is an Iranian bid to undermine U.S. diplomacy and allies throughout the Arab and Islamic worlds. Its target is the growing rapprochement between Israel and moderate Arab states in the Gulf and North Africa. The establishment of formal ties between these countries started with President Donald Trump's Abraham Accords in August 2020. The greatest prize, which is now in sight, is a public relationship between Israel and Saudi Arabia. Iran, which has questioned the legitimacy of the Gulf Arab states, is threatened by such connections. It wants to counter the growing international pressure on its nuclear ambitions—pressure in part from a unified Israeli, moderate Arab, and American front.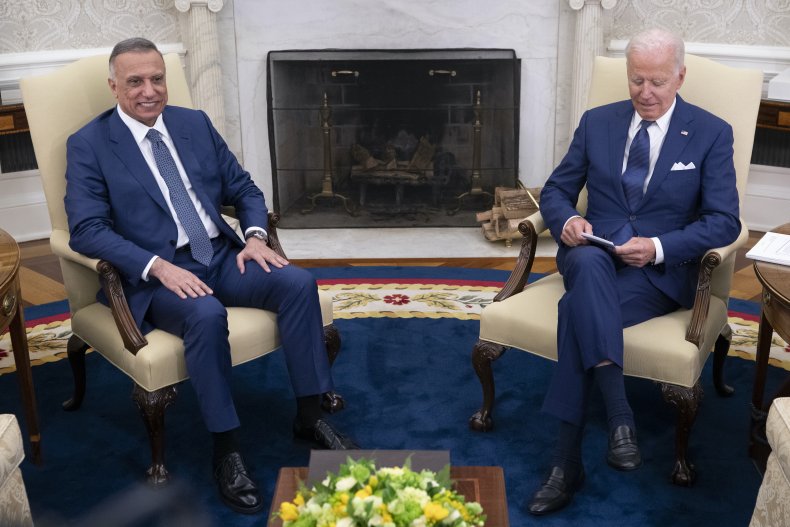 The law achieves these aims by appealing to a mixture of Saddam Hussein-era antisemitism and nostalgia. It might seem strange to exploit such feelings. After all, Saddam launched a bloody eight-year war against Iran and treated Moqtada al-Sadr's own family with brutality. However, Iran has calculated that the way to capture Arab public opinion is by appealing to hatred of Jews and Israel—hatred that distracts Iraqis, Lebanese, Houthis, and others from the real issues facing their societies.
The threat of the death penalty for contact with Israel evokes an early horror in Saddam's influence over Iraq. On January 27, 1969, the Iraqi Ba'athists publicly hanged 14 alleged Israeli spies, nine of whom were Jews. The Iraqi regime then bussed in hundreds of thousands of Iraqis to view the victims as they dangled on the gallows. These men were not spies. Rather, they were examples to other Iraqis of how far the Ba'athists would go to eliminate imagined enemies, let alone real ones.
While the new law appeals to base instincts, its severity implicitly acknowledges that some Iraqis seek to leave behind their country's antisemitic past. I know this firsthand. I fled with my family from Ba'athist repression in 1971. In 2003, I returned and have promoted interreligious harmony, meeting with top Iraqi officials and Iraqis of all communities. I do so as an Iraqi Jew, born in Baghdad into a 2,600-year-old community. What sensible Iraqis understand as interfaith dialogue, Iran and its allies portray as a strategic threat. Indeed, even before the law, Iranian-backed militias in 2020 "disappeared" Mazen Latif, a publisher, and Tawfik al-Tamimi, a newspaper editor, both advocates for acknowledging Iraq's Jewish heritage. The new law gives such murders official approval.
When President Biden sits down with prime minister al-Kadhimi, he should do more than express concern. He should denounce the law as an attack on the U.S., its allies, and their attempt to build peace in the Middle East. Above all, he can look the Iraqi prime minister in the eye and tell him that the law represents the bloody past of Iraq, not its future.
Edwin Shuker is a Iraqi-born philanthropist and Jewish communal leader in the United Kingdom. His story of exile and return is featured in the documentary Remember Baghdad.
The views expressed in this article are the writer's own.