What Joe Biden's Stimulus Plan Is Likely to Include
President-elect Joe Biden is expected to reveal his plans for a COVID-19 relief bill worth trillions of dollars on Thursday evening as his incoming administration prepares to deal with the twin economic and public health crises.
The full details of the president-elect's economic plan have not yet been unveiled, but a few proposals have been teased by Brian Deese, the incoming National Economic Council director.
Speaking at the Reuters Next event earlier this week, Deese said the plan would include another round of stimulus checks, as well as other federal funding initiatives to support the economic and health responses to the ongoing pandemic.
He added that an "immediate rescue package" was essential for rebooting the U.S. economy and improving the nationwide vaccine rollout, which has been set back by various delays since the start of the year.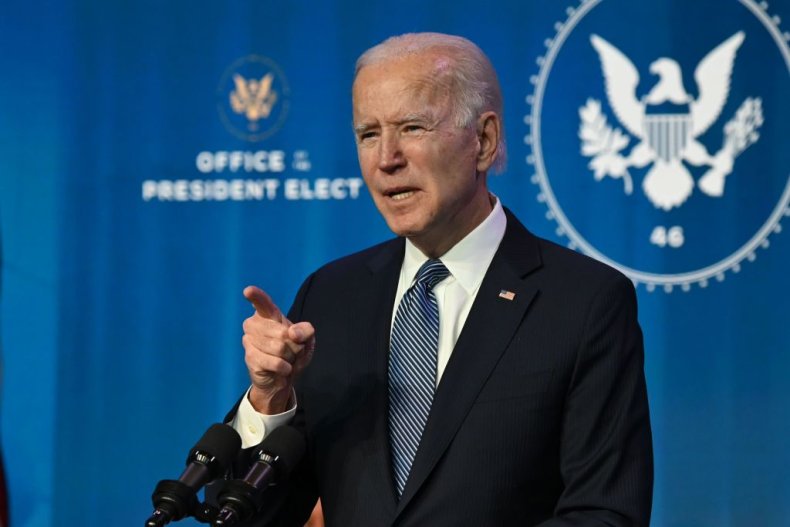 "My priority is to get, first and foremost, a stimulus bill passed and, secondly, again to rebuild the economy," Biden said on Monday. "I've been speaking with some of my Republican colleagues about being able to move on a second package sooner than later."
The incoming commander-in-chief, now less than a week away from inauguration, will set out his economic relief plan's topline measures in an evening speech in Delaware today, The New York Times reported.
Here are three relief measures that are likely to be in the next COVID relief bill.
Stimulus Checks
Biden's proposals are expected to include funds to bring the latest round of $600 stimulus checks up to $2,000 after Congress failed to pass a large raft of relief over the Christmas period.
Releasing a statement on stimulus checks on Monday, Biden tweeted: "$600 is simply not enough when you have to choose between paying rent or putting food on the table. We need $2,000 stimulus checks."
Deese also touted "significantly more" direct relief funds for families and small businesses who have been impacted by the pandemic, and related economic shutdown measures.
It is likely that $2,000 stimulus checks would pass the House of Representatives without much issue, as the lower chamber backed the measure in late December before it was later rebuffed in the Republican-controlled Senate. It is unclear how the proposal would be greeted in the upper chamber, which is now split 50-50 on party lines.
COVID Vaccine, Testing Funds
Another key plank of the president-elect's COVID relief plan will likely be further investment in the national vaccine scheme, along with additional support for coronavirus testing and contact tracing efforts.
Biden has repeatedly stressed the need to bring COVID-19 under control as cases have continued to increase since the start of the year, along with related deaths and hospitalizations.
Reacting to the latest spike in COVID-19 deaths, Biden tweeted: "We're in the teeth of this crisis, and we need to take immediate action to get the virus under control. That's why tomorrow, I'll be laying out my vaccination and economic rescue package to beat COVID-19 and build back better."
Speaking at the Reuters Next event, Deese also said: "We need action to support his plan for beating back the pandemic, for the national vaccination effort, testing and contact tracing."
At the time of writing, the Centers for Disease Control and Prevention (CDC) has distributed more than 29.3 million doses of COVID-19 vaccines. A little more than 10.2 million Americans have received their initial shot so far.
State and Local Government Relief
It has been widely reported that Biden's COVID-19 relief plan will include further state and local government bailout funds, which were largely excluded from the stimulus package whisked through Congress before the festive season.
The Guardian reported on Wednesday that the lack of relief for state and local governments across the country was threatening to spark a wave of government layoffs that could exacerbate the U.S.'s shaky economic recovery.
Newsweek has contacted the Biden transition team for comment and further details. This article will be updated with any response.