What Joe Biden's Advisers Have Said About a National Lockdown in America
As COVID-19 cases spike in the United States, members of President-elect Joe Biden's coronavirus task force are addressing a possible national lockdown to get the pandemic under control.
There are now more than 11 million diagnosed cases in the U.S., and 246,000 Americans have died, according to data from Johns Hopkins University. Several states, including Michigan and Washington, are reimposing some of the restrictions that were in place this spring.
One of Biden's first actions after being projected the winner of the 2020 race was to name a COVID-19 task force. Biden called the pandemic "one of the most important battles our administration will face" and said he'll be "informed by science and by experts."
The 12-member advisory board, which is made up entirely of doctors and health experts, has three co-chairs: Vivek Murthy, the surgeon general during the Obama administration; David Kessler, the former commissioner of the Food and Drug Administration; and Marcella Nunez-Smith, the associate dean for health equity research at the Yale School of Medicine.
Murthy described a nationwide lockdown as a "measure of last resort" during an interview Sunday on Fox News. The former surgeon general argued for a more nuanced approach, stating that the country has learned more about the pandemic over the past few months.
"In the spring, when we didn't know a lot about COVID. We responded in a sense with an on-off switch. We just shut things down because we didn't know exactly how this was spreading and where it was spreading," Murthy told the news outlet.
He added, "We've learned a lot more since then that tells us that the better way to think about the safety restrictions is more as a dial that we turn up and down depending on severity."
Murthy's comments came after another member of the task force, Dr. Michael Osterholm, suggested a four- to six-week national lockdown. He told Yahoo Finance last week that "if we did that, we could drive the numbers down, like they did in Asia, like they did in New Zealand and Australia."
But Osterholm later said he hadn't discussed the idea with the group or the incoming administration. He also told ABC News that there was little appetite for the proposal: "Nobody's going to support it. It's not going to be supported out of the administration. It's not going to be supported in Congress."
Atul Gawande, another member of Biden's COVID-19 advisory board, told ABC News on Sunday that a national lockdown is not something the incoming administration would support.
"We are not in support of a nationwide lockdown and believe there is not a scenario unless—there simply isn't a scenario because we can get this under control," Gawande said.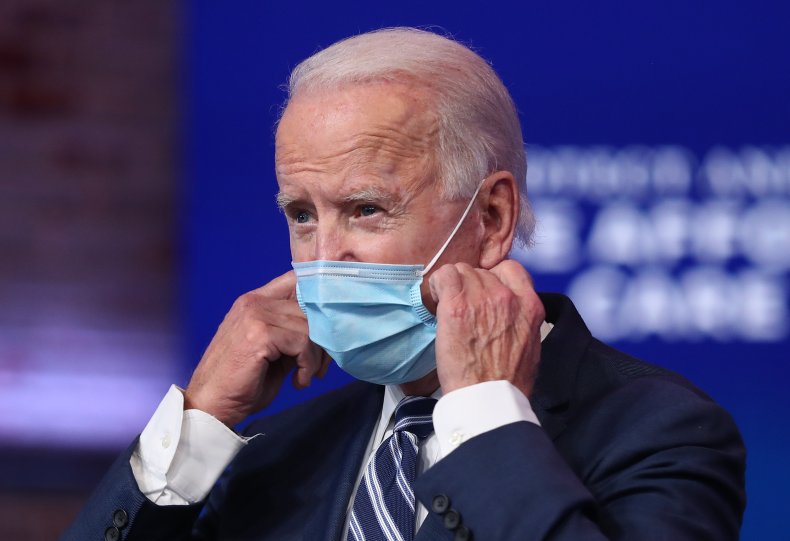 Instead, Gawande called for more dialing up and down capacity restrictions on a more localized basis.
"You can look at New York City, for example, where on a ZIP code by ZIP code basis you can deploy different restrictions in order to get the virus under control. And it's quite effective," he said. "We do not need to go into a nationwide shelter-in-place shutdown."
The Biden-Harris transition team has laid out a plan for addressing the pandemic that includes ramping up testing, restoring the country's relationship with the World Health Organization and implementing nationwide mask mandates.
"President-elect Biden believes that the federal government must act swiftly and aggressively to help protect and support our families, small businesses, first responders, and caregivers essential to help us face this challenge, those who are most vulnerable to health and economic impacts, and our broader communities—not to blame others or bail out corporations," the transition website reads.
Newsweek reached out to Biden's team for additional comment.