What Joe Biden's New Senior White House Staff Have Said About a Second Stimulus Package for Americans
Following Joe Biden's projected victory in the 2020 presidential election, many Americans have wondered if they will receive a second stimulus package under a new administration.
On Tuesday, Biden named several new senior White House staff members. His new hires include Mike Donilon, who will serve as the senior adviser to the president; Jen O'Malley Dillon, who was named Deputy Chief of Staff; Dana Remus, named counsel to the president; Steve Ricchetti, named counselor to the president; Cedric Richmond, named senior adviser to the president and director of the White House office of Public Engagement; Julie Rodriguez, named Director of the White House Office of Intergovernmental Affairs; and Annie Tomasini, who was named Director of Oval Office Operations.
Since Biden's projected win over President Donald Trump, he has spoken extensively about a second stimulus package for Americans. During a press conference earlier this month, he said, "one of the urgent things that need to be done is people need relief right now."
During a speech on Monday, he made similar remarks and said, "For millions of Americans who've lost hours and wages, or have lost jobs, we can deliver immediate relief, and it needs be done quickly. Congress should come together and pass a COVID relief package."
Prior to the hires announced Tuesday, Biden named Ron Klain as his chief of staff. Klain previously served as Biden's chief of staff while he was the vice president.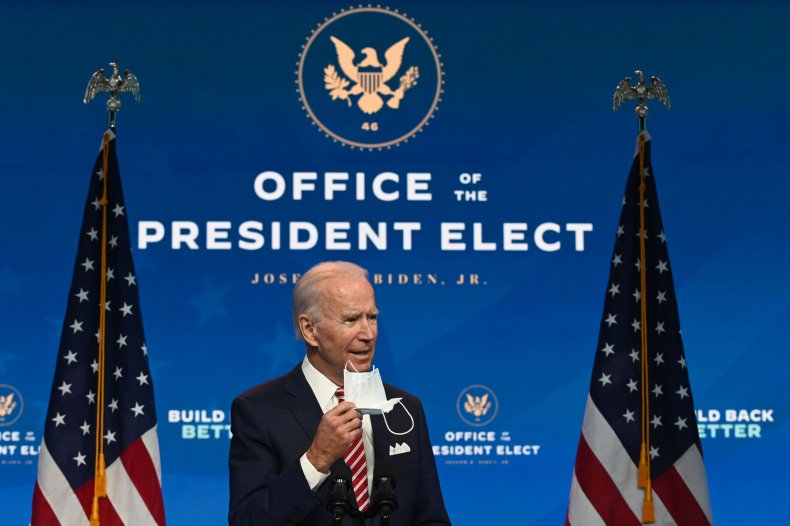 Speaking to NBC's Meet the Press on Sunday, Klain applauded House Speaker Nancy Pelosi for doing a "a magnificent job of handling" COVID relief, adding, "There are a lot of things that are going to have to wait till Joe Biden is president, but this is not one of them."
"Getting help to people, getting help to state and local governments," Klain said. "Obviously we need urgent help to individuals but we're gonna see layoffs of police, of firefighters, of teachers in the next month in a lot of states and localities unless these local governments get the aid they need."
Richmond, who currently represents Louisiana in the House, has also said that a second stimulus package for Americans is one of his top priorities.
During an interview with The New Orleans Advocate, Richmond said that he wanted to pass a second stimulus "to make sure we're helping those people who have been affected by COVID-19, whether it is health effects or the economic effects of it, to make sure we help people recover."
"We know it's going to be a long and hard recovery and the federal government is going to have to play a role," Richmond told the Advocate.
During his presidential campaign, Biden detailed his coronavirus economic relief plan, which did include a second round of stimulus checks to Americans "should conditions require."
Biden's plan did not outline how many direct payments Americans would receive, the amount or the qualifications that must be met, but in August, Jake Sullivan, a senior Biden policy adviser, told Axios that Biden has "always contemplated the need for additional stimulus" and plans to "confront the situation we find in January."
Newsweek reached out to Biden's transition team for comment but did not receive a response in time for publication.