What John McCain Said About His Mother, Roberta McCain
Cindy McCain, the widow of Senator John McCain on Monday, announced the passing of her mother-in-law Roberta McCain at the age of 108.
"It is with great sadness that I announce the death of my wonderful Mother In-law, Roberta McCain. I couldn't have asked for a better role model or a better friend," McCain wrote on her Twitter account. "She joins her husband Jack, her son John and daughter Sandy."
The former Arizona Senator died on August 25, 2018 after being diagnosed with brain cancer in 2017, but during his life, he spoke extensively about his mother, and the lessons she taught him.
In his 2005 book, Character is Destiny, McCain wrote that his mother "remains a great influence in my life."
"She and her identical twin sister, Rowena, were renowned for their beauty, which has hardly faded over the years that have passed since heads first turned in their direction. But their personalities have always been their most attractive feature," the Arizona senator wrote. "My mother was raised to be a strong, determined woman who thoroughly enjoyed life, and always tried to make the most of her opportunities. She was encouraged to accept, graciously and with good humor, the responsibilities and sacrifices her choices have required of her."
He continued: "I am grateful to her for the strengths she taught me by example, even if I have not possessed them as well and as comfortably as she does."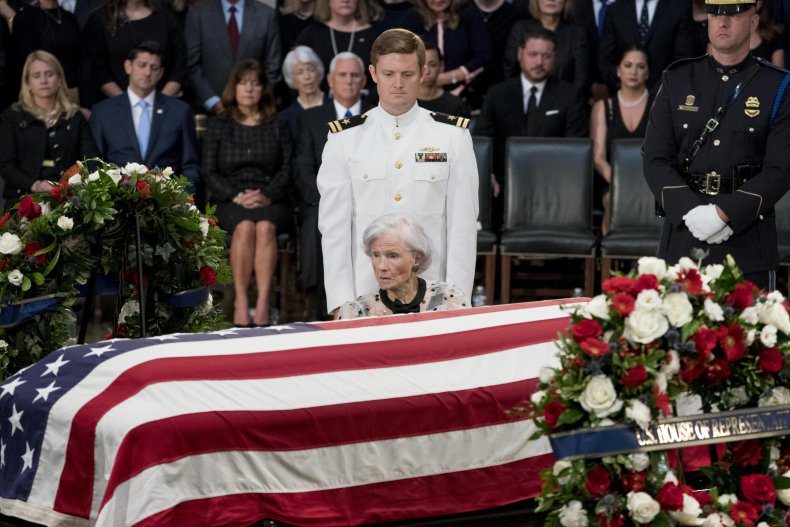 During a 2008 interview, the senator was asked about his age and if his mother gave him any tips on how to stay fit.
"She certainly is an example I cite quite frequently when the subject comes up," McCain said in response. "Obviously, as you can tell, she's in excellent health. And I claim that I inherited all those genes from her."
During the interview, McCain was also asked if he had anything special planned for his mother on Mother's Day, to which he responded by saying that he plans to "tell her how beautiful she is."
In his most recent book, The Restless Wave, published in 2018, he wrote that his mother's "vivaciousness is a force of nature." McCain also wrote about his mother's stroke, noting that it made speaking for her a "chore" but added that she continued to have "a spark in her, a brightness in her eyes that would light up the world if she could resume her peripatetic life."