What Did Jon Gruden Say? Raiders Coach Resigns Over Offensive Emails
Jon Gruden, coach of the Las Vegas Raiders, stepped down from his role on Monday after homophobic, racist and misogynistic emails emerged.
The emails were sent in 2018, before he became coach of the team on a 10-year $100 million contract.
"I have resigned as head coach of the Las Vegas Raiders," Gruden said in a statement on Monday night via Twitter. "I love the Raiders and do not want to be a distraction. Thank you to all the players, coaches, staff, and fans of Raider Nation. I'm sorry, I never meant to hurt anyone."
Gruden's resignation came after The New York Times reported on offensive emails he sent Bruce Allen, the former president of the Washington Football Team, during his time as an ESPN analyst.
The report found that the coach often used derogatory misogynistic and homophobic language.
The situation escalated on Friday when the Wall Street Journal reported that Gruden used racist language to describe NFL union chief DeMaurice Smith in a 2011 email to former Washington executive Bruce Allen.
A workplace misconduct investigation into the Washington Football Team is what led to the discovery of the offensive emails.
Some of the harmful content in the emails written by Gruden include him calling NFL commissioner Roger Goodell a "f*****" and also a "clueless anti-football pussy."
It is reported that he used that same homophobic slur several times when referring to Goodell.
In another email, Gruden referred to the openly gay Michael Sam as "a queer."
He also used a racist term to describe NFL union chief DeMaurice Smith in a 2011 email to former Washington executive Bruce Allen.
One email saw Gruden refer to then Vice-President Joe Biden as a "nervous clueless pussy" while exchanging photos of topless women.
He also criticized player Eric Reid for taking a knee during the national anthem and said he should be fired for doing so.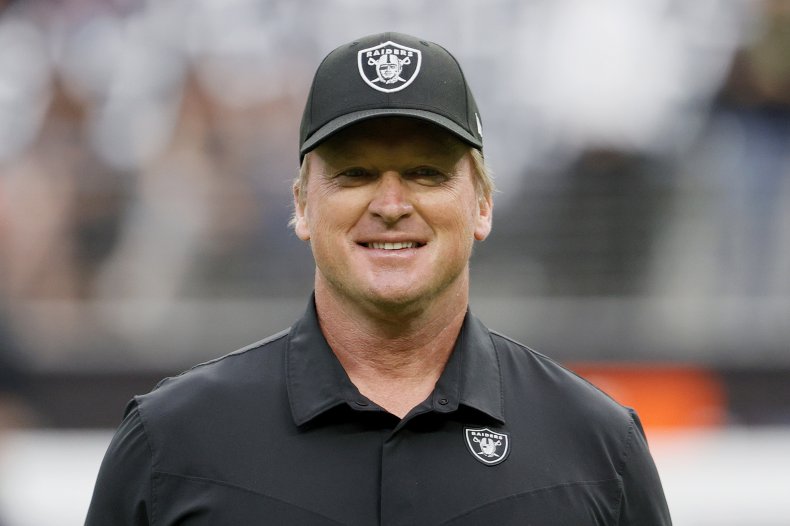 Last week, Mark Davis owner of the Raiders said that the emails about Smith were "disturbing and not what the Raiders stand for," per The Associated Press.
Smith tweeted on Monday night to say that Gruden has reached out to him but that the fight against racism in the NFL and beyond is still ongoing.
"The email from Jon Gruden—and some of the reaction to it—confirms that the fight against racism, racist tropes and intolerance is not over. This is not about an email as much as it is about a pervasive belief by some that people who look like me can be treated as less," Smith wrote.
"The powerful in our business have to embrace that football itself has to be better, as opposed to making excuses to maintain the status quo.
"I appreciate that he reached out to me & I told him that we will connect soon, but make no mistake, the news is not about what is said in our private conversation, but what else is said by people who never thought they would be exposed and how they are going to be held to account."
Rich Bisaccia, special teams and assistant head coach, will take over from Gruden on an interim basis.