What Is Juneteenth? History and Meaning Plus Why and How It Is Celebrated
Juneteenth is celebrated every year on June 19 and marks an important moment in African American history. The event was made a federal holiday by Congress on June 16, 2021, and it was signed into law by President Joe Biden the next day.
Here is everything you need to know about Juneteenth, including its origin and how it is celebrated.
What Is Juneteenth?
Juneteenth commemorates the end of slavery in the United States and its name stems from the date the historic event occurred: June 19, 1865. On that day, the 250,000 African Americans still enslaved were told that the Civil War had ended and that they had been legally declared freed.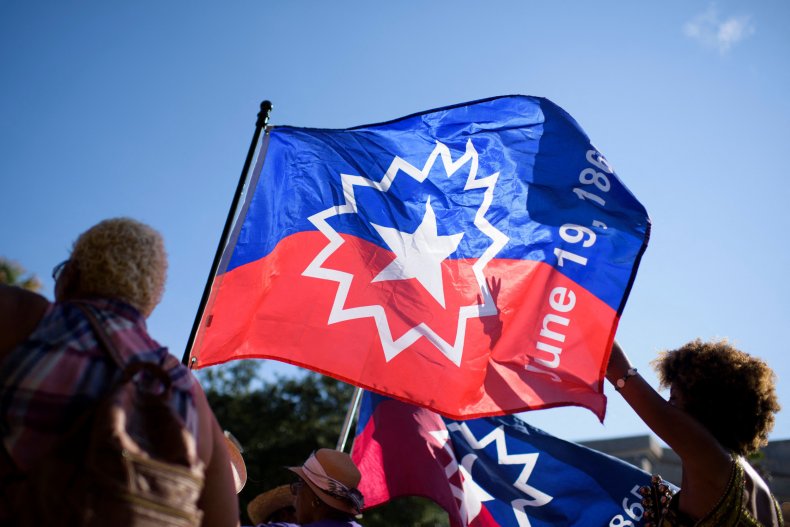 That momentous day has been commemorated annually in Galveston and other parts of the U.S. in the years since. Juneteenth became an official state holiday in Texas in 1980, later becoming a federal holiday in 2021.
The holiday is also known as Emancipation Day or Juneteenth Independence Day.
The History and Meaning of Juneteenth
Juneteenth marks the day that Union soldiers marched into Galveston, Texas to take control of the state and notify remaining slaves that they had been freed—nearly two and a half years earlier.
President Abraham Lincoln had issued the Emancipation Proclamation on January 1, 1863, which declared "that all persons held as slaves" within Confederate states "are, and henceforward shall be free."
The Emancipation Proclamation only applied to Confederate states but it still had a significant impact, paving the way for the permanent abolition of slavery in the United States.
Prior to the end of the Civil War, President Lincoln and both houses of Congress worked on a Constitutional amendment to make the abolition of slavery permanent even after the conflict. This became the 13th Amendment, which was passed in January 1865.
How Is Juneteenth Celebrated?
Educational events, cook-outs, concerts, and exhibitions are just some of the ways that people can mark the Juneteenth holiday.
The Smithsonian's National Museum of African American History and Culture in Washington, D.C., will be hosting a number of lectures and discussions over the Juneteenth weekend about the history of the holiday.
The color red is an important symbol for Juneteenth as it represents the sacrifice made by those enslaved, and one way to celebrate the holiday is by serving red foods and drinks.
People also celebrate Juneteenth by supporting Black-owned businesses. The Black-Owned Association has a useful website that will help people find local businesses to support.