What Kevin Spacey Hopes to Achieve in U.K. Court Amid Sexual Assault Charge
Kevin Spacey has said he plans to "voluntarily appear" before British courts after he was accused of a series of sexual assault offenses against three men in the U.K.
The troubled actor, 62, has stated that he is "confident" that he can prove his innocence after he was last week charged with four counts of sexual assault, as well as another sexual offense. The charges against Spacey were authorized by prosecutors last week but he can only be formally charged after an arrest in England or Wales, the Washington Post reported.
The former House of Cards star is alleged to have carried out the offenses between 2005 and 2013 in London and Gloucestershire.
"I very much appreciate the Crown Prosecution Service's statement in which they carefully reminded the media and the public that I am entitled to a fair trial, and innocent until proven otherwise," Spacey said in a statement to Good Morning America on May 31.
"While I am disappointed with their decision to move forward, I will voluntarily appear in the U.K. as soon as can be arranged and defend myself against these charges, which I am confident will prove my innocence."
The statement the Oscar-winner is referring to is one released by Rosemary Ainslie, head of the Crown Prosecution Service Special Crime Division last week.
"The CPS has authorized criminal charges against Kevin Spacey, 62, for four counts of sexual assault against three men.
"He has also been charged with causing a person to engage in penetrative sexual activity without consent. The charges follow a review of the evidence gathered by the Metropolitan Police in its investigation."
"The Crown Prosecution Service reminds all concerned that criminal proceedings against Mr. Spacey are active and that he has the right to a fair trial," the statement continued.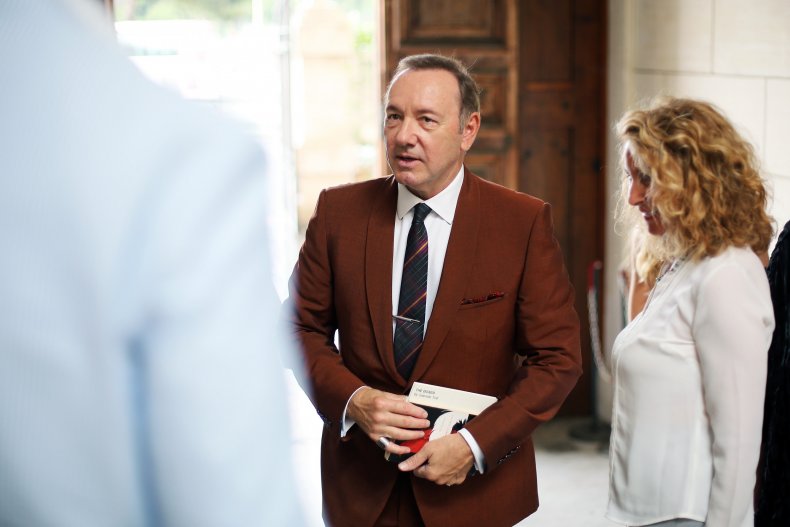 The allegations date as far back as 1996 and Spacey was interviewed under caution by the Metropolitan Police regarding the allegations back in 2019.
Spacey famously saw a dramatic fall from grace in October 2017, when an explosive interview with Anthony Rapp was published, who accused Spacey of "trying to seduce" him at a party in 1986 when he was aged 14 and the actor was 26.
The actor released a statement on Twitter after the story broke, in which he claimed to have no memory of the alleged incident, while also offering Rapp an apology.
This allegation prompted more men to subsequently come forward with similar accusations and Spacey came out as gay.
In November 2017, he was dropped from his leading role in Netflix's House of Cards, recast in the movie All the Money in the World and the release of his then-upcoming film Gore, was abandoned.
Just months later in January, London police announced investigations into three accusations leveled against the actor in the U.K.
In April 2018, it was confirmed that prosecutors in Los Angeles were reviewing an assault accusation against Spacey, alleged to have taken place in West Hollywood in 1992.
However, by September, legal proceedings halted in one case due to California's statute of limitations.
In December 2018, Spacey was charged with sexually assaulting a teenager at a bar in Massachusetts in 2016.
The actor appeared in a Massachusetts court in January 2019 to enter a not guilty plea, in response to indecent assault and battery charges in connection to the 2016 allegations.
A civil suit filed by Rapp against Spacey in 2020 is still ongoing.
In 2021, it was announced that Spacey had landed a role as a detective in the Italian film L'uomo che disegnò Dio (The Man Who Drew God).