What Kind of Guy Is Stephen Miller? Twitter #StephenMillersTheTypeOfGuy Has the Answer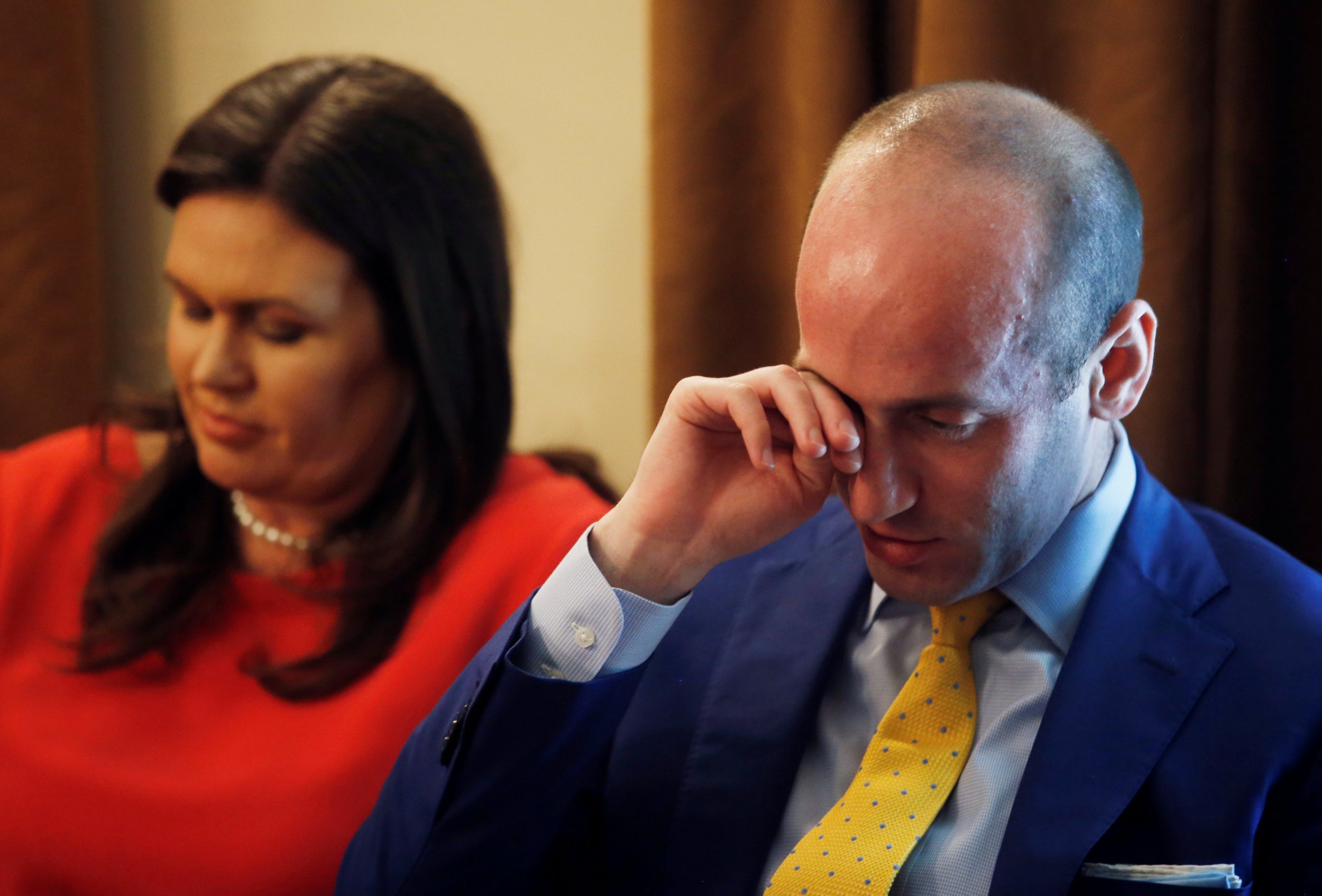 White House adviser Stephen Miller found himself trending on Twitter as "the type of guy who…" after it emerged he was pushing for a policy that would penalize legal immigrants for using programs like food stamps by making it harder for them to achieve citizenship or green card status.
The policy suggestion, which has been widely panned as an assault on legal immigrants, immediately prompted a backlash against Miller on the social media site—with the hashtag #StphenMillersTheTypeOfGuy trending. Users appearing to be competing to see who could compare the adviser to the worst possible people.
"#StephenMillersTheTypeOfGuy who identifies with Scar and not Mufasa," one Twitter user wrote, with another adding: "#StephenMillersTheTypeOfGuy who keeps his girlfriend's head in the freezer and talks to it everyday."
"#StephenMillersTheTypeOfGuy who can unhinge his jaw and eat a goat whole," was among the tweets that appeared as Miller's name began trending on the site.
"#StephenMillersTheTypeOfGuy who must be kept away from bright light, never made wet and never, ever be fed after midnight," wrote one person in a reference to the 1980s film Gremlins, with another film reference adding: "#StephenMillersTheTypeOfGuy in every sci fi show who cuts a deal with his alien overlords, only to be double-crossed and eaten."
Other Miller comparisons included: "#StephenMillersTheTypeOfGuy that believes the human trafficking industry has a great business model," "#StephenMillersTheTypeOfGuy who before handing over his keys counts the loose change in his car while maintaining eye contact with the valet," and even an historical reference, "#StephenMillersTheTypeOfGuy Who you would have found wearing a dress in one of the Titanic's lifeboats. "
As well as taking some serious heat on Twitter over the proposal, Miller has also been criticized by immigration groups, who say the plans could affect up to 20 million people. They will particularly hit immigrants working low-paying jobs, NBC News reported.
The proposal to penalize legal immigrants who use assistance programs is seen as part of Miller's long-running goal of reducing the number of immigrants who get legal status in the country. Data obtained by NBC from U.S. Citizenship and Immigration Services showed the number of green cards issued has already fallen by 20 percent in the first quarter of 2018, compared with the same period in 2016.