What Klitschko's Title Means to Ukrainians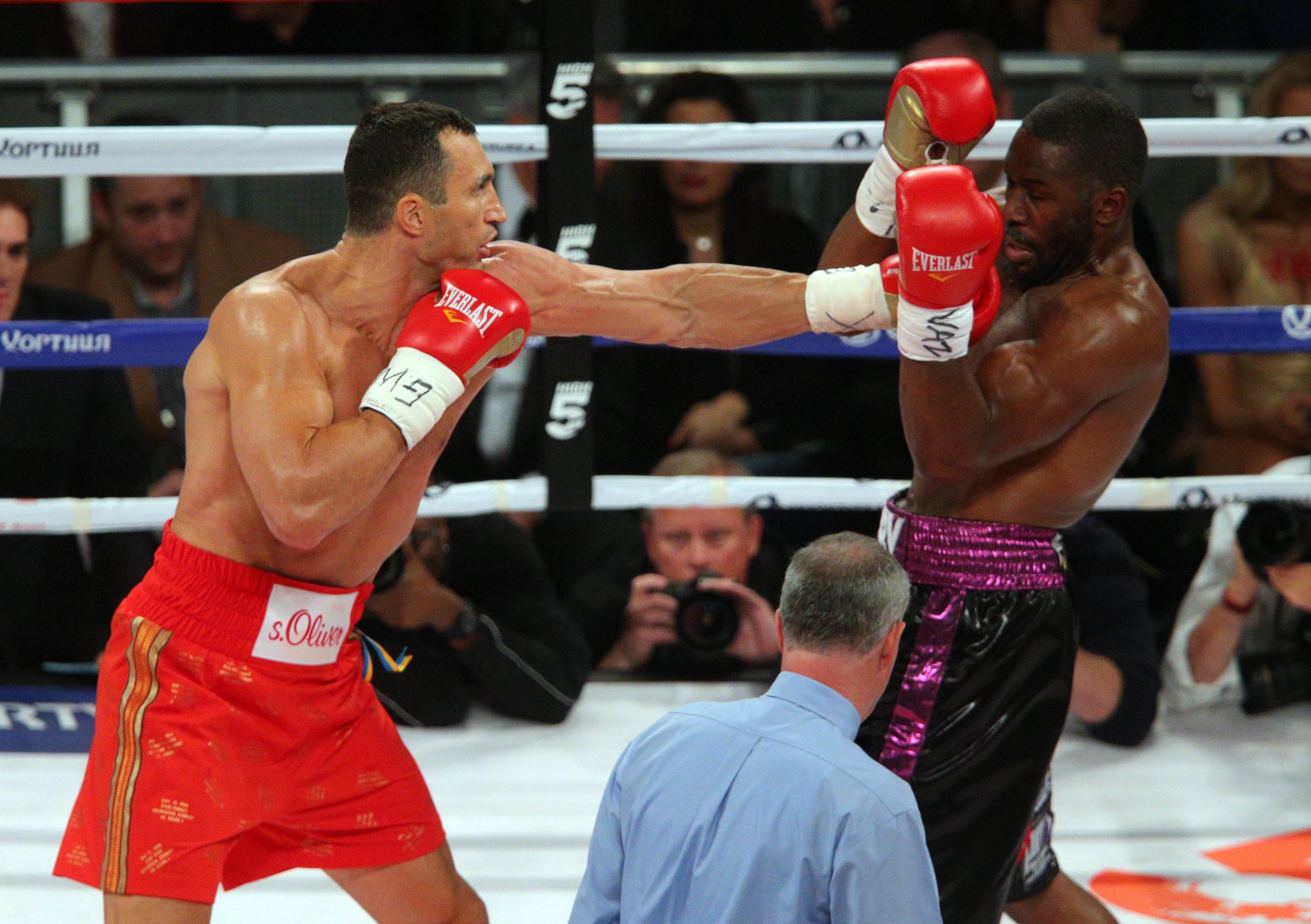 Updated | "Slava Ukrayini!" I yelled out to Wladimir Klitschko, the reigning heavyweight champion of boxing. Though he had just fought a tiring match against Bryant Jennings and it was 2:30 in the morning, Klitschko smiled and replied immediately: "Heroyam slava!"
The brief exchange has become a symbol of support for Ukrainian soldiers fighting the pro-Russian occupation in Eastern Ukraine. "Glory to Ukraine" is met with the reply "Glory to the heros," referring to the soldiers. For Ukrainians worldwide, these patriotic sentences have become a greeting of sorts. On Saturday night at Madison Square Garden, the exchange could be overheard in every section and every row.
At 39, Klitschko has had an impressive career record of 64-3-0, with 53 of those wins by knockout. He has amassed fans across the world, predominantly in Ukraine, from which he hails, Germany, where he often hosts matches, and Canada, which is home to one of the largest Ukrainian populations outside of the country.
Over the last year, Ukrainians have faced a litany of hardships, from Euromaidan to ousting a corrupt president. Ukraine also watched Russia illegally annex Crimea and invade Eastern Ukraine, forcing Ukrainians to defend their own land. The conflict worsened after MH17 was downed over Ukrainian soil, an act in which pro-Russian separatists have been implicated. Today, the fighting continues, with ceasefires shaky at best. During the Klitschko match, for a few hours, Ukrainians could focus on being champions, represented by one of the top athletes in the world.
Maxim Rozenko, the former president of the Klitschko brothers fan club (Wladimir's brother, Vitali, was a boxer and is currently the mayor of Kiev), estimated about 1,000 boxing lovers from Ukraine flew into New York City to see the match. Thousands more traveled from around North America to see him. For one night, MSG became the site of a mega-family reunion for Ukrainians, who ran between rows to see friends from distant lands and sang patriotic songs.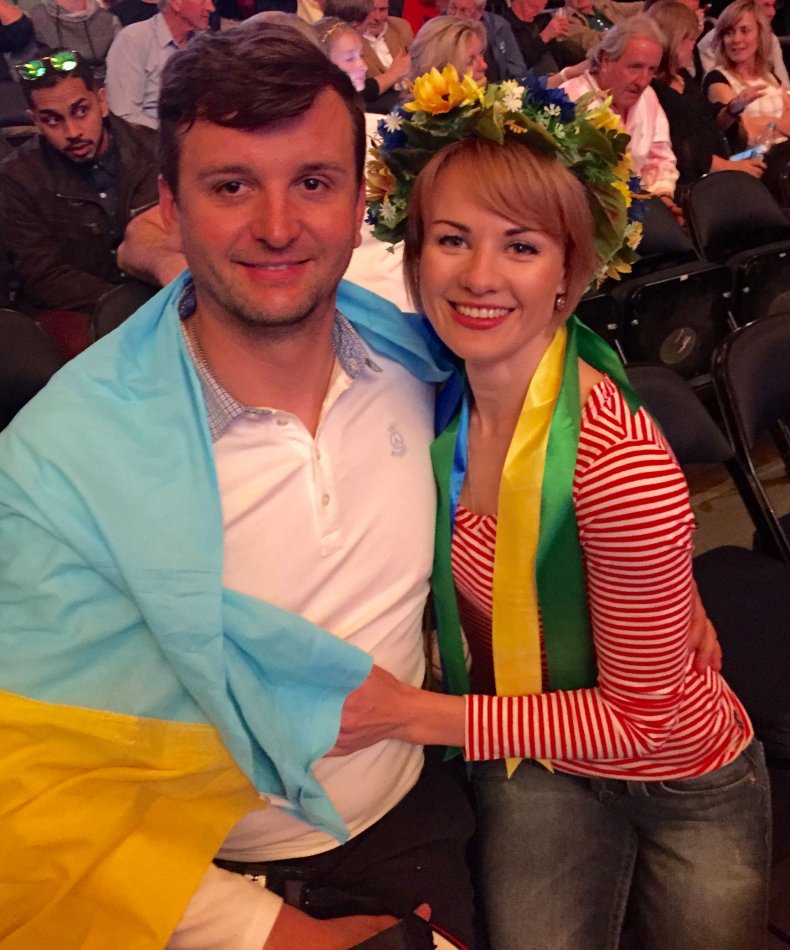 "We arranged to have about 150 tickets in each section, so it would be islands of Ukrainians everywhere, united in the crowd," Rozenko explained. The club helped organize the trip and the ticketing process for international Ukrainians who wanted to make it to MSG.
While Rozenko hoped there would be islands of Ukrainians, he was pleased when he was greeted with more of a continent: Hundreds of Ukrainian flags dominated the stands; signs for Klitschko appeared in every section; and many Ukrainians wore full, traditional dress, which includes an embroidered shirt and a flower headdress. It was hard to hear anything above shouts of "Slava Ukrayini" and chants of "Klitschko!" For those in attendance, and many more watching at home, Klitschko represented the future of Ukraine.
"This is extraordinary. This helps Ukraine and how we are seen worldwide. He's promoting Ukraine in the best light. He is athletic, smart, hopeful. He shows Ukrainians how we want to be seen and he's doing an excellent job of it," Mila Ugryn, a U.S. immigrant from Ukraine, told Newsweek.
Ugryn, who wore a headdress, was seated near Andrey Mykytynk, who had one of the most popular Klitschko-branded items of all: a wool scarf with Klitschko's name and photo woven into it. He was sent the scarf along with a matching hat and gloves directly from Ukraine. "In sports, he is the best known Ukrainian. To see this, it is everything to me. All Ukrainians are one here," Mykytynk said.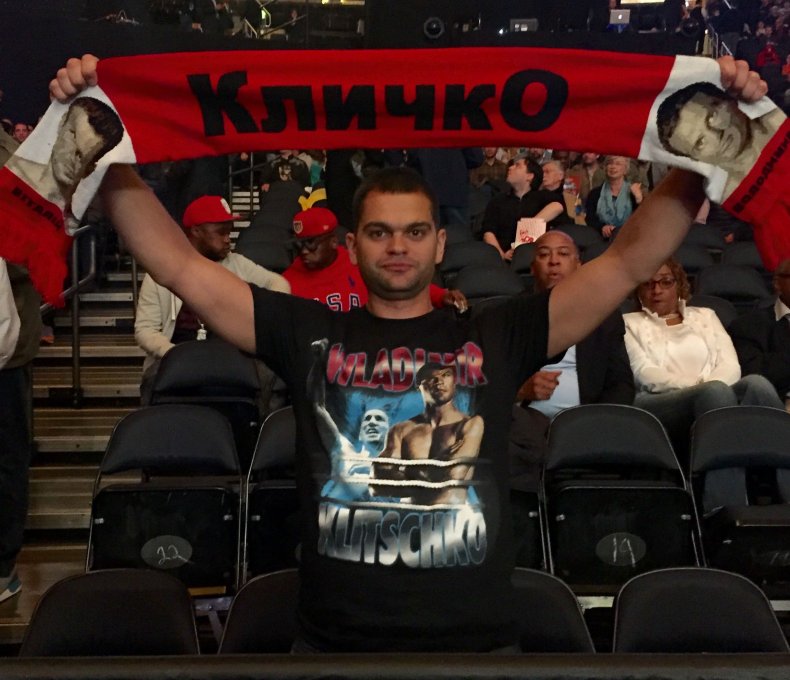 For many fans, this was the first time they had seen Klitschko fight in person, and one of their few chances to do so in the U.S. Maksym Holowaty and his friend Volodymyr, from Canada and Ukraine, respectively, watched live streams of matches together often and jumped at the chance to buy tickets. "It is like a dream come true. It's an amazing event he can represent us in," Maksym told Newsweek.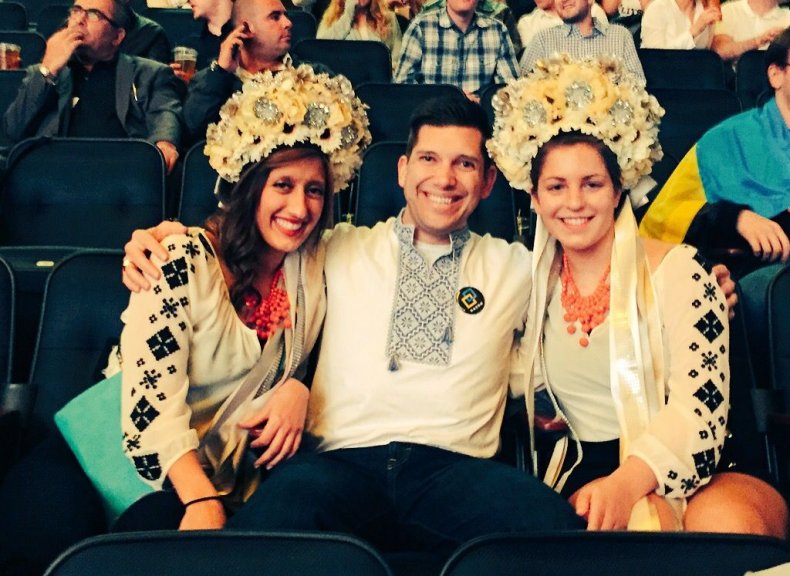 Searching for the largest Ukrainian flag I could find, I spotted Bohdan Radelytskyi, Orest Kayder and Sergey Mironchuk. They had traveled from all corners—Chicago, Toronto and Seattle, respectively—and were dressed to the nines, complete with a bit of face paint. "This is a huge deal not just in the sports world but for the international Ukrainian community. We are all here representing our country and people. We are supporting Klitschko the way he supports Ukraine," Radelytskyi said.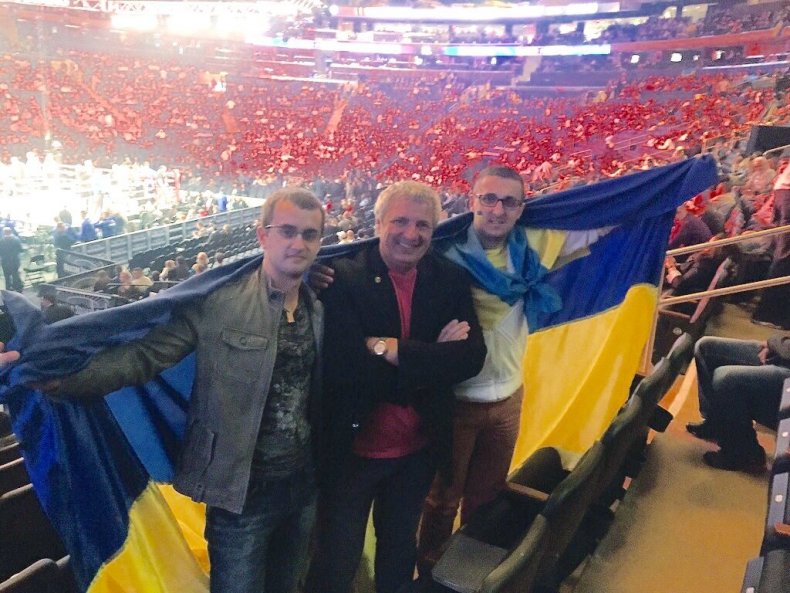 Agreeing, Mironchuk added: "Every Ukrainian is fighting for change and acceptance. We are good, kind, life-loving and ready to forgive our foes as long as they apologize. Apologize, stop and live in brotherhood."
As the match itself got under way, it became clear this would not be a glorious win. The two fighters had extremely different styles, and with Klitschko much larger than Jennings, the latter had trouble landing much of a punch before being clinched. Though there were would be no knockout, Klitschko's fans treated this fight as though it were the most exciting and exhilarating they had seen.
The chants of Klitschko's name were constant, despite the fight lacking any major highlights, and the cheers never stopped. After the match, Jennings would claim he didn't notice the Ukrainian fans and had no impression of them, though it would have been impossible not to notice the dozens of Klitschko chants to the handful of pro-Jennings chants, even to the most composed of fighters.
After being announced the winner, Klitschko gave a brief statement from the ring and then went to each of its corners, thanking his fans and cheering for them. He stopped again afterward to greet fans, signing gloves and autographs, thanking them again for making the long journey.
"It was a great weekend for the fans from Europe, from Germany, the U.K. and of course Ukraine," Klitschko told Newsweek after the match at a press conference. "They got to see Wladimir Klitschko at Madison Square Garden. That is a good weekend. I hope they will travel back home satisfied."
Correction: A previous version of this article misspelled the names of Maksym and Volodymyr Holowaty.